It's no secret that traffic has a huge impact on air quality control; the World Health Organization estimates that road transport is responsible for up to 30% of fine particulate matter emissions in European cities.
Exposure to this kind of pollution has both short-term and long-term impacts on health; studies indicate that traffic pollution is associated with increased allergy and asthma-related symptoms, a higher risk of cancer after prolonged exposure, possible fertility impacts, and more.
The Air Pollution Risk for Drivers and Passengers
When we talk about the health impact of traffic-caused pollution, we usually think about the exposure of pedestrians living, commuting, or working near busy roads rather than the drivers and passengers of cars themselves.
However, our current vehicles do not protect us from pollution exposure. What is more, it seems that drivers are actually exposed to the highest levels of air pollution while on the road.
An interesting air quality experiment was conducted in London by Healthy Air Campaign, King's College London, and Camden Council: The study compared air pollution exposure in London among cyclists, pedestrians, bus passengers, and drivers or passengers in a car. The results showed that pedestrians and cyclists were exposed to lower levels of pollutants than the drivers and passengers inside the vehicles. This is because the cars themselves trapped a higher number of pollutants within the cabin.
As global awareness of the health impacts of air pollution increases and the smart mobility market continues to expand, so too will consumer demand for solutions that treat air quality and prevent in-cabin contamination. Recent automotive market studies predict that the global automotive sensor market will grow from $22800 in 2018 to $37299 by the end of 2025.
How Air Quality Control Improves Passenger Experience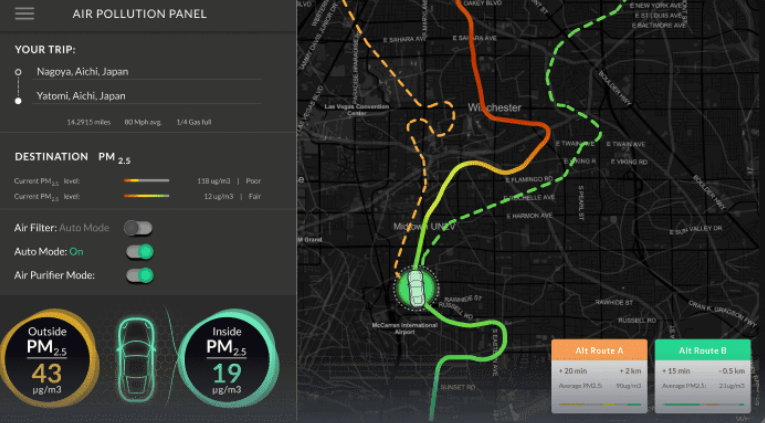 Live air quality control data has the potential to improve both the driver and passenger experience, by providing a means to prevent in-cabin contamination in the first place.
For example, up-to-date air quality control information can be used to alert drivers to poor air quality and fire hazards at their location, prompting them to close windows and switch on the in-cabin air purification system.
The Limitations of Physical Sensors Alone
A lot of the conversation so far when it comes to integrating air quality information into automotive solutions has focused on the topic of physical air quality sensors.
Physical sensors do offer a number of benefits when combined with effective filtration systems by helping to automate the process of blocking breathing hazards from entering the cabin, such as pollen grains, road dust, and diesel soot. However, a 'physical sensor only' approach also presents a number of disadvantages when it comes to monitoring live air quality:
As physical sensors are a hardware solution, they need to be integrated into the manufacturing process itself, turning their integration into a timely and costly venture for automotive OEMs. It is also much harder to retrofit air quality sensors later on, somewhat limiting OEMs and automotive suppliers that are looking to quickly respond to the market and establish a competitive advantage.
2. While physical air quality control sensors may give a good picture of real-time air quality at the driver's exact location, they do not allow much scope for journey planning without forecast information or data for conditions at locations along the driver's journey, which means the ability to plan ahead is considerably limited.
Moving Beyond Physical Sensors with Virtual Sensors
Cloud-based, real-time air quality data, or in other words, 'virtual sensors', provides the key for OEMs and Tier 1 automotive suppliers looking to complement or replace existing air quality sensors. This method provides a far cheaper and simpler method when it comes to integration, which can be done through an API connection, meaning there are far fewer barriers for those looking to validate integrating air quality data in their vehicles
BreezoMeter's 'virtual sensors' are powered by sophisticated modeling which is continuously checked for accuracy. This virtual approach has the potential to disrupt the automotive sensor market in a powerful way, by making it possible to deliver a more personalized consumer experience than sensors alone can achieve.