Our experienced scientists at BreezoMeter have developed a comprehensive and unified Wildfires API to address the growing threat of rapidly spreading wildfires in certain parts of the world. Our Wildfires data can be integrated by businesses and organizations alone or as the perfect partner to our Air Quality API, which already incorporates real-time live smoke reporting.
Why Integrate the Wildfires API?
Wildfires are dynamic –  their perimeters and behaviors are constantly changing. Fires are typically monitored and reported by various sources and methods, such as governmental satellites, fire departments, governmental agencies, etc. However, given the variation in wildfire data collection methods and sharing platforms, it is often difficult to grasp the full impact of a specific fire event by relying on a single source.
Our organized Wildfires API provides location-specific (19-62 miles) and timely wildfire alerts, providing businesses with valuable information they can use to help customers plan ahead and stay safe. Like our Air Quality API, our Wildfires API is already available in 90+ countries around the world.
As a result of the unique approach we take to wildfire reporting, our wildfires alerts can often pick up a wildfire before the media reports it, and before the air quality worsens. As a result, city and local planning response teams, journalists and healthcare providers looking to take preemptive action to protect vulnerable patients from harmful smoke inhalation benefit from access to timely and actionable insights.
How the Wildfires API Works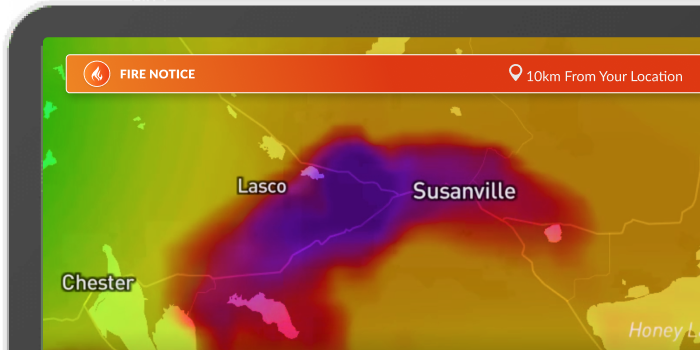 BreezoMeter's fire alerts algorithm is based on extensive environmental research. We collect data from multiple sources, including global and geostationary satellites, governmental and municipal authorities and fire departments, and additional projects set up to create and gather the most timely and reliable information about fire events in specific locations.
Next, we analyze and process the raw data into a structure that can be easily interpreted and understood by the general population.
This processing includes:
Filtering of a portion of the data in order to reduce unwanted "noise," such as fires that are no longer relevant, or hotspots that are unlikely to be actual wildfires;
Clustering multiple fire indications so as not to report a single fire as multiple fires when several hotspots are reported by different sources in different ways but are in fact a single fire.
Interpreting

 the results to turn raw data into understandable, actionable fire information.
Wildfires API: The Perfect Partner to Air Quality Data Integration
By providing additional information about wildfire events around the world and serving as an early indication of worsening air quality and environmental breathing hazards at a specific location, our Wildfires API functions as an extremely useful supplement to our existing Air quality and Pollen data APIs.
Users can be alerted of a nearby fire, encouraged to be better prepared for a nearby fire risk, and prompted to pay close attention to air quality changes early on. In addition to timely and location-based alerts, businesses and organizations can also benefit from essential information about specific wildfires at any one time – such as size, containment rate, status, cause and more.
What's Next?
Here at BreezoMeter, we're continuously working to improve our environmental data APIs, with the goal of helping businesses and organizations empower their end users with potentially life-saving environmental information.
We are working hard to add data from more sources and create new features all the time and our Wildfires API is no exception – stay tuned for Fire Perimeter, Fire Danger Risk, Fire Relevance, Wind Information, and more upcoming improvements!