In our dedicated webinar, we cover new developments in the area of air quality data and why these innovations help businesses to improve product and marketing engagement in creative ways.
What Can Air Quality Data Do for your Business?
Air pollution is a shared reality. This means that regardless of the geographical market or business vertical your company operates in, your customers, and employees, are impacted by it. Companies from around the globe, across a number of industries, are becoming wise to this fact by finding creative solutions for integrating air pollution data within their business models: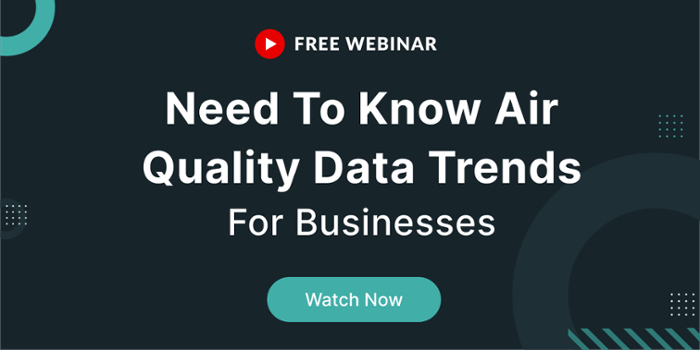 Digital Health Companies integrate air quality data to boost patient engagement, for clinical research and to build connected medical devices.
HVAC and air purifier brands use air pollution data to highlight the value and need for their products.
Cosmetic brands like L'Oréal and Neutrogena have embraced air quality technology to provide further context to their anti-pollution skincare ranges.
Fitness brands incorporate air quality data to help users choose when to head out to certain trails/routes.
Advertisers use air pollution data to refine their targeting and messaging based on hyper-local environmental conditions.
Air Quality Data Webinar: What We Covered
In our dedicated webinar, you'll learn how companies just like yours leverage air quality and pollution data to stand out from the competition and improve customer engagement in real and measurable ways.
Real-time data: How to increase user engagement with up to date information.
Location-based: How to deliver hyper-local and geographically targeted messaging.
Pollution Concentration: What makes up the pollution at any given time and why some people are more sensitive to certain pollutants.
Audience personalization: The importance of understanding how pollution affects different people & deliver tailored advice in response.
Data visualization: How to visualize the movement of distribution and movement of pollution with heat maps.
IOT automation: Learn how air quality data can be used to create connected and smart IoT devices.
Pollen Measurement: See the level and different types of pollen in the air at any one time – and understand the value of this within the bigger picture of air quality.