As extreme weather events increase in frequency as a result of climate change, providers of weather information are increasingly expected to function like 'news' agencies or 'alert' systems for any environmental event.
Why We Now Expect More From Weather Apps
As smartphones enable easier & faster access to information than ever before, real-time and on-the-go weather reports have become a basic standard for most people.
In the post-pandemic world, people care far more about health and the environmental impact on it. As a result, consumer demand for effective wellness tools that empower actionable decision-making has exploded. As environmental reporting methods improve and an increased emphasis gets placed on the impact of environmental exposure on a person's wellbeing, personalized health-focused environmental insights have become a hot commodity.
The Importance of Showing the Full Environmental Picture
The interplay between environmental factors is also becoming more and more important.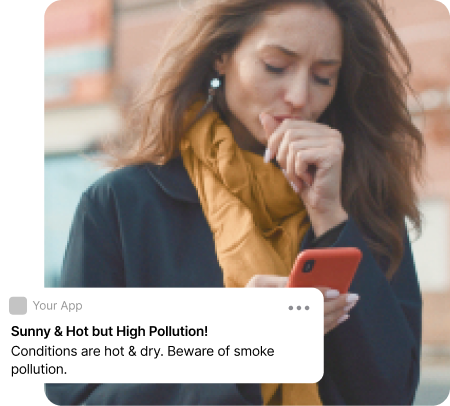 If a weather app reports sunny and dry conditions but fails to take account of a wildfire and poor air quality near the user's location, consumers are increasingly starting to perceive this lack of environmental context as a problem.
The New Minimum Weather App Checklist
Weather apps today are expected to provide a more complete environmental picture to, at the very least, rival growing competition. Features like real-time air quality reporting, pollen risk assessments, and wildfire alerts, provided alongside dynamic, visualized methods, are all now features leading weather apps are rushing to adopt.