Regular exercise offers tremendous health benefits, but working out in poor air quality can put anyone from professional athletes to the average jogger at risk of performance and health impact. By integrating actionable environmental insights into their connected app experiences, sports and fitness companies can protect their users from harmful exposure during exercise.
Poor Air Quality Affects Us All During Exercise & Performance
Air pollution exposure is never healthy for anyone, whether we're talking about a professional athlete, casual jogger, or child running in the playground. However, significant air pollution exposure during exercise can be riskier than at other times.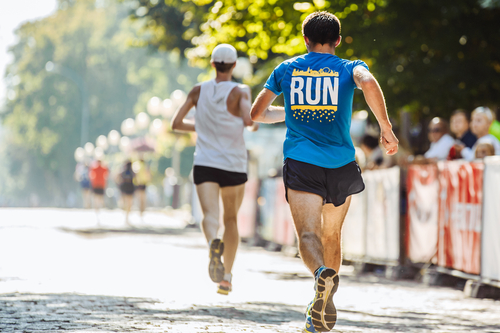 A scientific paper review by the EPA found the most common short-term negative health effect from exposure to air pollution during outdoor exercise to be impairment of lung function.
1. Physical Exercise Makes The Lungs Work Harder
During exercise, especially aerobic workouts, the heart and the lungs work harder to supply the additional oxygen the body needs. This is a normal part of exercise. Many people breathe through their mouths during exercise, which means inhaled air bypasses the nose, the natural air filtration mechanism of our bodies.
2. The Rate Of Breathing Increases
When we're physically active, our breathing rate increases so we inhale more air. This means we're at risk of breathing in large amounts of harmful pollution if we exercise during poor air quality. This is why respiratory health experts recommend individuals plan outdoor exercise and jogging routes to avoid busy roads and proximity to vehicles in particular.
Learn more about the risks of running in poor air quality here
Air Pollution Exposure Impacts Athletic Performance Too
Exercising in poor air quality can also encumber performance – an issue that can be critical for professional athletes as well as individuals looking to improve their performance.
Study: Impact Of Air Pollution Exposure In German Football
After studying the effects of air pollution on soccer players for a decade, researchers found that even a 1% increase in PM10, athletic performance was impacted negatively. If PM10 concentrations exceeded 50 µg/m3, this impact is even higher. These findings are consistent with the WHO's new 2021 air quality guidelines which updates the safe limit for daily PM10 exposure from 50 µg/m3 to 45 µg/m3.
Air Quality Monitoring During Olympic Games
Air pollution exposure has also become a key issue for global athletic competitions, including the Olympic Games: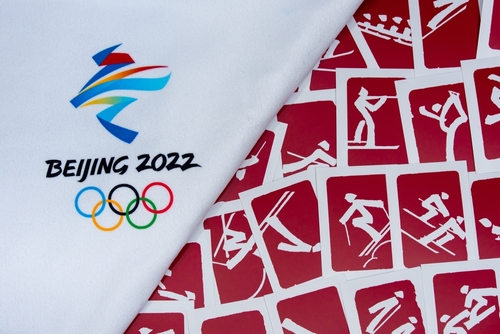 Looking ahead, the organizers of the Paris 2024 Olympics have pledged that the event will be "the world's first climate-positive sporting event". As part of its efforts to combat air pollution, not only for the Olympics but for the greater health of its populace going forward, the city of Paris aims to eliminate all diesel-powered vehicles by 2024 and adhere to the European and the WHO's guidelines for air quality following that:
"We have set quite specific objectives in our Climate Air Energy Plan at the Parisian level in terms of improving air quality and the health of Parisians: compliance with European maximum levels by 2024 and compliance with WHO recommendations by 2030," said Dan Lert, Deputy Mayor of Paris in charge of the ecological transition, the climate plan, water, and energy.
3 Ways Fitness & Sports Apps Can Use Air Quality Data
Air quality insights enable fitness and sports apps to deliver actionable recommendations to users based on their local environmental realities, personal fitness goals, and/or sensitivities. Apps can recommend cleaner jogging or hiking routes, gyms or parks in better air quality areas, and even recommend an indoor workout when the air pollution risk is too high.
1. Deliver Personalized Environmental Updates & Alerts
Fitness apps that leverage hourly weather and air quality data can alert users of changes in air pollution conditions and other environmental hazards in real-time. Timely air quality updates can keep users engaged during their workouts and throughout the day with insights tailored to their specific location and health sensitivities.
2. Give Advice On Whether To Train Indoors Or Outdoors
The European Respiratory Society recommends people check their local weather and daily air quality index before exercising outdoors. Fitness brands that integrate air quality forecasts with their app can make invisible pollution exposure visible to their users, informing decision-making and empowering healthier exercise habits that take the larger environmental picture into account.
3. Offer Healthier Route Planning
Providing an environmental context to users can be a vital addition to sports apps looking to prioritize health awareness, a strong consumer trend in the growing fitness app market.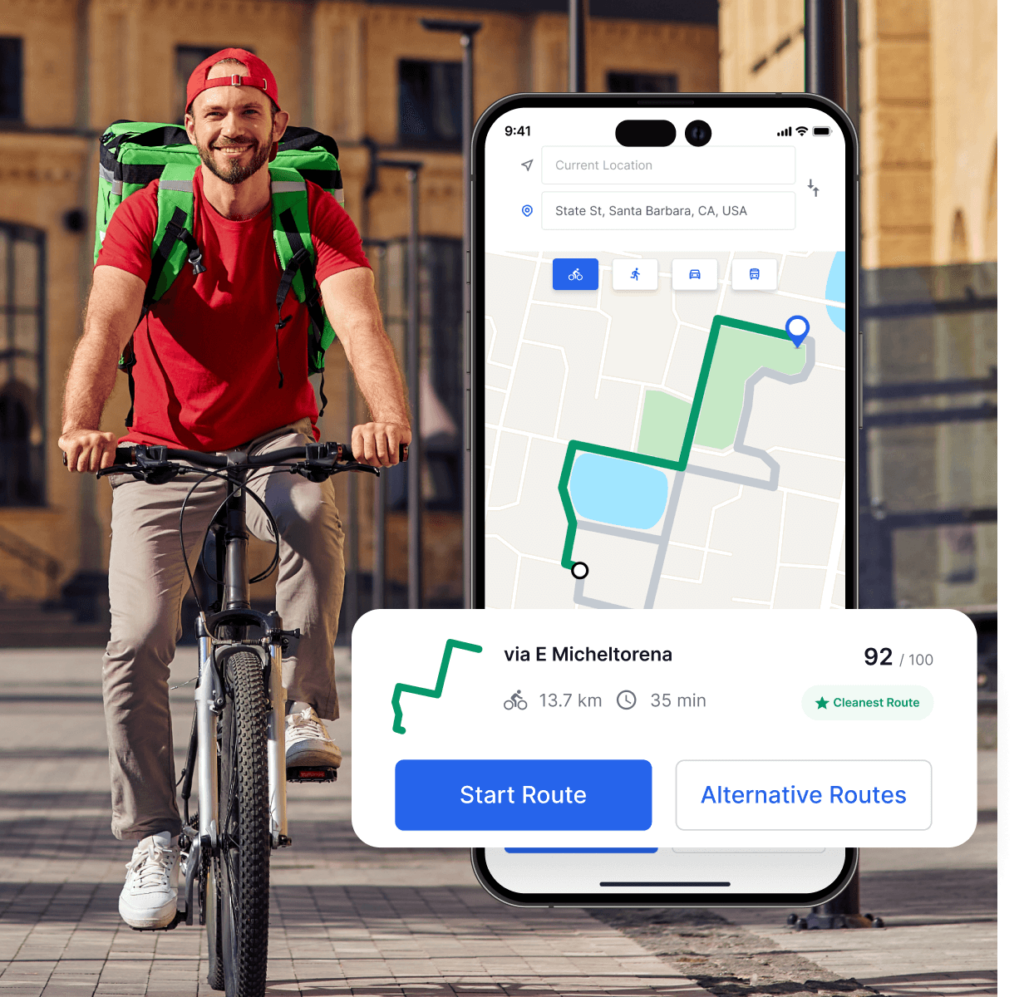 By integrating air quality insights and forecasts into outdoor exercise and fitness tracking apps like Strava, product brands can enable users to choose healthier routes before they start exercising and even help them dodge air pollution in real-time while they're jogging or cycling.
4. Monitor Personal Exposure
Sports apps can offer daily, weekly or monthly reports that enable users to track their exposure to poor air quality during outdoor exercise and help them adopt healthier workout and lifestyle habits.
The Future Of Air Quality Data In Sports App Technology
A 2022 survey by PWC found that over 50% of all consumers expect to maintain or increase their exercise levels following the COVID-19 restrictions period, with around 30% of consumers across different age groups now adopting some form of online/digital fitness habits.
Coinciding with growing interests in health and wellness, people are also seeking ways to mitigate daily risks: 68% of consumers say that protective needs have become more important to them since 2020, and 66% say they'd pay more for products with protection claims or practices.
On the environmental front, climate change and air quality rank higher than ever:
46% of global consumers now cite climate change as their top 3 environmental concerns (increasing from 39% in 2021), while 36% rank air quality high among these concerns.
The Wall Street Journal reports that 64% of consumers say they care more about extreme weather patterns than previously, while 74% say extreme weather will become even more important in the future.
The conclusion is clear: Sports apps, smartwatches, and other fitness products must integrate environmental intelligence with their offerings to help protect consumers during exercise and appeal to rising concerns about air quality, climate, and health. Otherwise, they risk losing to competitors who adapt to these new priorities and deliver the health-focused insights their users value and need.