Smart home products are all about automating a more personalized and comfortable home experience… and what's more personal than the air individuals breathe each day when they're drinking coffee, working out or making dinner? Here we explore the top use cases for air quality data integration in the smart home.
1. Connected Smart Home Devices that Manage Indoor Air
No two households will be exactly the same in terms of air quality needs. The different health needs and diverse lifestyle patterns of individuals dictate that smart home products need to consider household differences in terms of location and environmental exposure in order to deliver personalized experiences.
To address this reality, indoor air leaders and other smart home innovators are using air quality data to combine indoor air treatment with connected IoT devices.
For example, the France-based ventilation experts Aldes have developed an intelligent indoor air quality companion for homeowners called Walter®. Aldes customers can connect Walter® to their home WIFI and easy-to-use AldesConnect mobile app to control air quality remotely.
Read BreezoMeter's Guide to Indoor Air Quality & Smart Home IoT
2. Visualization of Air Pollution through Smart Home Dashboards & Companion Apps
For a long time, indoor air treatment providers have struggled to communicate the necessity, and how and when to use indoor air products to their users because of the invisible nature of air pollution.
To solve this problem, smart home product makers are turning to air quality integrations to create consumer facing interfaces that help their users visualize the indoor and outdoor air quality around them. Here you can see an example of this kind of visualization from Airthings, makers of radon and indoor air quality monitors: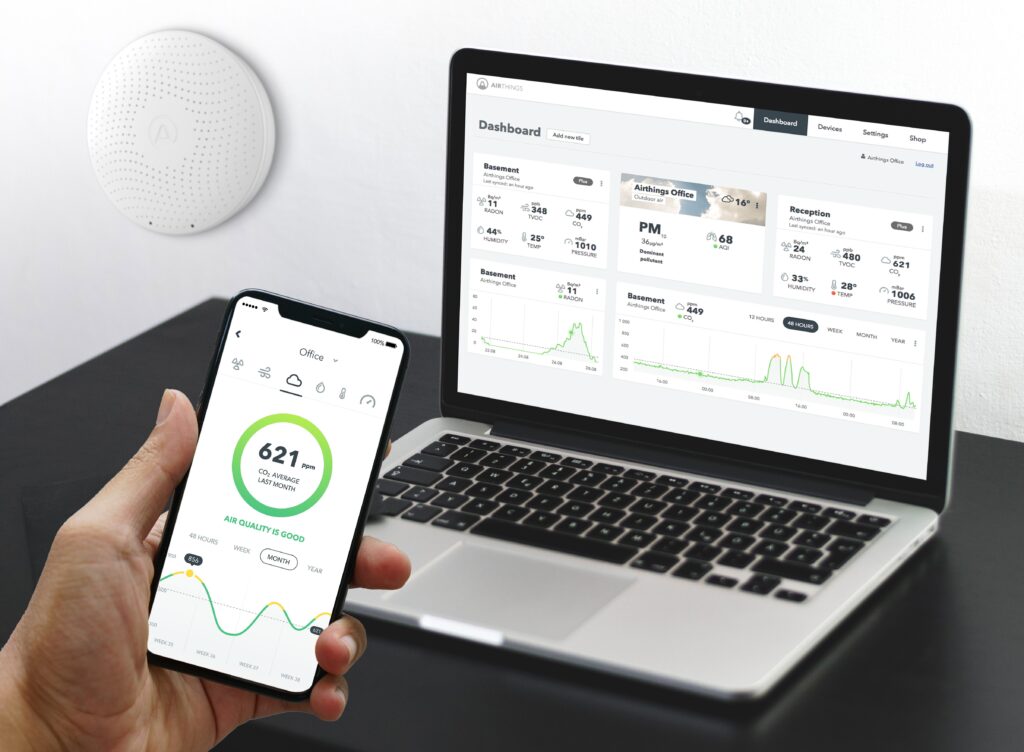 3. Delivery of Personalized In-Home Health & Wellness
Forbes cites in-home healthcare as one of the key smart home trends of 2020. This makes sense given the continuing backdrop of a global pandemic that's forced stay-at-home lockdowns worldwide, and brought personal health and remote patient monitoring to the forefront of everyones' minds.
The DARWIN Home Wellness Intelligence system from Delos provides a great example of this new health-focus in action. Based on real scientific evidence produced by their own Well Living Labs, Darwin uses ambient air quality data in addition to other inputs such as temperature and lighting to ensure optimal comfort at all times.
4. Brand Awareness: Websites & Marketing Campaigns
As more people become aware of air pollution and look for smart home products that help them fight it, the competition between different smart home product makers heats up. In this scenario, air quality integration helps not only for the product experience but also plays a huge role in the marketing of products too.
The air purifier brand Blue Air has really tried to bring air quality alive with its interactive and highly memorable AirView Microsite. By searching for specific locations, potential buyers of Blueair products learn more both about the air they're breathing and navigate to see how dramatically air pollution changes within even short distances.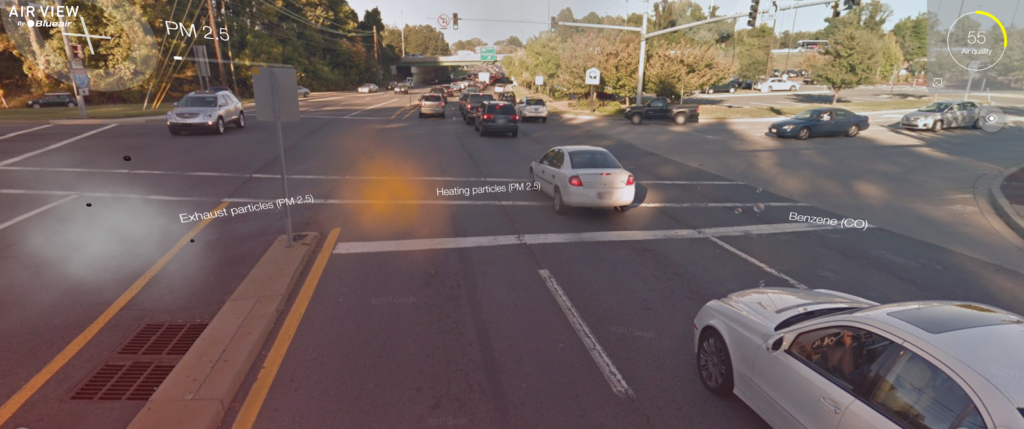 5. Hyper-Targeted Advertising Based On the Environment
Smart home product advertisers are quickly realizing how to save ad spend and boost ROI by leveraging information about the local environment for their targeting and messaging. By tailoring their ads for indoor air products to areas where consumers are actually feeling the problem, smart home brands can dramatically improve campaign performance.
You can find a much more detailed explanation of how leading advertisers use environmental events to spike interest here.