Every day, in cities across the world, millions of people lace up their shoes and go for a run outside. Runners are used to dealing with all sorts of hazards, but these days, exercising in urban areas is becoming increasingly dangerous. The reason is simple: air pollution, they are running in bad air quality.
What Air Quality Is Considered 'Safe' For Running?
Our understanding of air pollution and its health impact is constantly updating. In September 2021, the WHO changed its air quality safety guidelines for air pollution exposure limits, going so far as cutting some pollutant limits by half (or more) and establishing new daily limits for others.
People looking to avoid running in bad air quality will need to consult a reliable forecast, as different air quality indexes use different scales and methods to rate environmental conditions and don't always utilize hourly and geolocation-based calculations. In addition, different indexes also serve different purposes and don't necessarily focus on the same health impact.
BreezoMeter created its universal AQI to provide a global health-focused standard that uses real-time data and AI-driven analytics to enable athletes, among others, to make reliable comparisons between different locations and ensure they don't go running in bad air quality hours and areas.
In good air quality, runners are recommended to take advantage of the clean air and to enjoy outdoor activities, while in poor air quality, runners are advised to avoid intense activities outdoors as it can affect their health.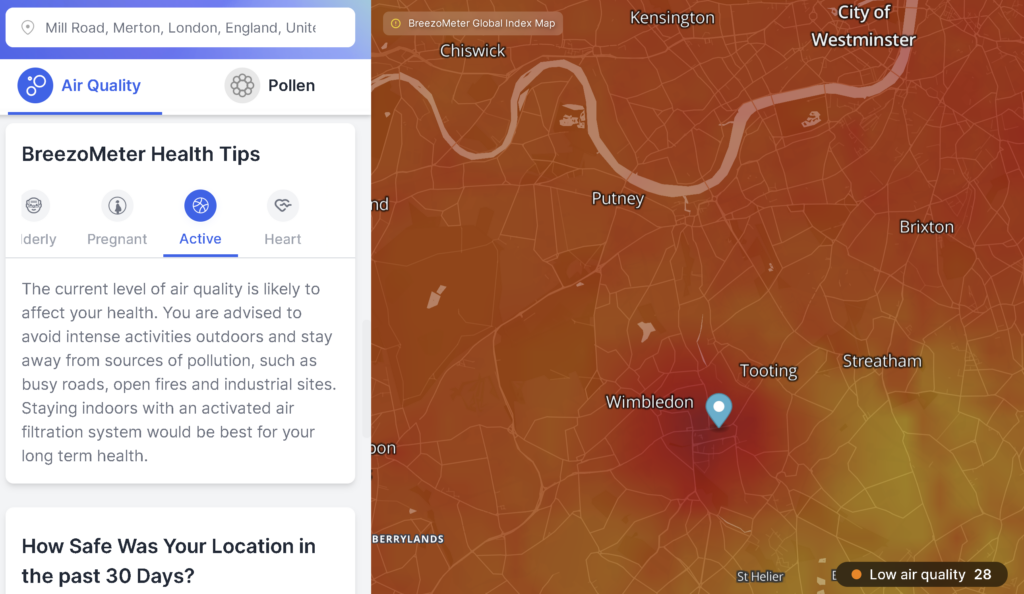 Running in Air Pollution
It's no secret that air pollution has a significant impact on our health, but it actually affects us more if we're exercising: we inhale more air, and our respiratory system is forced to work even harder.
According to researcher Dr. Argacha "Pollution is more harmful to the lung circulation during exercise". He goes on to state that "this is a major public health issue."
What are the Consequences of Running in Polluted Air?
People are more likely to breathe through their mouths when running, especially the more they exert themselves. That means they're unintentionally bypassing the natural air filtration system of their body – the nose. Even professional athletes that train to breathe 'correctly' can instinctively revert to this in the heat of competition or training.
Breathing more heavily means that, whether hobbyist or athlete, anyone running in bad air quality inhales more air pollution, which is particularly risky for people suffering from heart conditions, diabetes, asthma, or other respiratory diseases.
But for athletes, there's another variable:
Running in Bad Air Quality Impacts Athletic Performance
Athletes who exercise or complete under poor air quality conditions have to worry about more than just the health impact, but their ability to perform too. Researchers have found that even just a 1% increase in PM10 pollution decreased athletic performance among soccer players, and if PM10 exposure during the football match surpassed 50 µg/m3, performance suffered even more (for context, the WHO's recommended 24-hour max is 45 µg/m3).
As Air Pollution Gets Worse, Should We Stop Exercising Outdoors?
China had to tackle this very question in preparation for the 2022 Winter Olympics, as extreme air pollution threatened to cancel the huge global outdoor event.
Our simple answer here is no.
Technology and big data are already playing a big role in many runners' lives, and now hyperlocal air quality data can be integrated into smart devices, fitness apps, and digital health products to help individuals take the steps needed to manage pollution exposure, and know when the air is safe for running outdoors.
Here are three good use cases for air quality data in fitness that will serve as a breath of fresh air to runners and fitness lovers worldwide:
1. Optimize Running Routes in Real-Time Based on Air Quality
With real-time and hyperlocal air quality data now widely available, running apps and fitness wearables can inform users of the current air quality while they exercise outdoors.
As people run down the sidewalks of busy city streets and exercise during peak pollution periods, an easy-to-implement feature is to send real-time alerts when pollution is too high for exercising. The alerts could also include suggestions on where the air is cleaner.
But this can also be taken a step further: How about optimizing routes in real-time, and offering runners the healthiest workout, by indicating the "clean air route"? The possibilities are endless.
2. Help Runners Plan When & Where to Go Ahead of Time
People make time out of their busy schedules to go for a run. But if pollution is highest during their normal running time, it could be having an adverse effect on their health, and they know it.
For this reason, we believe many runners will start planning their runs around pollution levels, in a similar way to how they might check the weather before heading out. Technology that uses air pollution forecasting can make it easy for runners to know when and where they should exercise. Health and fitness apps integrating this type of forecasting can gain an immediate advantage over competing tools, and boost their user satisfaction and loyalty.
3. Add Personal Pollution Exposure to Reports & Alerts
More and more fitness tools now provide running reports, whether on a daily, weekly, or monthly basis. These reports can be delivered either by email, alert, push notifications or a whole section in the user interface.
Using historical data and geo-localization, you can upgrade your reports with a breakdown of air pollution levels, as well as the different pollutants the user has been exposed to.
You can show trends, for example:
'You usually run between 8 and 10 am, when there is poor air quality – and suggest recommendations for future workouts – 9 pm at night tends to be the best time to work out in your area, or if you want to run in the morning, try the Golden Gate Park, 10 min away.'
Another way is to summarize pollution exposure during the run or even the entire day.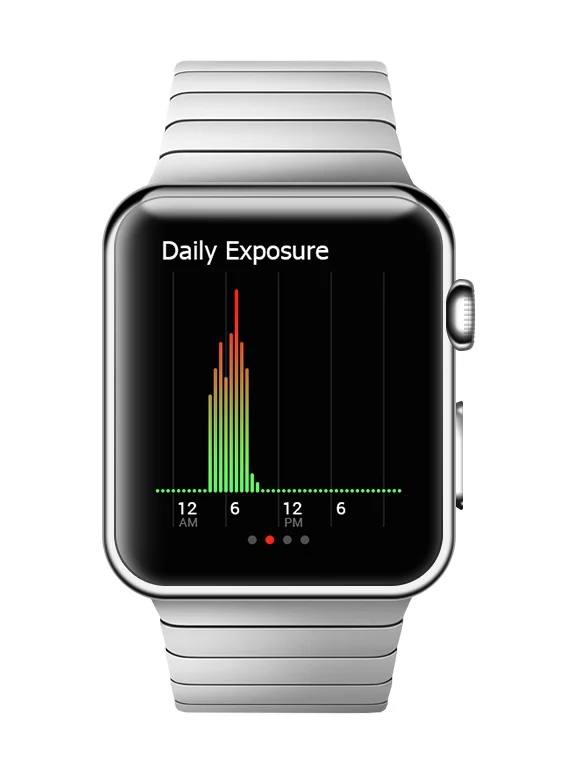 Take Your Fitness App to The Next Level With Live Environmental Insights
Air pollution isn't the only environmental hazard that can impact both health and athletic performance. From pollen to climate to extreme weather events, 360° environmental insights can be used to deliver health-focused and actionable recommendations to users, for healthier exercise regimens and enhanced loyalty.
To give an example of this in action, the popular lifestyle and smart mobility brand Cowboy provides their users with real-time air quality heatmap and cleaner-route planning based on current air quality conditions.
Learn more about this here.