Innovation in asthma management is continuing apace, and asthma sufferers are more empowered than ever before: to proactively protect themselves, monitor their symptom triggers, and optimize their treatment use.
We wanted to take this opportunity to celebrate some of the most exciting asthma management pioneers of 2022!
Why Asthma Management Matters
Asthma has no cure, which means avoiding triggers in the environment and ensuring proper treatment offers the best protection available to sufferers. Medication adherence is also crucial for asthma patients, several studies have found even a 25% increase in timely medicine use could be linked to an approximate 10% risk reduction of symptom exacerbation in adults, and a 21–68% reduction in children.
---
Asthma Treatment Providers that Leverage the Environment
Poor air quality carries many dangers for asthma patients. Research published by the EPA states that children exposed to outdoor coarse particulate matter (PM10-2.5), are more likely to develop asthma and need emergency room or hospital treatment for it. It's also very common for asthma sufferers to suffer from allergic rhinitis – approximately 80% of the population! (source).
The following companies all recognize this environmental impact on asthma symptom exacerbation as well as the common phenomena of allergic asthma by incorporating environmental data into their solutions:
1. Propeller Health – Smart Asthma & COPD Symptom Tracking and Prevention
Propeller Health has developed connected sensors that attach to inhalers and help patients track medicine use via a patient app.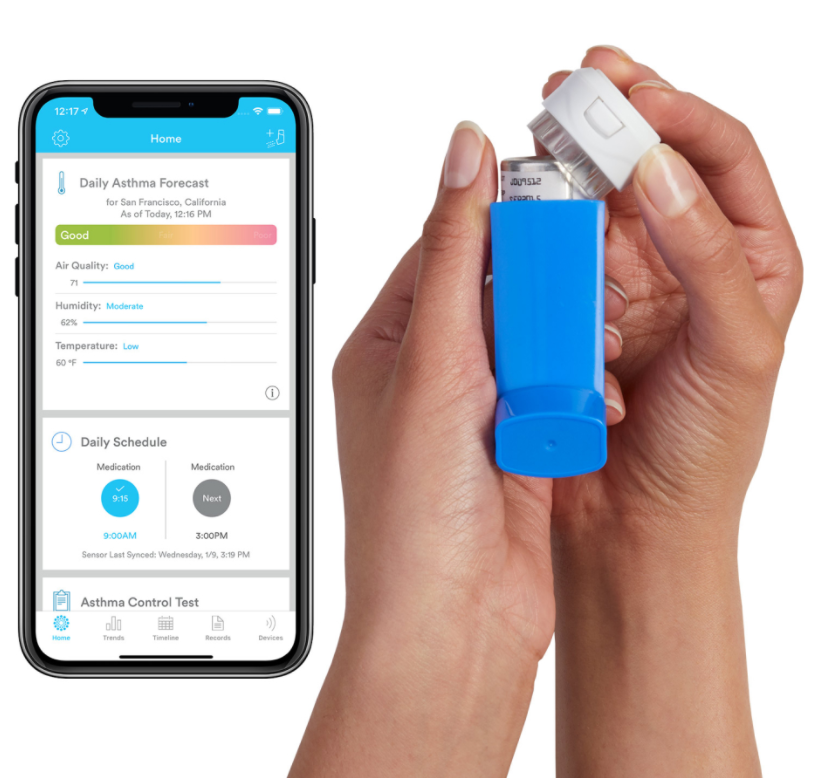 Propeller Health's solution maps out each user's environmental triggers by leveraging real-time location-based environmental intelligence in correlation with symptom flare-ups. The app-connected inhaler allows patients to preemptively take medicine and prevent attacks or reduce symptom severity.
Propeller Health's smart sensors have already demonstrated wonderful results, with users enjoying 50% more symptom-free days, a 57% reduction in hospitalizations, a 79% decrease in asthma attacks, and fewer symptoms after the first month of use!
The DailyBreath app offers asthma sufferers a personalized symptom forecast system to avoid allergens and irritants through location-based environmental intelligence.
The app allows users to track where and when they experience attacks and identify which environmental triggers they are particularly sensitive to. The app provides daily symptom risk forecasts that let users proactively avoid allergens, irritants, and weather conditions that might cause symptom flare-ups. Users can also share their experience with peers, helping to solidify a more proactive approach to coping with asthma and increase user engagement.
3. my mhealth – Optimized Self Management for Asthma Patients
My mhealth empowers patients to manage their chronic respiratory disease with "myAsthma" – the company's first Symptonet AI engine-powered app.
The 'myasthma' self-management app helps patients optimize their use of inhalers, nebulizers, and other asthma treatments via symptom tracking, location-based environmental trigger forecasting, and AI analysis which helps to create personalized action plans for medication usage based on collected data.
The app also helps on the clinicians' side with remote patient monitoring, providing real-time symptom tracking reports and a clinical dashboard with a geographical map function and individual patient profiles. Doctors can review and change medication and other key details, updating the patient's side of the platform in real-time.
---
Creative Minds in Asthma Management
Through symptom severity charting and cloud-connected data collection, among other tools, the below companies find creative ways to engage their users and empower asthma patients to lower the number of attacks they experience, mitigate symptoms, and reduce costs for patients and healthcare providers.
4. Wizdy Pets – Creative Asthma Management For Kids
Wizdy Pets helps children learn better asthma management skills with an interactive virtual pet simulator.
5. Adherium – Cloud-connected Medication Adherence Solution
Adherium's bluetooth-connected Hailie® sensor and app help severe asthma & COPD patients by closely monitoring medicine use and providing real-time feedback.
Patients download the app, lock their inhalers into the Adherium's sensor case, pair them with Bluetooth, and then track their medication use and set up reminders to help them prevent exacerbated symptoms and avoid attacks. The Hailie® sensor collects and stores data on the cloud, and provides feedback to physicians via an online website. Adherium states that their cloud-connected medicine adherence solution has demonstrated significant results, with a 59% increase in controller medication adherence in adults, and a 45% reduction in rescue medication, and an 80% reduction in hospitalizations in children.
6. Asthma MD – Tracking Asthma On The Go
Asthma MD offers a sophisticated management app and a portable Peak Flow Meter to help patients (or their parents) log lung performance and track asthma symptoms.
Asthma MD's app lets users log customizable trigger, symptom, and medication inputs, and produces color-coded graphs for an easy-to-read, visualized representation of symptom severity and Peak Flow measurements. In addition, the app provides severity-based action plans and lets users anonymously enter data to an online aggregation that can benefit asthma research. Users can also create custom alerts and reminders, and send their chart logs to their designated physician.
The RightBreathe platform serves as a searchable online resource to help match UK-licensed inhaler products with each patient's needs.
The website lists different inhalers, spacers, and medicine combinations for different respiratory disease circumstances, and offers detailed information, including price and dosage, on each product, as well as instructional videos. To help patients find the right inhaler for their needs, the site offers a keyword search bar, as well as interactive points on pathways that filter results based on local, national, and global guidelines.
8. Coherohealth – Better Remote Monitoring and Care Provider Connection
Coherohealth's app-connected portable treatment and monitoring tools keep the care provider updated at all times.
Coherohealth helps asthma and COPD sufferers (mainly children) maintain an active lifestyle through a Bluetooth-enabled inhaler sensor and a portable spirometer, which track medicine adherence and lung performance and update the patient's electronic medical records in real-time. The companion app also lets users create daily medication reminders, describe symptoms, log suspected environmental triggers, and add parents and friends as caregivers, who can stay connected and monitor them remotely via an online portal.
Key Takeaways
We are extremely excited to see so much innovation in this space and more and more treatment providers looking to health-focused environmental intelligence to help provide asthma sufferers with a new lease on life!
Successfully managing asthma requires commitment, so making the process easier for patients is vital. Environmental triggers present a major threat to asthma sufferers, as sometimes even relatively small allergen and irritants can cause serious symptom flare-ups.