BreezoMeter's Wildfire Tracker+ provides the tools needed to detect, contain, and extract wildfire insights in real-time, learn from wildfires, and make decisions based on both historical and current conditions with the goal of the improved safety and security of all affected. Here we explore the features of our newly released Wildfire Tracker+ in more detail.
The Growing Need for Wildfire Intelligence
Fire season has not even officially started yet in the U.S., but the burned acreage in California has increased by 82% from the start of 2022 through April 1, compared to the same period last year.
Worsening wildfire seasons are a major concern due to the increasing intensity and frequency of fire weather due to climate change, as pointed out in a recent IPCC report from earlier this year. For individuals in a wildfire impact area, there is an added risk of toxic smoke inhalation and poor air quality, which like the flames themselves, can be lethal.
Certainly, the effects of climate change can be frightening. Many of us may feel we have little control when these kinds of disasters strike. Yet, accepting responsibility and preparing for wildfire risk is becoming the new normal and is key to decreasing the catastrophic impacts wildfires can have. Advances in technology have enabled new software systems offering newer ways to inform businesses such as energy, utility, and insurance companies, organizations that need to provide their users with up-to-date information. Entities require information provided on-demand and delivered directly to people in areas under risk including agencies responsible for public safety.
What's Unique about the Wildfire Tracker+?
There are numerous platforms that provide wildfire information, but BreezoMeter's Wildfire Tracker + provides a unique global solution that covers every phase of the fire – from initial detection to continuous tracking of a wildfire's perimeter in dynamic weather and cloud situations, different climates and vegetation environments, until the fire is finally extinguished. With Wildfire Tracker+, BreezoMeter leverages its proven expertise in air quality and pollen, combining its environmental knowledge with advanced AI capabilities.
BreezoMeter's Wildfire Tracker+ leverages environmental information and data from a variety of sources, including local fire data from regional sources, to deliver global wildfire data and insights in a best-in-class solution and customer-friendly integration process. The main advantage of purchasing a single end-to-end solution is that there's no overhead of integrating or transferring information into different systems. So let's take a look at some of the unique features of Wildfire Tracker+:
Understanding BreezoMeter's Wildfire Local Detection
A common problem with wildfires is that they are often discovered too late, especially in remote areas or difficult terrain. By the time they are identified, they have already spread too far and it takes longer to bring them under control. BreezoMeter combines multiple sources and satellite data to ensure that fires are detected as early as possible. It immediately sends an alert with the coordinates of the fire and displays the fire on a map with a clearly defined polygon of the affected areas in real-time.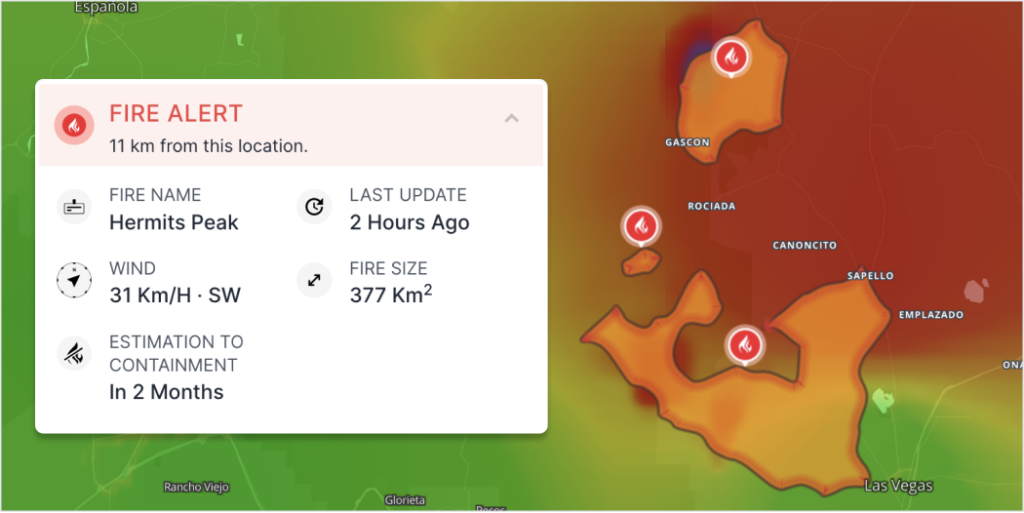 Chart the Fire Path & Beyond
The one thing that makes wildfires so dangerous is how wild they are. Once ignited, they can spread at varying speeds and change direction within seconds, making fires difficult to predict and contain. BreezoMeter's Wildfire Tracker+ continually updates fire data to track the exact location of the fire on a map in real-time. It helps residents stay aware of their proximity to the blaze, keeps motorists away from affected areas or roads, and provides businesses with the information they need to protect their interests. And it goes beyond tracking fires. With the Locate & Track feature, you can even set a specific radius around the fire to monitor the movement of people or vehicles and ensure they are safe and unharmed.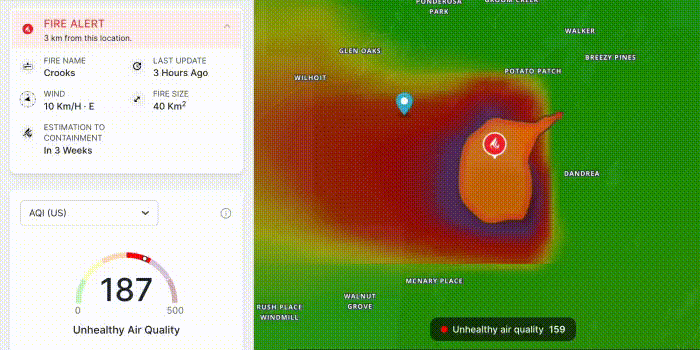 Map the Burnt Area
Even when a fire is completely extinguished, the area may still be dangerous due to falling trees or damaged property. This is where the Burnt Area feature comes in. Knowing exactly what area is burned will help you identify what to avoid or where to find an already damaged area.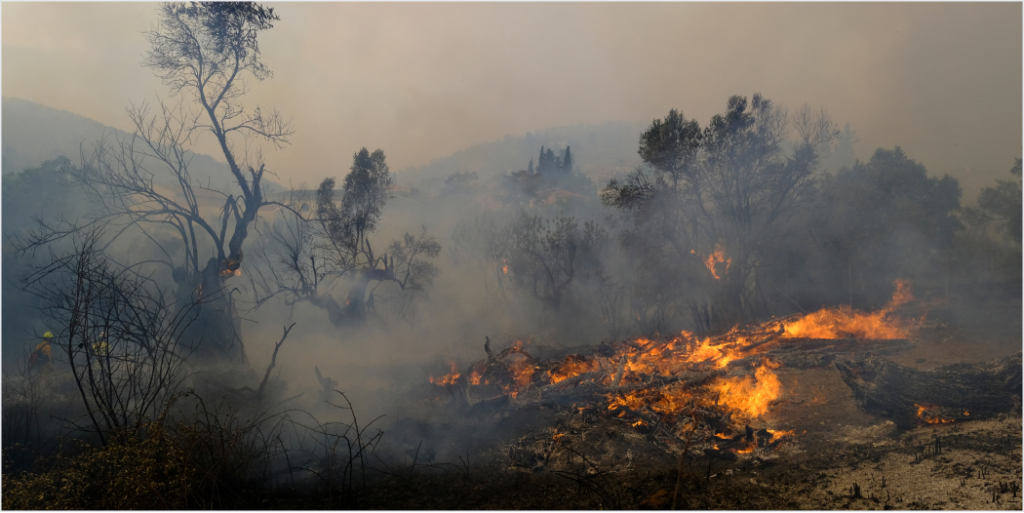 Deeper Insights with Historical Wildfire Information
With the growing number of wildfires being detected, tracked and analyzed around the world, Wildfire Tracker+ gives us easy access to historical data. Using data from the past, you can compare wildfire behavior, analyze wildfire statistics and access damage from previous fires. As wildfires become the new normal, we can benefit by using advanced technologies to gain control of wildfires and learn how to live alongside them.
Take Back Control with BreezoMeter's Wildfire Tracker+
Wildfire Tracker + helps businesses, organizations, and government agencies reduce uncertainty, quickly identify and assess risk, and improve the quality and effectiveness of decisions through the use of technology. Contact us today to learn how Wildfire Tracker+ can help you and your team save lives and protect property.