Individuals today expect product experiences that respond to their personal lives & inform everyday decision-making. The below examples show how environmental information can be leveraged to create powerful and highly personalized brand experiences.
Why Put the Environment in The Hands of the Consumer?
Nielsen research reveals as many as 73% of customers are willing to change their habits to reduce their environmental impact, they just need the means to do so.
As personalized health becomes the other big topic of our time, an increasing number of businesses are finding creative ways to bring these market trends together.
Personalization is Everywhere
The trend towards personalization affects every industry, from traditional advertising, to skincare, building management, and the way we consume energy.
1. Personalized Advertising Campaigns
Gone are the days of untargeted and ineffective advertising. Personalized advertising is the direction everyone is headed – the below brands have found clever ways to leverage high-resolution information about the environment:
Coughing Teddy Catches Attention on London Streets
To raise awareness of London's 'silent killer' (toxic air), McCann London placed a coughing teddy – fondly referred to as Toxic Toby – on the streets of London.
The worse the air became, the more he would cough, alerting individuals to the poor air quality at their location, and stealing the attention of passers by. In another ingenious move, each cough would automatically tweet a local politician, helping to push for change.
Neutrogena's Dynamic Anti-Pollution Campaign
To spread the message about their urban skincare range, Neutrogena & Spirable partnered to deliver a dynamic video campaign that showed audiences the real-time air quality levels at their location. This campaign was so successful it reversed Neutrogena's product sales decline and turned it into growth.
For those that want to dive deeper, see the case study for this particular campaign.
2. Personalized Cosmetics & Skincare
Cosmetic and beauty brands are finding new and unique ways to deliver consumer experiences that are more tailored to the individual:
L'Oréal's AI-powered Skincare Device
This really cool 3-in-1 device from L'Oréal creates custom formulas for lipstick and foundation based on an individual's real exposure to environmental factors such as pollen, weather and air pollution.
Atolla's Customized Skin Serum
Atolla offers customized skin serums based on a person's particular skin goals, history, sensitivities/allergies and living habits. They also provide at-home skin testing and health tracking via a connected app.
3. Personalized Cities
City planners are also considering how hyper-local and real-time information could be used to communicate in a more personal, one-to-one way with the general public:
City of Paris Educates Residents at their Location
In an ambitious campaign called 'Réinventons nos places', or, 'Let's reinvent our squares, the City of Paris chose ' Place de la Nation square as the site for a large scale experiment which would collect live noise, air pollution, and usage data.
They then automatically shared this information with Parisians that were physically in the square (& online), helping residents to understand the relevance of this intelligence.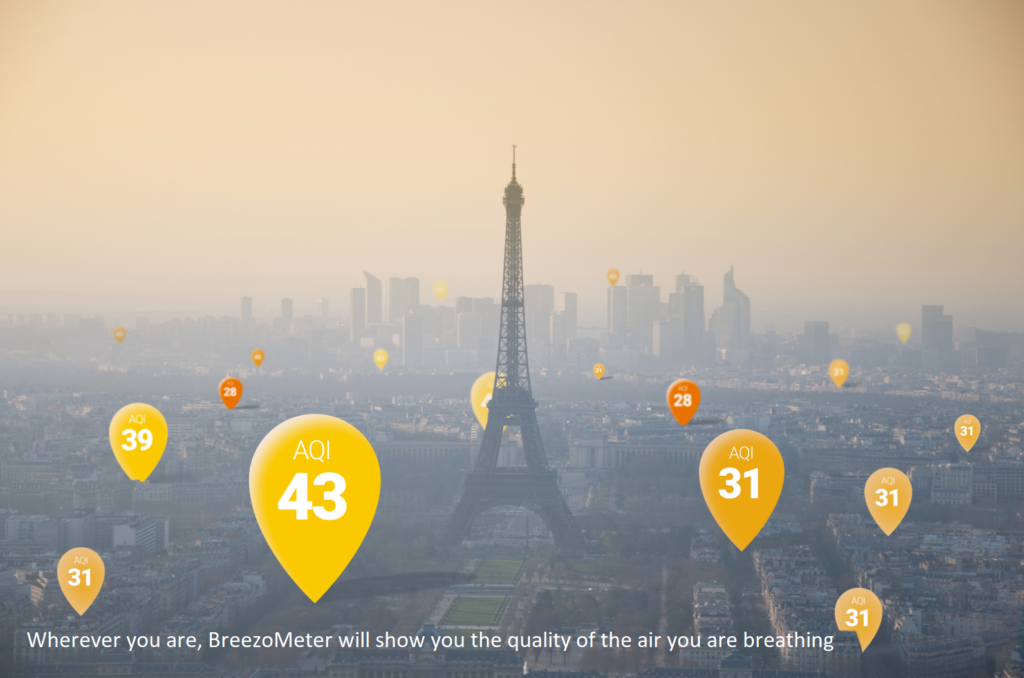 4. Personalized Building Management
Smart technology in buildings has well and truly moved beyond security and lighting systems.
An increasing number of HVAC & air purifier systems are now able to control excess moisture in the air, as well as automatically regulate ambient air temperature and quality levels.
In the wake of COVID-19, innovation here is likely to accelerate in the months and years to come.
Indoor Air Management Based on Real Exposure
Airthings came up with the first smart indoor air quality monitoring solution that includes radon detection, in addition to sensors for temperature, air pressure, humidity, airborne chemicals (VOCs) and CO2.
Users gain insight into their air quality via the Airthings app and Dashboard and can make informed decisions to improve it. Airthings also offers tailored solutions for non-residential buildings that boost the wellbeing and productivity of its occupants while reducing energy waste.
Next-Generation Home Wellness Management
The DARWIN Home Wellness Intelligence system from Delos monitors and communicates key information about the status of an individual's home that impacts health and well-being, and gives them control over their individual wellness experiences – helping to ensure optimal comfort at all times.
Smart Buddy Devices for Customized Home Ventilation
Aldes' connected device companion Walter® offers a stress free and personalized experience for homeowners wanting to ensure they breathe healthy air at home. The device is fitted with 4 pollutant sensors in order to provide real-time notifications and monitoring for PM2.5, VOCs, CO2, humidity and temperature levels in the room.
If you're interested in delving into Aldes' connected ventilation solution in a bit more detail, this case study covers it all.
5. Personalized Healthcare
Data-driven solutions are also helping the public to learn more about the direct impact of the environment on their persona health – with huge implications in particular for chronic disease sufferers.
Seasonal Allergy Treatment Gets Personal
ALK, a leader in allergy immunotherapy, makes use both of live pollen and air pollution data to inform users of their individual sensitivities and symptom triggers. Klara, their personalized allergy app, offers users tailored health advice for better symptom management.
For those interested particularly interested in building consumer experiences for healthcare, this case study covers the ALK story in a lot more detail.
6. Personalized Energy
The energy sector is transforming in response to new big data capabilities and connected technology. Smart electric meters across Europe are predicted to hit record demand in 2021.
Once customers see personalized data reflected back at them in the form of a precise and detailed bill, the idea is that they'll be able to make smarter decisions about their energy consumption.
Choose your Own Energy Source
The UK-based renewable energy company Good Energy personalizes it's offering to companies by giving them the opportunity to choose where they actually source their energy from.
Businesses can choose between 'wind' and 'solar' options based on their environmental preferences, and opt for local providers that would help them to build powerful, sustainable and community-driven brand stories.
The Era of Environmental Understanding is Here
Individuals have never had more access to information about the environment. As COVID-19 places further emphasis both on individual health factors and the harmful impact of exposure to unhealthy air, we're predicting a wave of new innovations just like the ones above over the coming months and years.
Webinar: The Psychology of Personalized Product Design
If you're interested to learn more about product design for personalized experiences, this webinar is for you.
Our own BreezoMeter app product manager, Yair Giwnewer, explains the thought processes behind the BreezoMeter air quality consumer app & provides a range of helpful tips for product managers looking to do something similar.