Are you, like many others, becoming more aware and concerned about the amount of air pollution we are exposed to on a daily basis?
The World Health Organization (WHO) defines air pollution as the single biggest environmental health crisis we face today, costing the global economy $5 Trillion and affecting 91% of the global population. No-one is immune to the health impact of air pollution exposure but athletes, children, the elderly, pregnant women and asthma/allergy sufferers are all at particular risk.
Air Pollution Awareness is at an All-Time High
The ideal scenario would be that 91% of the world's population didn't have to live in polluted areas that exceeded WHO health guidelines, but with knowledge comes power. The good news is that more and more people around the globe are becoming aware of the short-term and long-term health impact of air pollution exposure, from city planners to health professionals, from environmental scientists to company CEOs, right down to the average Joe on the street.
COVID-19 & Air Pollution: Now is the Time
As more and more studies reveal the link between air pollution and Coronavirus severity and possible transmission, the air we breathe has never been more important.
We've covered a lot in the recent months about this connection:
If you're interested to learn more about the global clean air movement, the top influencers on this subject, and the tools you need to be using to manage your own personal air pollution exposure, read on.
---
Top Clean Air Organizations Against Air Pollution
1. Coalition for Clean Air

Where are they based?
California, USA
What do they do?
CCA is dedicated to reducing air pollution and increasing air quality monitoring across California. Through effective public policy, advocacy and business solutions, they focus on measures requiring collaboration and innovation.
One of CCA's primary goals is to decrease vehicle air pollution. While they hope to see 1 million electric cars on the roads of California in the next 10 years, by 2050, they would also like freight emissions completely eliminated. Educating school children about air quality monitoring is another key focus CCA which they hope to achieve by launching a program that allows kids to build and use their own air quality monitoring devices at school.
Follow them: @CleanairCA

Where are they based?
Oakland, USA
What do they do?
Established in 1892, the Sierra Club was an environmental advocate long before it became a hot topic. 2 million strong, the organization is involved in countless projects and programs across the world.
One of their many campaigns revolves around advocating and educating about the issue and dangers presented by coal use. Using their coal plant tracker they keep organizations accountable while providing extensive educational resources through their website.
Follow: @SierraClub
Where are they based?
Massachusetts, USA
What do they do?
Air pollution really is all about science. You know we have reached a crisis situation when independent scientists, who understand the science behind the what, why and how our planet is in danger, decide to join forces and create a movement.
These 'Concerned Scientists' explain how air pollution is destroying our planet through excess carbon dioxide. Through their fight to inform and educate on how we have the ability to make a difference, they also advocate and provide solutions on how to reduce harmful emissions.
In particular, the Union of Concerned Scientists encourages the reduction of carbon emissions among members of the public and encourage political leaders to create a comprehensive strategy for climate solutions.
Follow: @UCSUSA
Where are they based?
California, USA
What do they do?
The fight for the right to clean air is behind the goal of Earthjustice: A non-profit law organization that believes in standards in order for people to breathe pure air, a right, not a luxury.
According to Earthjustice, one in three Americans live in heavily polluted areas. The NGO aims at changing the fact by helping impacted communities and ensuring that the Clear Air Act is upheld on every point, including the reduction of industrial pollution.
By using their expertise in keeping relevant organizations accountable and making sure they adhere to the rules regarding air pollution, they've become a powerful and influential player in the fight against air pollution.
Follow: @Earthjustice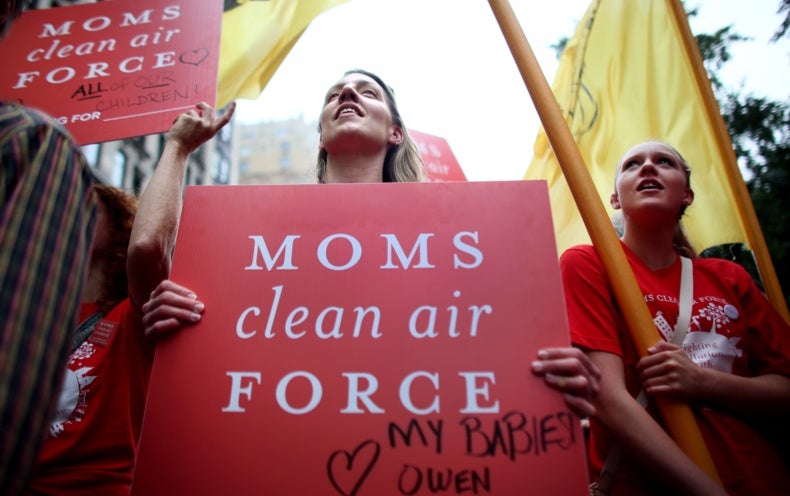 Where are they based?
USA
What do they do?
Mom's Clean Air Force represents a community of over one million parents across the US united against air and climate pollution for the sake of their children's health. They're made up of a vibrant network of state-based field teams and campaign on a number of connected national and local policy issues in their fight against air pollution.
In order to achieve their mission of achieving a safe and stable future for their children, members are armed with reliable and educational information made freely available through their website and they foster conversation about climate change framed at the micro-level of family and community.
Follow: @CleanAirMoms
Where are they based?
London, United Kingdom
What do they do?
Brought to you by UK Registered Charity, Global Action Plan - the people behind the UK's largest annual Clean Air Campaign and the Clean Air Hub are one and the same. Their stated vision is to help people breathe clean air by empowering as many people as possible to understand the full picture of air pollution. Their clean air hub offers a range of invaluable material all.
Follow: @cleanairdayUK
In Summary: Why Awareness Matters
All of the individuals, organizations and resources we've mentioned here are doing their bit to raise awareness of air pollution in 2020. This is a great thing. Over time, awareness at the individual level impacts decision-making as well as consumer behavior, in turn forcing markets and leaders to respond and adapt.
Personalized environmental data is already changing the way we live: Estate agents are being urged to disclose information about air pollution, forward-thinking healthcare companies are starting to tell users about air quality & and pollen levels to assist with self-care and the automotive industry is being disrupted by new solutions that protect drivers & passengers from poor air quality while on the road.
Join the fight against air pollution!
---
The Essential Air Quality Monitoring Tools
When you know what is in the air you breathe, how you're likely to be impacted and when the air pollution levels at your particular location are safe or dangerous, you can take steps to reduce your personal exposure. It could be as simple as closing the windows, taking an alternative route to work, or choosing a different park for your picnic date.
If you could put on a pair of glasses that showed all the pollutants in your air, how eye-opening would the results be?
By combining real-time, live air quality information with Google's Street View, Blue Air makes it possible to visualize the different pollutants right infront of you.
Increasingly, real estate markets are paying attention to the connection between high air pollution and property value. In London, potential buyers of property in the city are even being encouraged to seek discounts of up to 20%.
If you're looking to move to a new home soon, we strongly recommend you obtain an Air Quality Property Report for a comprehensive year-long view of the air pollution levels at your chosen location.
3. Stay Informed with this Free Air Quality App
Protect yourself from poor air quality by keeping up to date with the street-level air pollution and pollen where you are, available 24/7 and updated hourly. The BreezoMeter app also enables you to track your own personal exposure to air pollution over a 24 hour period.
Going Further