Find out why real-time air quality data came to form an essential part of Mt Sinai Hospital's large-scale study on asthma.
Leveraging Environmental Data for a Correlative Asthma Study
When the experts at the Icahn School of Medicine at Mount Sinai Hospital and LifeMap Solutions joined forces, their primary goal was to explore the various causes for asthma exacerbation.
As air pollution and pollen are known environmental triggers for asthma exacerbation, the researchers decided to integrate location-based and real-time air quality information. By incorporating this information into an app where participants would regularly log their asthma symptoms, researchers would obtain access to rich data regarding the true environmental impact on their asthma flare ups.
The Quest for a Suitable Air Quality Data Provider
Mount Sinai Hospital and LifeMap knew they had to measure the impact of the environment in a methodical and reliable way.
At first, the researchers turned to the US EPA for their air quality information. However, the team quickly realized they'd face challenges when it came to scaling their operations internationally. The US EPA only provides US-based air quality information and almost every country in the world calculates their AQI differently.
Recognizing the Importance of Real-time Accuracy
The EPA air quality information presented some additional challenges. Though the information was accurate at the precise location of the monitoring stations, it wasn't real-time and couldn't be used easily for obtaining information for areas far from government monitoring stations. (Learn more about governmental air quality reporting here).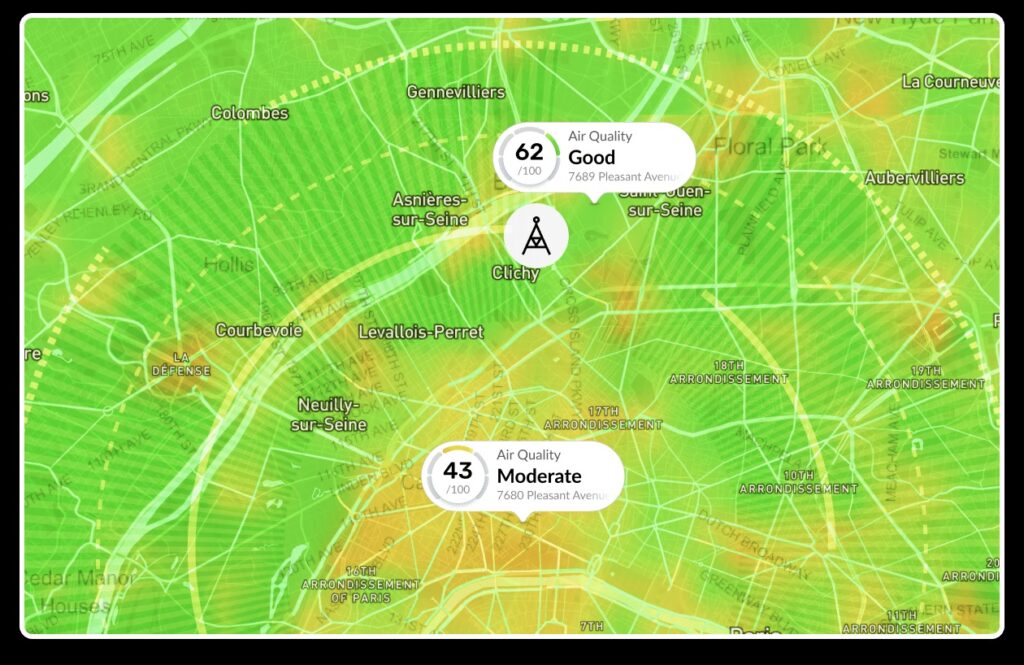 Without access to real-time and hyper-local air quality intelligence, it would be difficult for the researchers to connect the impact of the environment to asthma exacerbation in a reliable way.
Mount Sinai Hospital & LifeMap Choose BreezoMeter
The researchers turned to BreezoMeter's air quality experts for help. They quickly realized that BreezoMeter had already completed the work of standardizing national AQI scales, health recommendations – and unlike other providers, could also offer truly location-based and hourly-updated information.
Outcomes of Asthma Exacerbation Study Better than Expected
In total, the Icahn School of Medicine's Asthma Health app recruited and enrolled more than 8,600 research participants.
A spokesman for the study remarked on the high level of engagement from participants with severe asthma conditions:
"patients with more severe, less controlled asthma symptoms appear to be more engaged and use our app more frequently…we hypothesize that these more severe sufferers are more motivated to contribute to medical research, and also have personally experienced the benefits of using the app as a 'reminder' for medication and self-monitoring of triggers and local air quality".
A New Doctor Dashboard
Participants found the Asthma Health app so useful that they started to share their historical health data to doctors. As a result, the pilot study later led to the creation of a Doctor Dashboard – designed to make it easy for users to share their patient information with doctors at any time.
The dashboard could link up with their electronic health record for purposes of ongoing clinical research and personalized treatment.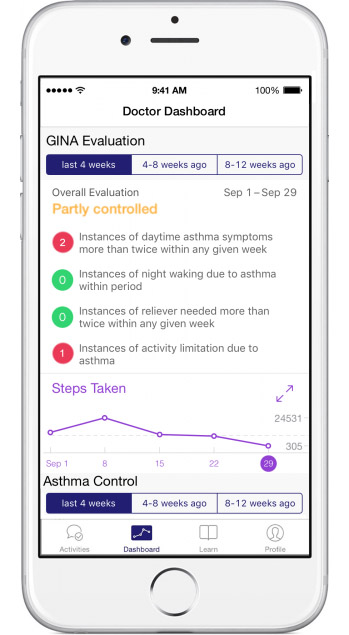 Key Takeaway
Mount Sinai Hospital's research communicates the value of high-resolution and hourly updated environmental data for correlative studies.
Like never before, clinical teams can decipher the impact of the dynamically-changing environment on chronic disease, and use their findings to inform future treatment innovations.