As IoT & digitalization accelerates IAQ market disruption, the days of thinking about HVAC and air purifier systems as hardware-only household appliances are fast disappearing. The products and brands that succeed going forward will be those that make the transition from 'household appliance' to 'lifestyle' brand. But how do you make your products become an essential part of your customers' daily lives!?
Get the IAQ Guide: How to Make Indoor Air Products a Way of Life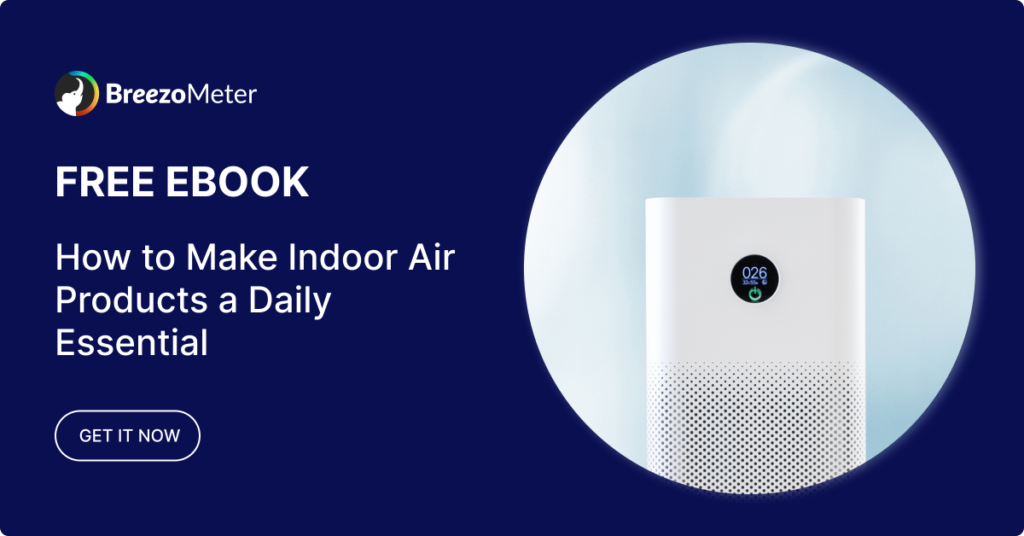 In our dedicated industry guide, we explore the different ways leading indoor air and smart home brands – including Siemens, Delos, Airthings, Blueair & more – use environmental intelligence to create highly engaging product experiences.
By ensuring their products become a constant feature in their customers' lives, both inside and outside of a building, these brands ensure their customers see the importance of their products and stay brand loyal for the long term.
What's the Product Goal?
Before integrating environmental intelligence, it's important to clarify your specific product goals and needs. What benefit do you expect environmental data to bring to your indoor air treatment solution? Are you trying to solve a particular problem?
Based on our experience working with indoor air and smart home leaders, we've identified the following challenges that frequently need to be addressed by consumer brands within this space:
1. Highlight Air Treatment Products as More than a 'Nice-to Have'
You already know the value of your solutions and why they're needed, but how do you get your users to see this? Indoor air providers have a unique challenge on their hands: The task of communicating why every home needs a defense against an almost entirely invisible health threat – air pollution.
2. Keep Users Engaged & Loyal Over the Long-term
You know the importance of long-term product loyalty and engagement: Higher purchase volumes, increased frequency and higher overall customer retention. But how do you actually achieve this as an indoor air product maker?
3. Sell More Products & Boost ROI
At the end of the day, innovation always comes back to the bottom line: There are targets to meet and costs to reduce, so how can your indoor air brand reach new users and increase sales to existing ones?
4. Stand Out & Differentiate
Many consumers see HVAC and air purifier systems as household commodities, finding it hard to distinguish the offerings between different brands. The long-term success of your products and brand loyalty will depend upon your ability to fight against commoditization by highlighting what makes your products different from the rest.
5. Get Ahead of Market Disruption
As the connected home becomes more mainstream, new products are flooding the market and the way homeowners view their indoor air systems is changing. Increasingly, indoor air providers are required to develop not only connected experiences but to cater to their customers' individual needs. Is your brand ready to address this drive for personalization?