A huge thank you to everyone who participated in our live webinar on Healthy Indoor Living in the Time of COVID-19 yesterday. We know that many of you couldn't attend the live version so we've made the on-demand version ready for you as quickly as possible.
Why We Held this Webinar
We are already historically the most indoor culture of humankind, but due to the COVID-19 pandemic, activities that used to take us outside such as exercising, commuting, grocery shopping, have now gone indoors for many. Our heightened sense of health has us asking millions of new questions about this new state of living, from the air we breathe to how we should best manage our well being at this time.
This session is also particularly relevant for HVAC and indoor air specialists interested in learning more about the benefits of integrating air quality data.
About Our Experts: Dr Gabriela Adler & Dr Chuan He
Our hosts for this special event were BreezoMeter's Chief Scientist, Dr Gabriela Adler, and Dr Chuan He, Senior Director at Delos Labs.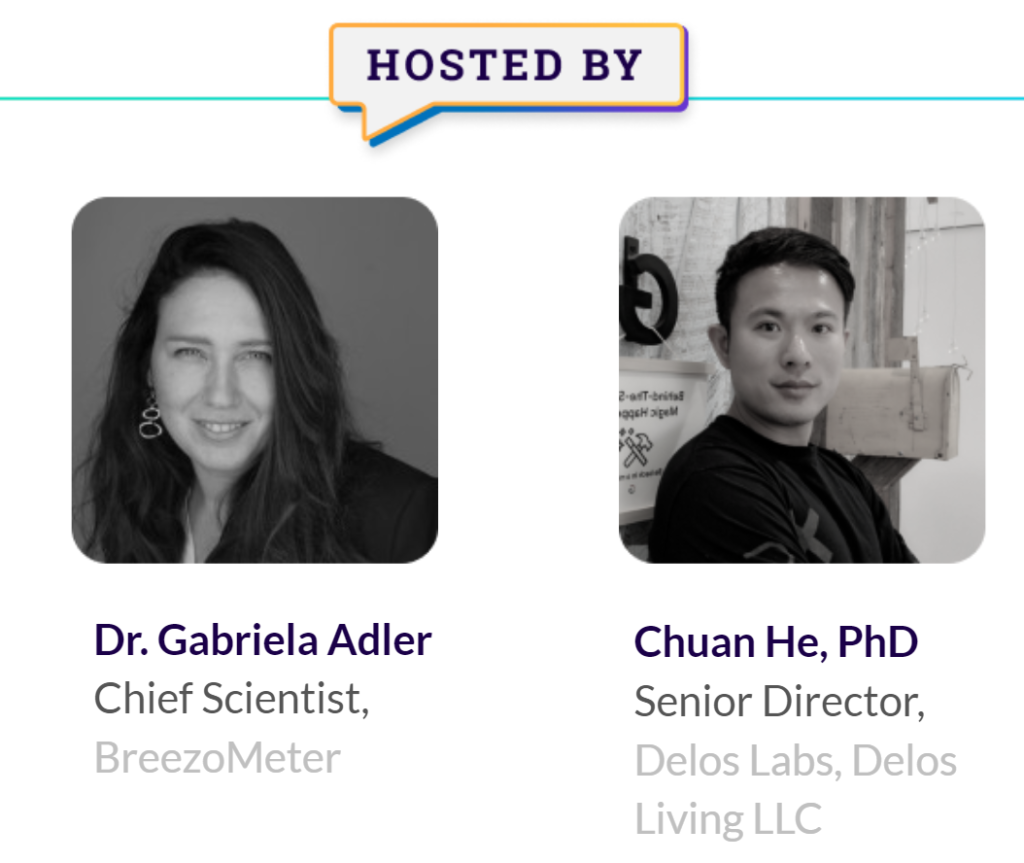 Dr Gabriela Adler has an MSc & PhD in atmospheric science, and has worked as a research scientist at National Oceanic & Atmospheric Administration (NOAA), and is an expert in chemical & physical processes related to air pollution. Gabi believes it is her greatest duty as a scientist to bring science to the people.
Dr Chuan He is a researcher of indoor air quality, indoor environment monitoring, and building systems. Chuan leads the framework development of algorithms for home automation systems that work to improve indoor environments and the well-being of home residents at Delos Labs.
What Did We Talk About?
Understanding COVID-19 Transmission
Our experts explain the accepted and widely known routes for COVID-19 transmission as well as additional and likely routes for transmission that are still under investigation.
There is evidence, for example, that air pollution particles could play a role in spreading COVID-19. It is also possible that the virus can become suspended in the air through droplets for up to 3 hours, potentially enabling it to travel with the airflow in the room.
The Environmental Threats We Face Indoors
We are not only at risk from Coronavirus indoors, our spaces may also be contaminated by many types of pollutants: Particles, chemicals as well as germs.
Indoor pollutants also include pollutants as well as potential pathogens that can lead to infections. Even though we're indoors, we're not immune from air pollutants outside our homes (and yes, there is still air pollution even though there are less cars on the road!) We are also in the midst of pollen season in many areas, a huge breathing hazard for many!
We cover three main approaches for improving air quality in detail using real-world examples that explain how to actually implement these methods in practice.
Source Control Methods i.e. Identifying the pollution source and removing it from our environments.
Natural and Mechanical Ventilation Methods i.e. Replacing indoor air with outdoor air through a mechanical fan system or through windows/other openings.
Air Cleaning Technology Methods i.e. Targeting pollutants in the indoor air with filtration and purification devices.
Q&A Session
Our live webinar participants were lucky enough to put some of their questions directly to the expert hosts, including:
What does Delos think about healthier home environments more broadly? (I.e. not just air quality related)
Is there a connection between high risk populations for COVID-19 and those who are already sensitive to pollution?
For the answers to these questions and unmissable insights, listen back to the session below: