Discovering new and innovative ways to improve product engagement is at the forefront of every product manager's mind, but how many of you have actually considered the environment as a source of inspiration?
Product Use Cases for Every Industry
Given that everyone around the globe is affected by environmental hazards like air pollution in some way, with the right product strategy, your business could be leveraging environmental intelligence to boost product engagement. Here are some of the many creative ways we've seen innovative brands leverage environmental information to boost product engagement across a range of different industries:
#1 Smart Home: Connected Air Purifier & Ventilation Products
Smart home companies and indoor air treatment providers demonstrate the efficacy of their products by presenting indoor and outdoor air quality side by side, allowing customers to maintain optimally clean airflow throughout family homes, office spaces, and other properties based on their personal needs and actual environmental context. Up to date environmental information also enables these companies to offer consumers relevant information outside the home – enabling a transition from 'household appliance' to 'lifestyle brand'.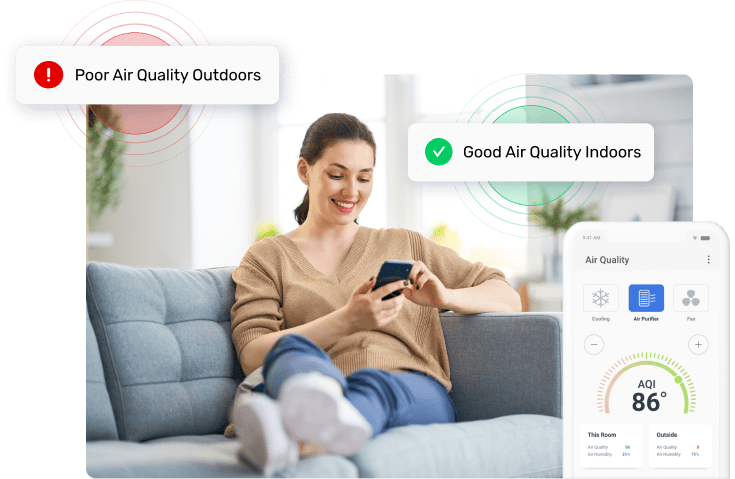 By positioning themselves this way, we've seen indoor air companies increase sales of air purifiers and other home appliances, capitalize on upsell opportunities, and keep top-of-mind brand awareness for customers, contributing to high levels of product engagement on a daily basis.
#2 Digital Health Value For Vulnerable Groups
Several pharmaceutical companies and healthcare providers like myhealth use environmental data for patient apps to maintain a year-round top-of-mind awareness with their patients and provide clear added-value for their holistic digital health services.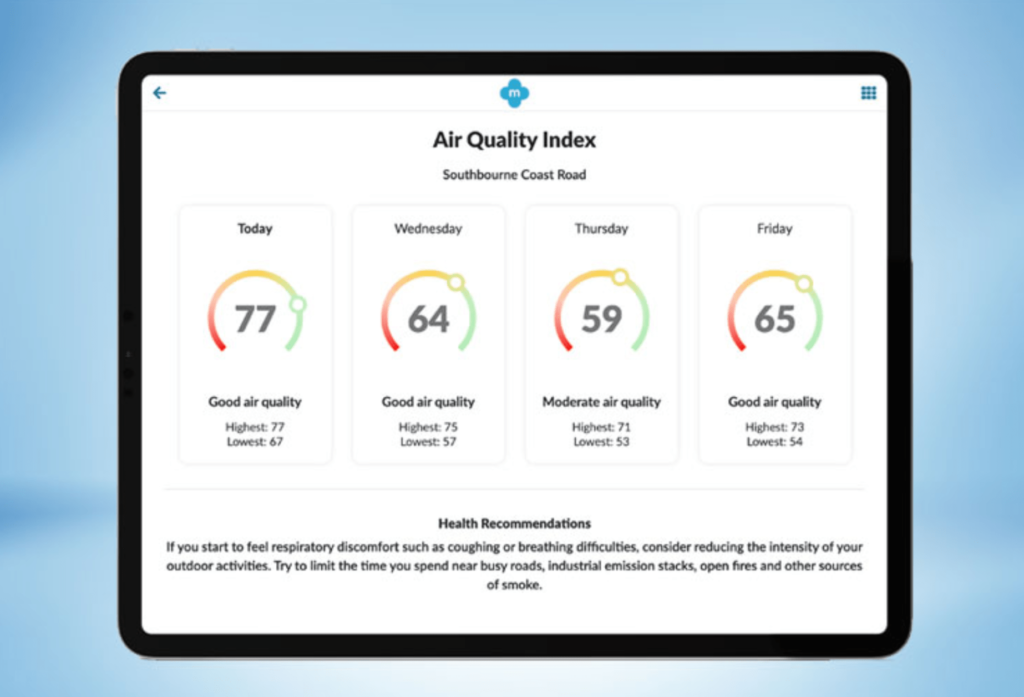 Source: my mhealth
Environmental data enables health brands to personalize their treatments by prompting users to provide feedback about daily allergic reactions and other exacerbation experiences to receive targeted medical suggestions based on described symptoms that are then cross-referenced with real-time pollen presence and pollution levels.
#3 Cosmetics Treatment Optimization
Some of the biggest cosmetic brands in the industry have managed to build strong product engagement with their users by developing smarter skincare solutions based on the environment, and by incorporating personalized air quality exposure into apps to help users improve skincare routines.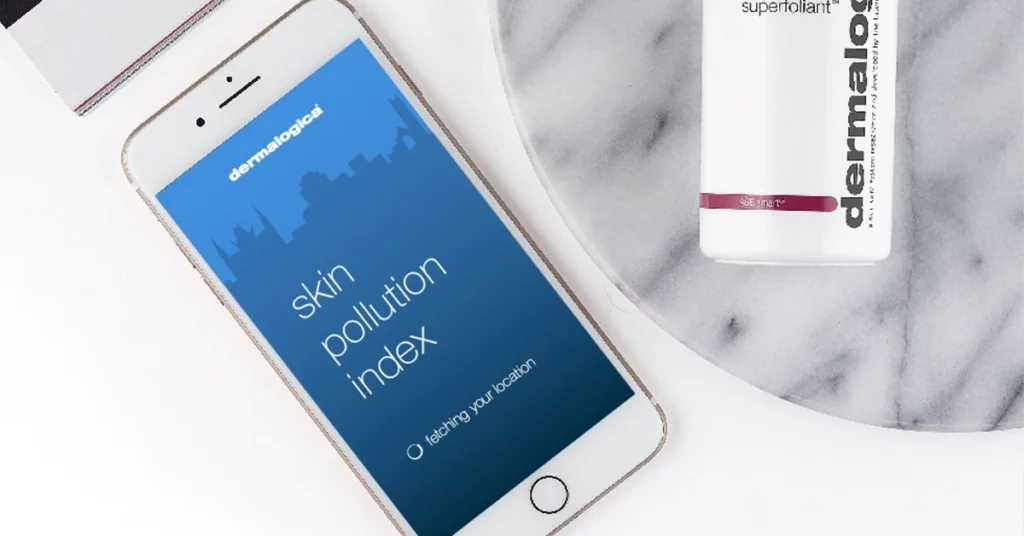 Based on daily activity information and calculated exposure to air pollution, pollen, and other contaminants, these apps appeal to consumer needs by offering personalized recommendations for different skin creams, best application times and durations, and more. Check out these cool skincare product experiences from Dermalogica, Neutrogena and L'Oréal.
#4 Creative Campaigns for Savvy Product Marketers
Smart advertisers are increasingly using environmental context as an additional layer of targeting to inform bidding, targeting and ad messaging. In essence, this works by responding to poor air quality or high pollen levels in specific consumer locations and targeting product ad campaigns in those areas, serving to educate target audiences and offer solutions to the problems being experienced by their audience.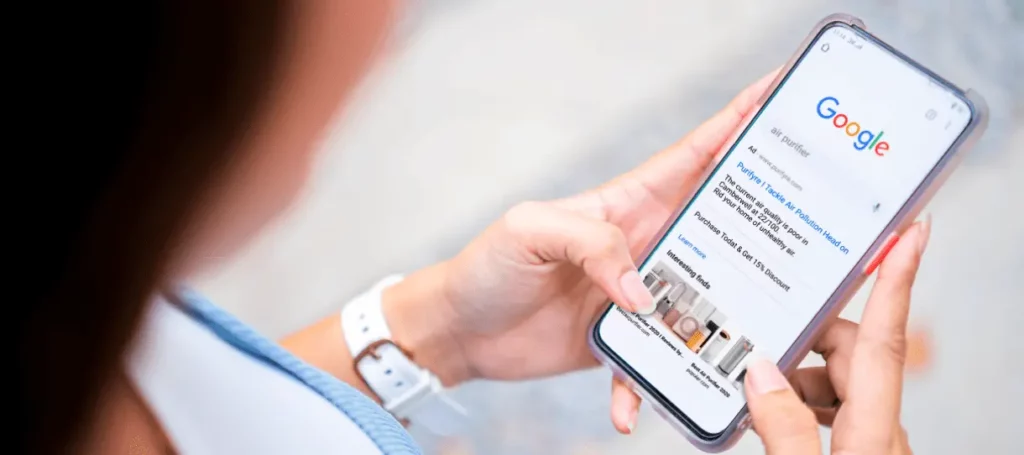 Location-based and hourly-updated environmental context also offers creative product marketers new options for delivering stand-out and memorable campaigns. We've seen dynamically updating downloadable air quality widgets, environmentally-triggered email marketing and social posts, to on-street PR campaigns that get people talking about the environment for months…sometimes years. McCann London combined air quality data with an automatically coughing teddy bear to bring attention to the problem of air pollution in the UK capital city.
#5 Cleaner Route Planning for Hikes & Cycling
Smart mobility and fitness brands incorporate real-time and localized air quality data to help their app users dodge air pollution and find the best locations and times to exercise outdoors. For example, to increase product engagement and user experience via their companion apps, Cowboy offers riders choices between the fastest and cleanest routes, which they'll keep coming back to daily. For users interested in the cleaner bike routing, they utilize real-time air quality heatmaps, along with contextual information on different pollution levels, creating a real sense of added value beyond simple navigation and route planning.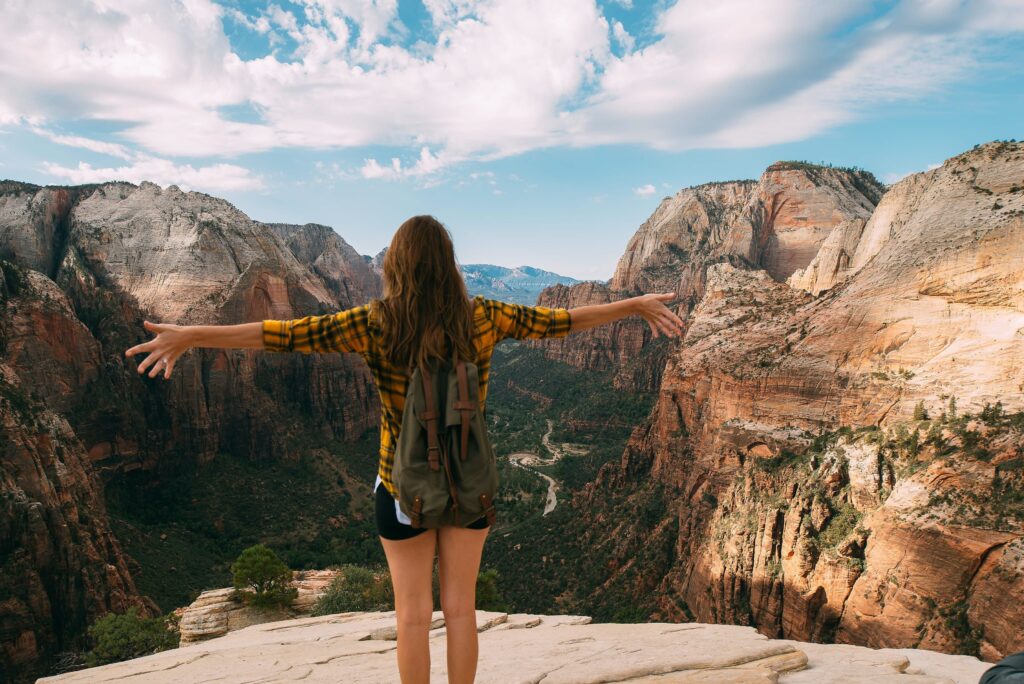 The popular hiking app AllTrails also incorporate air quality and pollen information as part of their pro-subscription – enabling loyal fans to choose the healthiest routes while on the move.
#6 Cleaner Cabins Car Owners will Love
Since drivers spend an average of three years of their lives on the road, combining air quality monitoring for outside and inside the cabin helps to address growing health concerns of vulnerable groups and those living in the city.
For automakers real-time and predictive air quality data helps deliver cleaner route planning functionality and prevent in-cabin contamination. This use case is designed to give drivers the ability to opt for non-polluted routes and make them use the offered information to make healthier decisions on the road based on their specific sensitivities and the outdoor environment. We've also seen automotive brands interested in using air data to alert drivers when safe AQ levels are exceeded, extending even to automatic engagement of windows, A/C, and filtration systems to maintain a safe cabin environment.
In Summary: The Only Limit is your Imagination!
You, as the product manager, can use a combination of demonstrated value, engagement prompts, and user-targeted information to help consumers adopt new behavior patterns to assist them in making healthier decisions, which, as a result, helps you increase and maintain brand awareness, sales opportunities, and customer satisfaction.
The digital race is ongoing, and creativity is a huge advantage when it comes to successful product engagement with users. Environmental information maintains its relevance to consumers across a wide range of fields, which means the potential use cases are limited only by your imagination.