Staying relevant in today's crowded marketplace is no easy task, but real-time air quality data can help your brand stand out by meeting the growing consumer demand for health device personalization.
For businesses, device personalization has become the new frontier in consumer goods. According to Deloitte, approximately one in four consumers are willing to pay more to receive a personalized product or service, a fact that's evidenced by the meteoric rise of apps that track users' health metrics, air conditioning systems perfectly in tune to users' preferred temperature, and voice assistants that offer precise weather updates based on location.
And while consumers' interest in device personalization may seem to be in conflict with their increasing concern over issues of data privacy, fostering trust and transparency can go a long way toward reconciling these ostensibly countervailing impulses. A Salesforce survey found that nearly 80% of consumers say they will trust companies with their personal information and data as long as they understand how this data is being used to create tailored products and experiences.
What's Driving the Demand for Health device Personalization?
There's no single reason behind consumers' growing demand for device personalization — the interconnectedness that defines the world we live in is at the core of the push. Consumers want — and often expect — to feel a sense of human connection with the big-name brands that manufacture their cars, home appliances, phones, and applications. According to Salesforce Research, 84% of customers report that being treated like a person, not a number, is "very important" to winning their business.
The growing popularity of the health and wellness economy is another factor contributing to consumers' desire for device personalization. This $4.2 trillion industry grew 12.8% between 2015 and 2017 as consumers started seeking greater control over their health and overall wellbeing. From fitness apps to wearables to air purifiers, today's shoppers gravitate toward detailed, customized information about their sleep habits, their activity level, their diet, and more.
Consumers have grown accustomed to fast, connected devices that respond in real-time with a simple shake of the wrist, fingerprint, or voice command, and they believe these capabilities should be the norm. In fact, 75% of Millennials and Gen Zers expect instant, on-demand engagement from their devices and applications, with Gen Xers (66%) and Baby Boomers (53%) not far behind.
How Real Time Environmental Data can Help Meet the Growing Demand for Device Personalization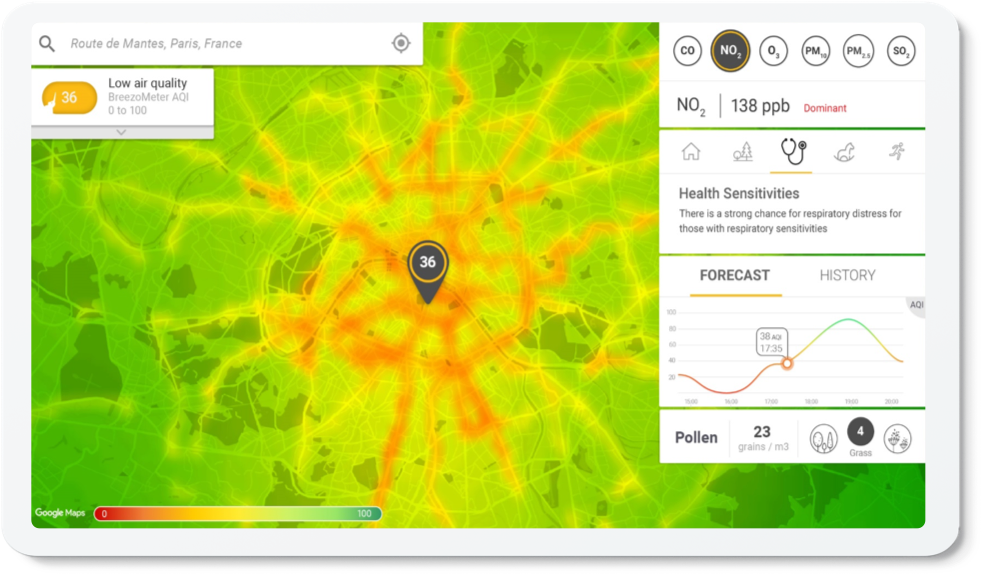 For home builders, HVAC installers, smart home device companies, and healthcare and fitness product developers, leveraging air quality and pollen data can provide a competitive edge in today's personalized and increasingly competitive marketplace.
Indeed, according to the Global Wellness Institute, the wellness real estate sector, or residential and commercial properties that incorporate wellness elements into their design, amenities, services, and programming, grew 6.7% between 2015 and 2017. Not far behind it were the fitness and preventative and personalized medicine sectors, which grew 4.8% and 3.7%, respectively.
Home, healthcare, and fitness products and applications that offer minute-by-minute, personalized data are ideally positioned to thrive in today's markets. For instance, apps and devices equipped with air quality data experience an average 2.4% jump in engagement. That's because, when calculated using sophisticated algorithms, such data can provide consumers with real-time, street-by-street insight into the quality of the air that they're breathing — insights that are truly personalized to their locations and lives, not generated by citywide averages or estimated based on government stations miles away. Since air quality changes many times throughout the course of a day, users with access to these granular insights are more encouraged to engage with their apps and devices every few hours.
With this customized, actionable information in hand, consumers will know when it's time to change filters on their devices and even receive health recommendations based individual sensitivities to pollution levels. Athletes can breathe easier, asthma patients can prevent flare ups, and parents can protect their children's health. This is the type of hyperlocal, health-driven information consumers have come to rely on in an age where personalization, human connection, and on-demand results are the norm.
Take a look at a real example of how device personalization increases user engagement and product value in this ALK use case.