As stated by the CDC, heart disease is the leading cause of death for men, women and people of most racial and ethnic groups in the USA – each year approximately 1 in 4 deaths result from heart disease. Could air pollution exposure have anything to do with this heart condition?
The Shocking Human & Financial Cost of Heart Disease in the USA
In addition to the large human burden from the perspective of families and society, Cardiovascular disease is also the costliest in financial terms. In a dedicated 2017 report, the American Heart Association stated that annual direct and indirect costs resulting from heart disease amounted to $555 billion. They also pointed to worrying signs for the future through predictions that cardiovascular disease would rise to 45% of the American population by 2035, resulting in an annual financial cost of $1.1 trillion.
Air Pollution & Heart Disease: The Strong Connections
Epidemiological data has shown that air pollution accounts for at least six million deaths per year worldwide. Cardiovascular disease ranks first among the causes of death from pollution, and yet these links are still largely neglected:
1. Heart Disease Sufferers Most at Risk from Air Pollution Linked Premature Death
As air quality relates to our breathing, many of us instinctively understand the risk to respiratory disease sufferers such as those with COPD and asthma, however a higher proportion of deaths linked to long-term air pollution exposure may actually occur among those at risk from heart disease and strokes.
The WHO estimates that in 2016, some 58% outdoor air pollution-related premature deaths were due to Ischaemic Heart Disease and Strokes, compared to 18% of deaths due to Chronic Obstructive Pulmonary Disease and acute lower respiratory infections, while 6% of deaths were attributed to Lung Cancer.
2. Long-term Air Pollution Exposure Linked to Accelerated Atherosclerosis & Heart Conditions
Atherosclerosis is considered to be the main underlying cause of cardiovascular disease (CVD) (see here) – essentially it refers to a build up in the walls of the arteries of fat, cholesterol, calcium and other substances. In research documented by the EPA, it was found that long-term exposure to particulate matter and nitrogen oxides could prematurely age blood vessels and accelerate the process of atherosclerosis.
In a study of 500,000 teens and adults with a 16-year follow-up, it was also found that PM2.5 increased risk of these heart conditions: Ischemic heart disease, heart failure, arrhythmias, and cardiac arrest by 8~18% for every 10.5 μg/m3 in PM2.5. (Source)
3. Air Pollution Exposure Raises Blood Pressure
Increased blood pressure contributes to an elevated risk of cardiovascular disease, and it has been found that air pollution exposure could have a direct impact here too. Studies have shown that PM2.5 in particular can cause increases in systolic blood pressure (SBP) and diastolic blood pressure (DBP).
One study even found significant rises in DBP after just a 2 hour exposure to PM2.5 and O3. According to this study, carbon content in air pollution (PM) (for example, PM resulting from traffic exposure) was strongly associated with an increase in blood pressure.
4. Air Pollution Increases Risk of Sudden Heart Attack & Stroke
When researchers analyzed records of air pollution concentrations in the neighborhoods of more than 187,000 people who had cardiac arrests outside hospitals across 28 states, they found clear evidence that as ozone levels, so did sudden cardiac events.
In 2020, during the awful California wildfire season it was also found that heavy smoke exposure contributed to out-of-hospital cardiac arrests by up to 70% (source).
These findings prompted Sumi Hoshiko, MPH, research scientist at the Environmental Health Investigations Branch of the Center for Healthy Communities at the California Department of Public Health to state that,
"Clinicians should be aware of these risks, particularly relevant for their patients with underlying cardiorespiratory conditions. These include patients with ischemic heart disease, heart failure, cerebrovascular disease and asthma."
5. Before Birth: Air Pollution Exposure in the Womb
Research suggests that heart health impact from air pollution exposure could even begin in the womb. As documented in this academic review, a robust correlation has been found between fetus exposure to nitrogen oxide and congenital heart disease factors.
A New Hope for the Future? Digital Health & Remote Monitoring for Protecting Patients With heart conditions
As the digital health revolution becomes accelerated in response to the COVID-19 pandemic, we look forward to seeing more digital therapeutic solutions for heart disease patients that take into account the environmental context and air quality levels.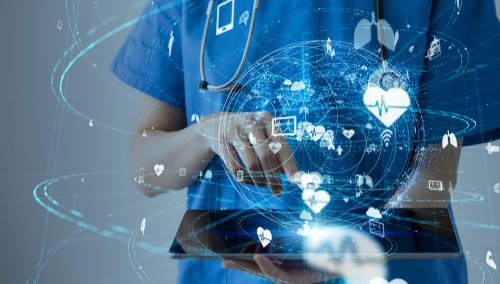 While many digital health brands are not offering air quality information for heart disease sufferers yet, we've identified the below brands as innovators to watch in this space:
Heartbeat Health: Offers a complete telehealth platform for cardiology incorporating telemedicine, remote diagnostics and digital heart health programs.
AliveKor: Offers an on-the go EKG solution via a connected device and patient app.
Qardio: Offers a number of smart, connected devices for monitoring heart health, including blood pressure and on-the-go EKG monitoring.
Omron Heart Monitor: Offers HearGuide, an FDA cleared wearable blood pressure monitor.
Eko: Digital stethoscopes, patient and provider software and AI-powered analysis to detect and monitor cardiovascular disease.
Coala: FDA cleared and patch-free Remote Heart Monitor providing real-time ECG analysis and heart sound recordings.