We designed our Health-focused Environmental Intelligence platform to make it easier than ever for businesses to warn and protect customers from health threats in the environment. We've created a dedicated guide with more information about its features and popular use cases, have a read!
Why We Developed this Platform
Our scientists and engineers have developed and perfected the data behind our environmental intelligence. Our unique approach to air quality, pollen, and wildfire reporting is powered by multiple data sources, highly sophisticated modeling, AI & machine learning, and accuracy-validation processes that constantly run behind the scenes.
However, we know that environmental data means nothing without the ability to turn this information into actionable information that informs decision-making in the real world. Until now, most businesses had no easy way to translate the environment for their users in a meaningful way – so users were either missing valuable information or companies spent considerable time and money on trying to solve this problem for their users.
In line with our mission to help improve the health of billions of people worldwide, we set out to solve this problem – and make it as easy as possible for businesses to make use of our environmental intelligence in a practical way.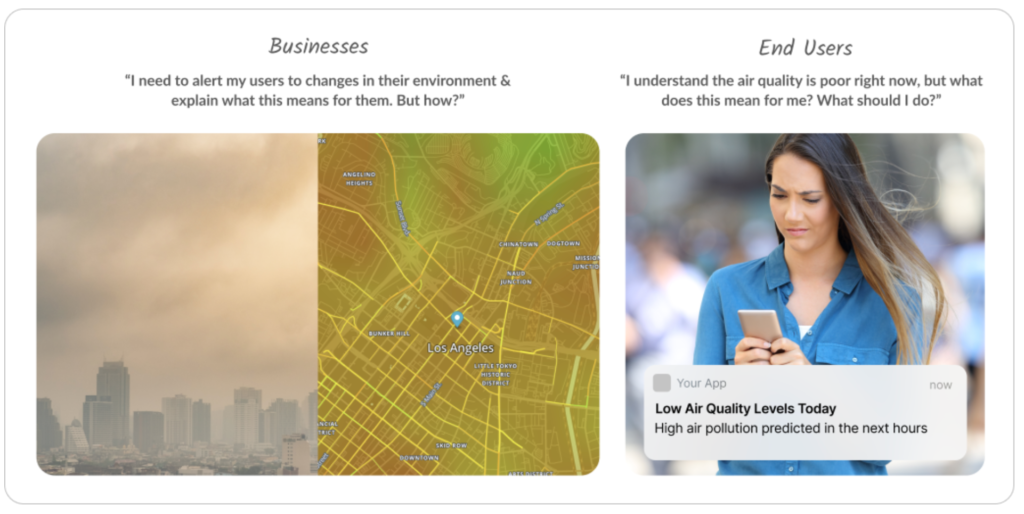 Using our Intelligence Platform, messages can now be customized easily based on user profiles, environmental exposure, brand style, and specific offers: Vulnerable users can be alerted to changes in their environment when it matters most; Chronic disease sufferers can be encouraged to take treatment at the right time; Users can be informed when it's safe to exercise outside and different messaging can be tested on the fly.
The potential uses for our new platform are vast, covering a wide range of industries and products.
What Can You Do with the Health-focused Environmental Intelligence Platform?
Our SaaS platform leverages hundreds of research-backed health recommendations so that businesses can easily translate data into meaningful action, and deliver customizable messaging in response to users' real-time environmental exposure.
Easy-to-use Alerts Management Builder:

Easily define and send different kinds of alerts and insights while customizing it without the need for a developer.

Library of Air Quality Health Recommendations: Based on actual air quality exposure levels & defined by specific user group (elderly, pregnant, children, asthmatics, etc)
Extensive Pollen Symptoms Library: This shows a long list of potential symptoms based on real-time pollen information. e.g. Loss of smell, headache, runny or blocked nose, etc.
Targeted Pollen Type Information: Detailed descriptions for different plants including appearance, geography, and allergy manifestation.
Pollen Source Intelligence: Information about the real health impact of specific types of pollen plants and species for different types of conditions and profiles
Library of Pollen Health Recommendations: Research-backed and based on actual pollen exposure.