Just in time for World Asthma Day, we sat down with my mhealth's Rehabilitation and Engagement Lead Jane Stokes to learn how the company's digital patient engagement solutions empower asthma sufferers in the UK to better manage their environmental exposure and control their asthma flare-ups.
Tell Us a Little About Yourself & Your Role at my mhealth
I'm a respiratory specialist physiotherapist by background and I've been working with my mhealth for 4 years. As the company's Rehabilitation & Engagement Lead, my role is really to make sure that the products and additional therapeutics that we've developed over the years still serve the purpose. This means continually working on intuitive designs for our products, but also supporting the clinical teams across the NHS and international departments and helping them make the best use of our products and deliver the best care to their patients.
What's the Mission of my mhealth as a Company?
As a clinically-led software development company, my mhealth set out with the ambitious initiative to change healthcare forever, and that is still our overall mission as a company. But in terms of what that actually means, we aim to provide patients with the knowledge, tools, and skills to be able to manage their conditions on a day-to-day basis, and also to support clinical teams with their patient management, facilitating remote delivery of care and also empowering patients to optimize their conditions and daily lifestyle choices.
We do this by delivering information, advice, guidance, and therapeutic interventions through web-based applications, such as the my mhealth platform and digital long-term conditions hub.
Who are the People behind myAsthma?
my mhealth works with clinical specialists as well as patient user groups to continually develop and design the myAsthma app to make sure it continues meeting patient and clinician needs over time. We've got clinical expert leads on the project and also a dynamic feedback loop from clinical service providers and patients, enabling us to receive constructive input that we then feed into updates and further app iterations going forward.
Tell Us a Little More About Your myAsthma Product in Particular – Who Is It for & What Does It Do?
Globally, there's a population of about 300 million people living with asthma, making it one of the most common chronic respiratory conditions. However, there's a major gap in care. For example, a 2019 study found only as high as 43% of asthma patients in England received basic care.
This is obviously a significant issue. Failure to receive basic care can lead to poor control, which can potentially lead to more asthma attacks and increased symptoms on a daily basis.
Can You Tell Us a Little More about the Basic Asthma Care You're Referring To?
By basic asthma care, I'm referring to an annual review, inhaler check, and having an asthma action plan that's been agreed to and discussed with the individual's clinical team.
This is where we started when creating our myAsthma product, which has been designed by clinical experts with patient input, in order to provide 24-hour self-management and educational expert advice to asthma patients and support them in receiving basic care and optimizing their chronic disease management.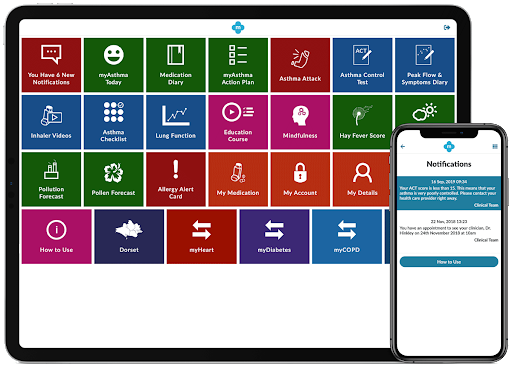 The myAsthma app disease management app
Our asthma app contains a full suite of tools to help asthma patients manage their conditions, including comprehensive structured education, daily symptom monitoring, and in-app asthma action plan. This helps patients understand what medication to take and when to take it, how to optimize their daily lifestyle choices and reduce risk factors.
We've also got online peak flow and symptom tracking, so patients can use that on a daily basis. There's daily symptom score reporting, which aligns with patients' tailored asthma action plans that give them guidance on what response they should take in correlation with reported symptoms.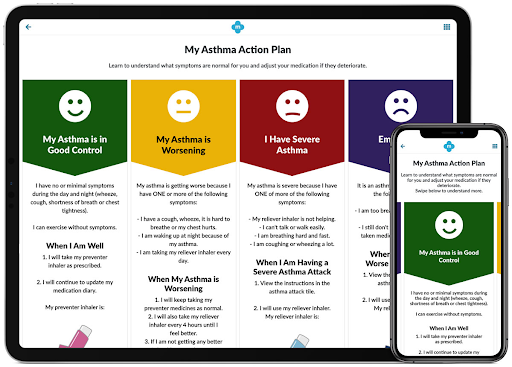 myAsthma's in-app action plans
Learn more about digital patient engagement strategies here
Why is Awareness of Air Quality So Important for Asthma Sufferers in Particular?
Air quality is really important for anybody, whether they have long-term health conditions or not. Of course, if a person has a respiratory condition, air quality becomes all the more important to their health. In April 2022, The WHO stated that almost the entire world's population (99%) are breathing polluted air every day, with around 4.2 million annual deaths attributed to ambient air pollution exposure, not to mention all the associated long-term conditions and illnesses.
Poor air quality can not only cause asthma, but also worsen symptoms and lead to asthma attacks. It's therefore really important for people living with asthma to be aware of air quality and the particles they inhale every day, and how they can optimize air quality exposure and know what to do when local outdoor air quality is poor.
People need to know: Should they go outside and exercise or look at alternative activities? What medications should be on hand during days with poor air quality conditions? It's really about being forewarned and forearmed, and empowering asthma sufferers to optimize their local environments as much as possible.
Can you tell us a bit more about how my mhealth uses BreezoMeter's environmental intelligence in its myAsthma solution?
We offer hyper-localized weather, pollen, and pollution forecasting, which is really important for educating patients on the relevant impact on their long-term conditions and help them understand how they can manage their daily activities in accordance with the changing environment, and act to try and improve things like air quality in their local area.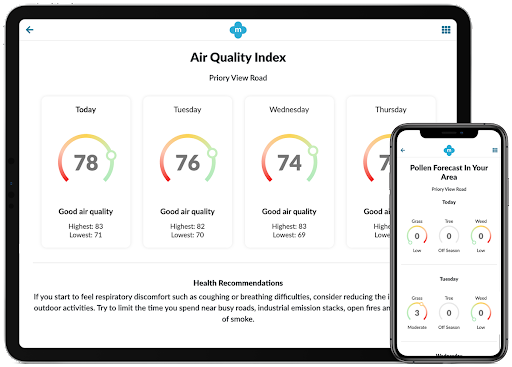 my mhealth's air quality and pollen forecasts integration
We've also got specific charts on air quality within our apps. Patients can click into this information giving them hyperlocal air quality forecasts, delivered from BreezoMeter's integrated API, which enables us to detail different local pollutant levels and explain the relevance of these particles regarding negative health impacts.
We also provide patients with insights and tips on how to reduce the risk of poor air quality, from dealing with controllable sources such as secondhand smoke and open fires to recommending activities and actions during times of high ambient air pollution in the patient's area.
For us, it's about more than just having the information, but also enabling asthma sufferers to take the appropriate steps to manage and reduce the immediate risk and adapt their daily activities for optimal health.
People need to be aware of daily environmental fluctuations, as this can help them stay prepared with preventive medication when going out or planning the day, according to air quality and pollen forecasts.
What Positive Results Have You Seen Since Bringing your myAsthma Solution to the UK?
We've had some really positive feedback with clinical teams and patients. We've got evidence to suggest that the app's inhaler technique training videos can help correct over 80% of inhaler errors. We're seeing reduced use of rescue medication as well. Because of improved inhaler technique, patients who use their preventive inhaler correctly seem to have less need for their reliever inhaler.
We are seeing improved disease control overall, which we can track via the results of an 'asthma control test' in the app.
We're seeing improvements in health literacy too. Patients are more informed and better able to recognize signs of deterioration early and proactively respond to avoid further deterioration. We've gotten a lot of feedback from services that patients are proactively contacting them at the right time if they need further support rather than waiting for their condition to escalate and getting to a worse place where they need emergency support.
We get great feedback about the app as well. People use it in different ways, and many love seeing their personal reports. I think many of us love a good chart to track our progress. It makes it more tangible and helps people feel better, keep motivation high and their daily symptoms scores more stable.
Are there Currently any Plans to Expand Beyond the UK?
Yes, we're already working with a number of international sites and we do have plans for wider expansion as well. So all the features I mentioned will be just as applicable internationally as they are in the UK and we've already got some deployments in place.
Of course, we'll be tailoring the content to each region as there may be slight variations in what inhalers are available and maybe some of the clinical guidelines as well. It's something we're experienced in doing and we're keen to expand on that further.
How Can Asthma Sufferers Start Using the myAsthma Solution?
We're used quite widely across the UK at the moment and we're working with many healthcare providers. So it simply requires checking with your local care team and asking whether they have access to myAsthma and are able to give you access.
Finally, Given the Focus on Gaps in Asthma Care this Year, How Do You See the Future of Asthma Care?
I think there are a lot of opportunities to address some of the gaps. As a company, we've identified a gap in patient self-management empowerment and are giving patients the tools to manage the basic principles of asthma care from the comfort of their homes with 24/7 accessibility.
Working in a more digitally enhanced fashion, we're bringing additional opportunities to asthma care going forward, whereby we've got patient populations with their self-management tools, which clinical teams can use as well.
So the apps as self-management tools are brilliant for enabling patients to utilize day-to-day management, but the clinical team can also access a clinical dashboard through our apps and can use the apps for remote patient monitoring and management and also to facilitate delivery of care.
During the pandemic, we've seen a lot of patients struggling to have some of their face-to-face reviews. Things like inhaler technique instruction and education. These things are covered in the app, so if you can get the patient registered onto the platform, which can be done remotely, then you can give them access to rewatchable inhaler videos of 100% accurate demonstrations of inhaler techniques.
To really drive behavior change, we recommend patients watch the videos once a day for a period of two weeks, preferably when taking their preventive inhalers in the morning so they follow the steps to maximize medication consumption and optimize habitual use of the apps.
Feeding the app into the actual healthcare system, I think the app should be 'wrapped around the patient', and whether they're seeing primary care, secondary, or community services, we can set up access to the clinicians in those services so they can prioritize health goals. Once that supportive self-management intervention is complete with their clinical service, the patient still reverts back to their self-management tool and the app remains there in the background supporting them day-to-day.
It's about being an integral part of that integrated care system, accessible by all levels of healthcare, and supporting the patient all the way throughout their health journey.
– Interview End –
---
Who is mhealth?
my mhealth is a clinically led software company that develops and deploys evidence-based digital therapeutics and enables supported self-management of long term conditions (COPD, COVID-19, heart disease, asthma and diabetes), cancer and preparation for surgery. Using digital technologies to improve the outcomes of patients with long-term conditions, the UK digital health leader is helping to bridge gaps in care for asthma patients. myAsthma is part of a comprehensive co-morbidity digital therapeutics platform that provides digital patient interventions, monitoring, and education and combines this with an extensive remote patient monitoring platform.
Read more about my mhealth's solutions as a whole in our 2021 interview with the company's CTO & senior engagement manager.