As heatwaves, wildfires, and extreme weather conditions create nightmare scenarios for residents and businesses in the Northern Hemisphere, it's essential to consider how different environmental factors impact one another to influence facts on the ground.
The Summer of 2021: What's Been Happening?
Although the summer season has yet to reach its peak, the catastrophic impact on both public health and the environment has already started. Climate change has more than doubled the average rate of annual temperature increase in the past four decades, and this year we've already witnessed some of the most extreme heat-related weather events to date:
An unprecedented heatwave in Canada broke the country's temperature record at

49.6C (121.3F)

, resulting

in hundreds of unexpected deaths. In British Columbia alone, a staggering 486 unexpected deaths with a potential heatwave correlation were reported, a 195% increase in the regular five-day average.
In the US, many areas have hit continuous days of record-breaking temperatures during a heatwave that climate scientists suggest might be the worst drought to hit in the last 1,200 years

. As of June 29th,

39.5%

of the

US was suffering from some kind of drought

due to extreme weather, and

48 large wildfires

have already burned

661,462 acres in 12 states

.

In Europe, June heatwaves were forecast to increase the threat of extreme weather, as thunderstorms and flooding events due to an abnormal 3-5 °C spike in seawater temperature in the Mediterranean and Baltic seas. The final heatwave day concluded with the strongest tornado recorded in the Czech Republic – causing multiple fatalities, over 200 injuries, and a path of destruction over 25 km long and 200-700 meters wide.
In Cyprus

,

which had been battling hot weather since May, a weeklong heat wave that reached

40C (104F)

sparked a massive wildfire. The fire destroyed

over 50 sq km (20 sq miles)

of forest, farmland, and powerline infrastructure, forcing the evacuation of 10 communities.
Cyprus Wildfire Impact on Air Quality – as Captured by BreezoMeter: 4th July 2021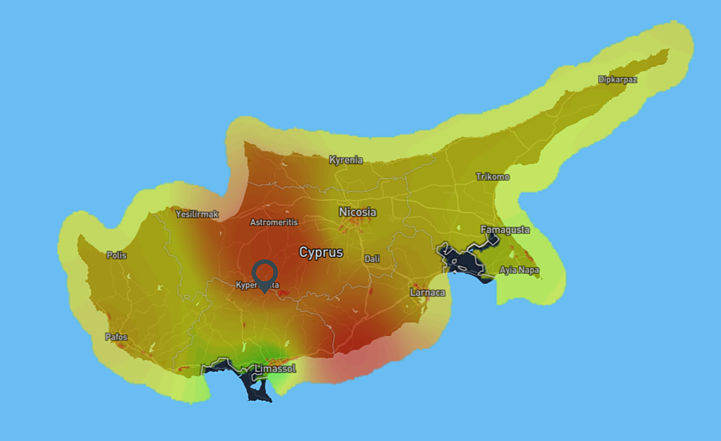 How Extreme Weather Impacts Human Health
Extreme heatwaves make it harder for the body to regulate its temperature, putting extra strain on heart activity, which can trigger heatstroke.
The WHO estimates that the past decade registered over 166,000 heat-related deaths. In the US, extreme heat is responsible for more fatalities than all other weather events, more than lightning, hurricanes, winter, and cold combined across a 10-year average.
How Heatwaves Impact Business Operations
Businesses also face a number of challenges due to rising temperatures and dry weather:
Power Grid Infrastructure
Extreme heat events can strain energy infrastructure and reduce equipment efficiency. California, which relies on wind and solar energy sources that are more vulnerable to heat, recently warned residents to reduce power consumption.
Rail Services
Heat causes metal to expand, and different parts of railway tracks can bend or warp as a result. To compensate, train speeds slow during extreme heat events to reduce stress on the track infrastructure and prevent potential derailment scenarios. Slowing down trains results in longer travel times and more delays
Transportation
Both private and commercial vehicles can run into trouble during extreme heat, ranging from AC unit failure to engine overheating. Experts say that tire pressure grows by 1-2 PSI with every 10-degree increase in temperature. As with trains, travel times can become longer as drivers avoid higher speeds to reduce stress on the engine – or due to unplanned breakdowns when precautions aren't taken.
Perishable Goods Delivery
Extreme heat impacts a range of cargo as well. From food to medicine, delivery of different perishable items can experience small to large delays or damage to transported goods resulting from extreme heat events. Products that require refrigeration face considerable challenges during heatwaves, and stronger cooling to compensate for hot weather results in higher costs.
How Environmental Conditions Combine to Create Toxic Cocktails
We are seeing how unprecedented temperatures alongside specific weather conditions can dramatically increase the risk and prevalence of wildfires, and trigger a range of knock-on events:
Drought
Long, rainless periods accompanied by dry weather facilitate the right conditions for fires to spark and grow. Arid conditions which dry the soil dehydrate vegetation and turn trees and shrubbery into excellent kindling and fuel to feed larger wildfires.
Wind
Fire needs oxygen to burn faster, and wind delivers this perfectly. In addition to feeding fires, wind can create dry surface moisture and make vegetation more apt to burn easily. High winds can also impact wildfire spread, pushing flames, sparks, and pieces of burning wood into new directions or reinforcing the fire's advancement speed.
Lightning
This year, California's largest burning event, which torched over 13,300 acres, was sparked by lightning. Only a few years ago the US Forest Service estimated lightning started 44% of the nation's wildfires. Scientists even found that pollution from wildfires can increase the frequency of lightning strikes that then spark more of these events.
Air Quality
In Canada, the village of Lytton, which recorded the country's highest temperature, 49.6C (121.3F), was essentially destroyed as soaring temperatures and lightning caused huge wildfires. As wildfire smoke spread, air quality rapidly plummeted.
Bottom Line:
We Must Consider the Whole Environmental Picture
As different environmental factors combine to impact the likelihood and risk of wildfires and poor air quality, it's clear that businesses and organizations can't fully protect the public if they choose to show and monitor some environmental hazards, and not others.