COVID-19 is still with us, and more links are emerging between building health and employee health all the time. Looking forward, we predict indoor environmental analytics to become a new basic standard for offices focused on prioritizing employee wellness.
New Office Environment Regulations to Reduce COVID-19 Transmission
With efforts to return to regular office routines high on the agenda in 2022, governments across the world are enacting strict air quality guidelines for workplaces. As COVID-19 transmission occurs mainly through airborne droplets, improved air quality indoors has become a priority for reducing virus spread around the world:
The World Health Organization has released a roadmap to illustrate how to improve airflow and ensure good indoor ventilation and air quality in the context of COVID-19.
The CDC recommends improving ventilation and HVAC infrastructure and boosting circulation with air from the outside, provided it doesn't put workers at risk from external environmental contaminants such as air pollution or pollen.
The UK government has urged employers to assess ventilation performance using CO2 monitors, to improve conditions in particularly vulnerable at-risk areas, and to consider installing air purification systems to mitigate risk further.
COVID-19 isn't just drawing attention to indoor air quality at the regulatory level, individuals are also becoming more aware: In a 2021 'Air Quality in the Workplace' survey, 86% of workers said the COVID-19 pandemic had made workplace air quality more important to them.
Unhealthy Office Environments = Lost Productivity & Higher Costs
Even before COVID-19, experts estimated poor air quality in the workplace was linked to illness in about 40% of US office workers.
Unhealthy indoor environments can result in 'Sick Building Syndrome', where prolonged stay in a building causes adverse health effects without a clearly defined cause, as well as frequent migraines.
As well as impacting all-round employee wellness and the wider office environment, unhealthy indoor air exposure can result in sick days for employees, with a heavy cost burden: Flu-like illness alone is estimated to cost US employers up to 111 million workdays per year and the total annual indirect cost of migraines in the US is estimated at $19.3 billion for absenteeism related costs alone.
Sometimes, exposure to poor indoor air quality in the workplace doesn't translate directly into an illness that warrants time off work, but employee performance is still negatively affected. For example, one Harvard study found people exhibited nearly slower response time and output for every 10 ug/m3 increase in indoor PM2.5 and CO2 pollution.
The Cost Benefits of Cleaning Up Our Indoor Air
If poor indoor air affects productivity, does this mean the reverse is also true? Can improved air quality also improve performance? Probably yes!
A separate Harvard study compared the cognitive impact on people in 'green' (low VOCs and enhanced ventilation) vs 'non-green' (high VOCs) buildings: They found workers in green environments scored 61% higher in cognitive performance tests than ones in conventional settings.
Green indoor environments with both low VOCs and enhanced ventilation showed the biggest improvements in the cognitive domains of crisis response (131% higher), strategy (288% higher), and information usage (299% higher).
A comparison study by Bath University found buildings with significantly lower indoor CO2 concentrations reported 20% more working hours and roughly 9 hours less in absolute absenteeism.
Environmental Analytics & Insights: Welcoming a New Standard for Healthy Indoor Workplaces
Indoor air quality tools that offer environmental analytics and data-driven insights are helping office environments reduce the negative impact of poor air quality on employees and ensure more productive workdays throughout the year.
Brands like Awair enable offices to continuously display the state of the air to workers through monitors placed in lobbies, meeting rooms, and even accessible via URL links, keeping workers engaged in their own wellbeing.
Awair Dashboard DisplayMode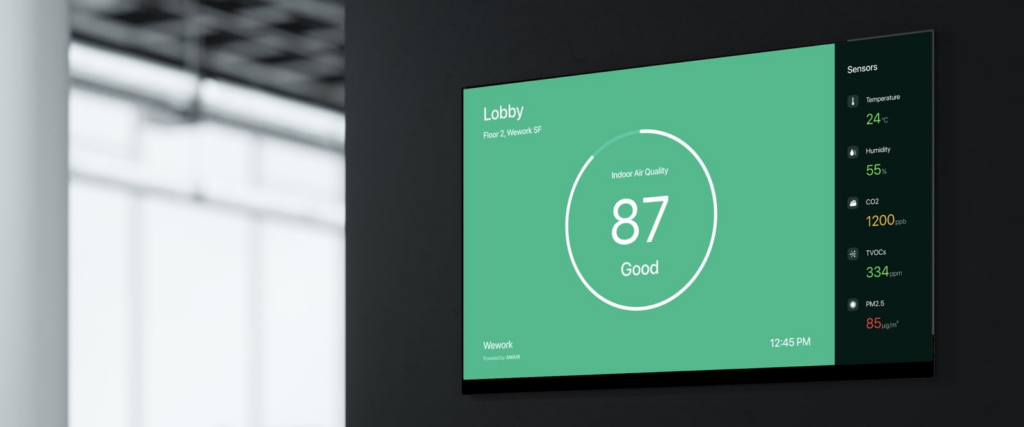 Leveraging Outdoor Data For Healthier Office Environment
High traffic pollution, dust storms, wildfires, and even extreme weather or biological phenomena like pollen can significantly worsen indoor environmental conditions and impact employee performance and health.
This means failure to track external environmental factors leave employees vulnerable, even in offices with improved ventilation and basic indoor air quality tools like CO2 monitors. For this reason, forward-thinking solution providers are also now making use of outdoor environmental data to provide businesses with a more complete picture of current and predicted impact on their office, so action can be taken in advance.
For example, AirThings integrates outdoor environmental data with their IAQ dashboard along with a feed from connected indoor sensors, providing employers and employees full visibility into the air quality inside and outside their office spaces.
AirThings Dashboard For Businesses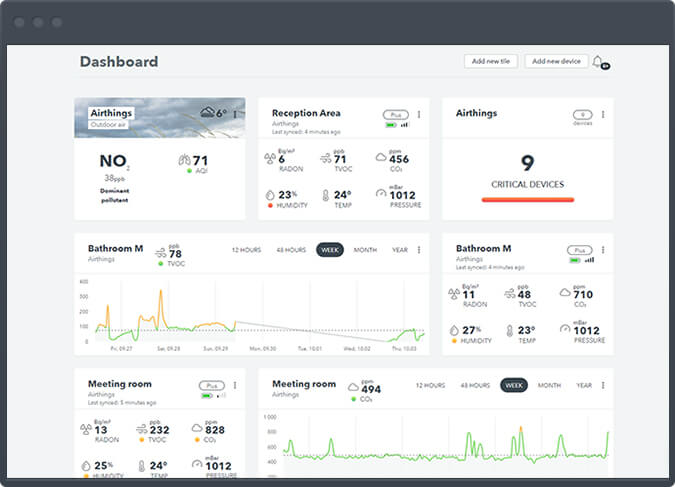 Automating HVAC and air treatment systems according to real-time environmental data means indoor air solution providers can optimize the performance of their air management systems and promote end-user engagement in terms of looking after their indoor environment: Even if systems are not set up to take intelligent action, simply delivering actionable insights to users like 'close the windows' or 'engage ventilation' when outdoor conditions worsen can help ensure the indoor space is kept healthy.
Expect to See More Environmental Analytics for Offices in 2022!
As air quality awareness continues to grow, air quality analytics for buildings is emerging as a key trend for the indoor air quality, facilities, and commercial building markets in 2022. From an employer's perspective, it's clear to see the cost-benefit here: Data-driven environmental analytics can offer businesses tremendous value by being able to reduce the economic burden of unwell office staff and lost productivity over the short and long term.