The COVID-19 pandemic and our growing understanding of the environmental impact on health (think air pollution) means more health providers than ever are considering how to combine digital patient engagement with environmental exposure insights. But what does engaging patients in their own healthcare this way actually look like? Here are 3 proven strategies.
1. Leverage Environmental Data to Create a Patient-Facing Digital Interface
COVID-19 transformed the healthcare industry, mandating providers to transition a large portion of their offerings to virtual platforms, and making digital health patient engagement a major priority for businesses and consumers alike.
According to Deloitte, around 80% of consumers are now likely to continue using digital health services even post-COVID-19. With the right engagement strategy, patients are more willing to change their behavior too: 77% of people who already use apps or widgets to track their health say they've experienced at least moderate behavior change as a result.
Engaging Patients With a Personalized Allergy Management Solution
Global pharmaceutical company ALK managed to cut the churn rate of their allergy management app by 50% and improve user ratings by implementing digital patient engagement strategies that leverage BreezoMeter's live environmental intelligence to provide personalized health insights to allergy sufferers and empower them to adopt healthier habits.
ALK's Klarify app
ALK's klarify.me app offers individual health insights and daily tips to each patient based on live environmental conditions at their exact location, as well as air quality and pollen forecasts and outdoor activity level recommendations. The app engages users further by educating them on their personal sensitivities and respiratory condition by integrating a curated learning section.
(Read the full case study here)
2. Develop Personalized Treatment Options
The term "personalized medicine," otherwise known as "individualized medicine" or "precision medicine," is a care model that segments consumers according to their individual health risks and characteristics —in ways such as age, gender, height, weight, diet, and family history and according to allergic conditions and particular sensitivities such as asthma or hay fever — in order to inform treatment options.
Not only does personalized medicine promise earlier intervention, more accurate diagnoses, more effective drug therapies, and customized treatment options, it also offers better outcomes and higher rates of patient engagement in healthcare, and patient satisfaction. A 2021 survey by Dosis found around 85% of patients believe precision medicine will enhance care and 80% say it should become standard practice.
Personalized Medicine as a Patient Engagement Strategy
Tailoring healthcare services to the individual patient can promote more active engagement and a greater likelihood of long-term commitment.
Researchers at Mt Sinai Hospital's Icahn School of Medicine discovered this link between personalized medicine and patient engagement when they sought to develop a personalized asthma management service. Having to contend with over 8000 participants from different countries, they partnered with BreezoMeter to leverage a universal air quality AQI and live environmental data personalized to each patient based on their location.
Many participants found the asthma app so useful they began sharing their historical health data with their personal physicians, which led to the addition of a Doctor Dashboard to the app.
The Doctor Dashboard section in the pilot study's asthma app
(Read the full case study here)
3. Empower Patients with Strategic Data Integrations
Besides the obvious benefits that digital engagement strategies contribute to elevated levels of end-user satisfaction and positive health outcomes, there are many other advantages to consider. Personalized on-demand insights help individuals understand and respond to their contextual environments, providing tremendous value to healthcare and disease management brands and will improve their patient engagement massively.
Better engaged individuals bring more revenue for specific industries, surpassing disengaged customers by 44% in consumer electronics and by 46% in the hospitality industry. Innovative healthcare brands can similarly benefit from the loyalty of engaged health-conscious patients: according to PWC, 78% of people say a positive experience influences their purchasing decisions in healthcare.
By leveraging live environmental forecasts and insights as part of their digital health patient engagement strategies, healthcare providers can boost all-around brand loyalty while improving treatment adherence and health outcomes.
How To Increase Patient Engagement With Environmental Intelligence & Connected Devices
Chronic disease management brands like Propeller Health already started leveraging environmental data with their digital engagement strategies. By integrating live environmental data with the companion app for their connected inhaler, Propeller Health enabled patients and care providers alike to map out personal sensitivities by correlating inhaler use with local environmental changes.
The patient app then engaged users with personalized environmental forecasts and alerts, empowering them to proactively avoid local environmental triggers and prevent exacerbated reactions.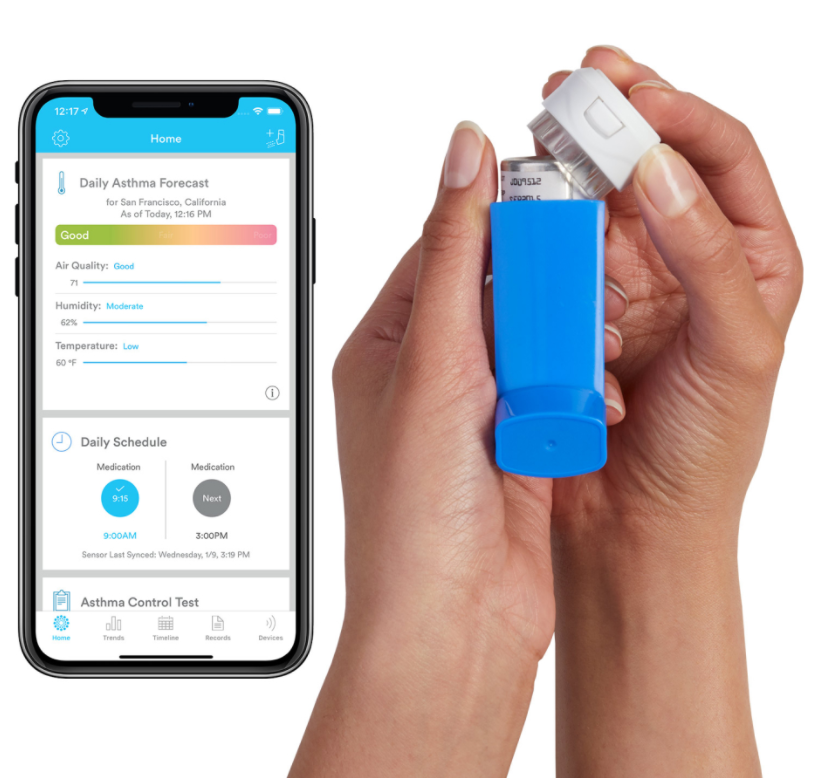 Propeller Health's inhaler and connected patient app
Propeller Health's connected inhaler and its use of personalized environmental insights for digital patient engagement improvement resulted in an 84% reduction in inhaler use and a 57% reduction in hospitalizations. (Read the full case study here).
Effective environmental data integrations help patients optimize disease management, enable them to gain insights into their personal sensitivities, and empower them to proactively adopt new behaviors to prevent exacerbation of asthma, COPD, and other respiratory conditions. Brands that improve patient engagement earn more loyalty from their consumers while optimizing daily chronic disease management for better health outcomes.
(Read our free guide on successful digital patient engagement with environmental insights here).
Don't Be The Last To Digitally Engage Your Patients In Their Healthcare
With the rapid adoption of personalization in healthcare, digital patient engagement tools serve not only as strategic enhancements but as must-have tools for remaining competitive in a digital health age that prioritizes tailored and more comprehensive health-focused solutions.
BreezoMeter's environmental intelligence technology enables solution providers to enhance their digital offerings and engage patients in healthcare by going beyond the one-size-fits-all model with personalized environmental data and actionable insights that empower patients to adopt healthier behaviors.
Learn more about our solutions for the healthcare industry here.