In times of crisis like wildfire season, it's essential to deliver life saving information by communicating what the environmental reality means for individuals where they are, and to empower audiences with options for meaningful action.
Let's explore how the ability to dynamically personalize messaging and pinpoint affected audiences during an environmental crisis, empowers organizations to deliver valuable life saving information at the right time, in the right place, to the right people – when it really matters.
How to Deliver Life Saving Information during wildfire season: Identifying Those Most At Risk
Rapidly changing weather conditions can make wildfire behavior very dynamic and hard to predict. The resulting smoke pollution and associated health risk can also alter drastically at a moment's notice.
We're seeing an increasing number of companies and organizations turn to live and location-based environmental information to prioritize internal operations and deliver value to those most in need of timely updates:
1. Prioritize Communication with At-Risk Groups 
By integrating location-based environmental intelligence, brands can successfully reach audiences in highly-impacted areas with relevant information about changing air quality and environmental conditions where they are:
a) Users see information alerting them to worsening air quality and an approaching wildfire at their location.
b) Users click through to educational websites, where they witness worsening air quality via live map visualizations and learn how to combat poor air quality and protect themselves during these extreme events.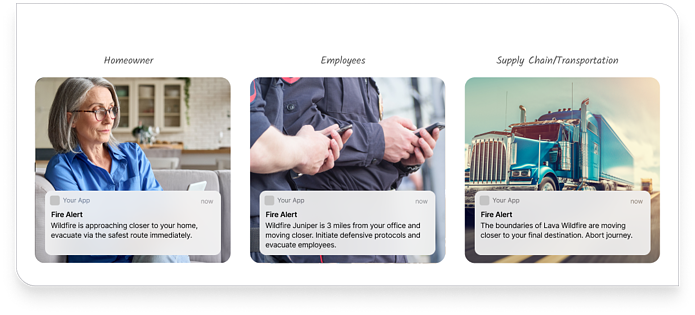 2. Deliver Timely Environmental Alerts to Individuals On the Move
As wildfires move rapidly across borders, individuals impacted by smoke need to know when their specific health and safety risk increases or decreases.
Healthcare, insurance and indoor air companies are increasingly turning to live wildfire reporting to alert existing customers to wildfires close to their area. These kinds of alerts can also be accompanied by actionable recommendations based on real-time and predicted threats:
Evacuate area
Close windows
Engage air purifiers
Avoid prolonged outdoor activities
Bring in laundry to prevent contamination
3. Ensure Email Communications & Social Feeds Sensitively Respond to the Environmental Reality
In order to better communicate with audiences during extreme weather events like wildfires, organizations can personalize messaging with live hyperlocal environmental data to ensure recipients receive locally and personally relevant information:
Smart social feeds that automatically report current environmental conditions at wildfire-impacted locations, providing vital information for users in affected areas.
Email signatures that display air quality and fire information in a dynamic way, based on user location.
Social and email communications that provide localized daily forecasts to prepare individuals for changes in their environment.
The Importance of Personally Relevant & Timely Environmental Updates
For health-focused businesses looking to ensure their protective solutions and advice reach the right people when it matters most, timely wildfire and air quality intelligence can be the life saving information they are missing – for companies looking to show they care, and for individuals looking to protect themselves.