Past studies have shown a link between weather changes and migraine headaches, but research also highlights how other environmental factors, like air pollution, could also trigger these painful headaches.
Migraines: A Debilitating Occurrence for Many
As the 3rd most prevalent global illness, migraines affect around 1 billion people worldwide, and 1 in 4 US households. Migraines usually manifest as recurring throbbing headaches and are often accompanied by nausea and vision difficulties.
According to the Migraine Research Foundation, migraines affect 12% of the total US population, including 18% of women, 6% of men, and 10% of children. Researchers say certain groups such as seasonal allergy sufferers and people with activated cochlear implants (surgically-implanted hearing aids) may be more likely to experience migraines.
According to the American Headache Society, the direct and indirect annual cost of migraines in the US alone exceeds $28 billion partially due to missed workdays. One study also found migraine sufferers were 2.4 times more likely to have a long-term disability claim.
How Weather & Climate Factors Impact Migraine Headaches
According to the Mayo Clinic, weather and climate factors such as direct glare from bright sunlight, extreme heat, very cold temperatures, strong wind, and barometric pressure changes, can all increase the likelihood or severity of a migraine headache. Barometric pressure changes seem to represent a particularly common weather-related cause, affecting an estimated 73% of all migraine sufferers.
The Links Between Air Pollution & Migraines
In recent years, studies have also found links between air quality and migraines.
A study in South Korea analyzed 18,921 patients admitted to Seoul hospitals for migraines between 2008 and 2014. They found that higher levels of common outdoor pollutants PM2.5, PM10, NO2, O3, and CO were significantly associated with migraine onset. The researchers also concluded that the risk of a migraine from PM pollution exposure would be even more likely on high-temperature days.
A 2-year study analysis of migraine patients in Southern California revealed that for every 5 ppb increase in NO2, there was a 2% increased odds of a migraine case. They also found NO2 and PM2.5 exposure to be positively associated with migraine-specific urgent care and emergency department visits.
Seasonal Allergy Can Also Cause Migraines
While the connection between allergic rhinitis and migraines isn't new, it's not always given the proper weight when considering migraine causes and prevention: seasonal allergy sufferers may be over 8 times more likely to experience a migraine, and the likelihood of a migraine occurrence also increases with age.
According to the American Migraine Foundation, 34%of people with seasonal allergies suffer from migraines, and headache attacks occur up to 28%more frequently in people who suffer from both migraines and hay fever.
Looking-forward: Weather & Climate Forecasting for Migraine-Headache Prevention?
Adding environmental insights to allergy management and health & wellness apps could add significant value for people that regularly suffer from migraines. Apps like WeatherX Forecast and Japan's ZuTool already leverage weather information to alert users to barometric pressure changes that might increase their risk of migraines.
Screenshots from the WeatherX Forecast App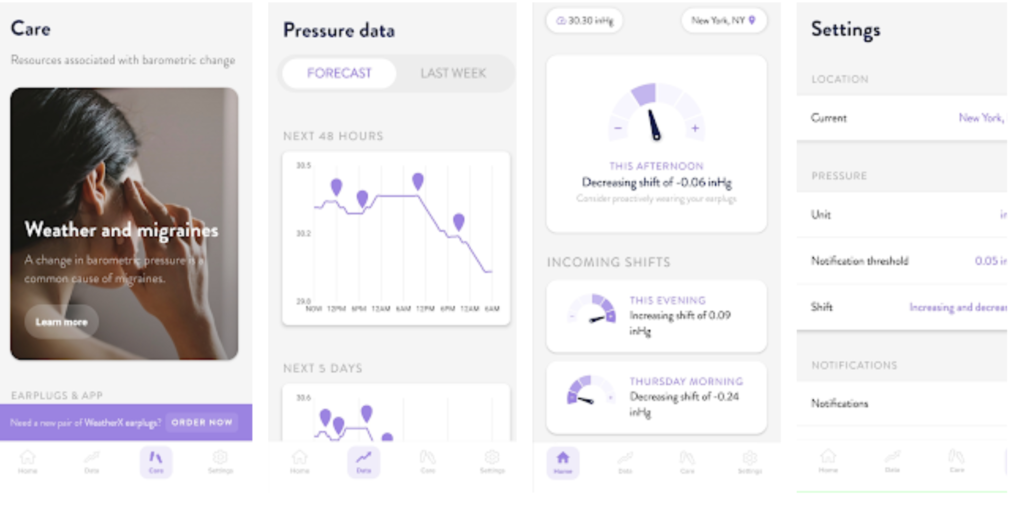 As we've seen, though, this is only a small part of the environmental picture. Integrating more complete air quality and pollen insights could enable more comprehensive protection, by accounting for as many migraine-inducing environmental factors as possible.
If people understand how upcoming changes in weather, air quality, and climate contribute to migraine-likelihood and are presented with actionable warnings, they can plan their day better or take medicine/treatment preemptively to alleviate headaches faster or avoid them altogether.