As part of BreezoMeter's wider mission to improve global health, we support research initiatives which seek to enhance environmental monitoring capabilities and public access to knowledge. One such project is the AQ-Watch initiative, for which BreezoMeter, together with 11 other partners, won the prestigious Horizon 2020 grant. As the project progresses to the next stage, we thought we'd highlight what's been accomplished since the collaboration began.
What is the EU Horizon 2020 Research & Innovation Program ?
The prestigious Horizon 2020 grant (now called Horizon Europe) is the EU's biggest research and innovation funding program, receiving more than 120,000 eligible applications within the first 100 calls for proposals. Investing nearly €80 billion over the past 7 years, the Horizon program seeks to promote breakthroughs in world-class science and industrial leadership, while securing Europe's future competitiveness in those spaces. BreezoMeter and its partners won the grant for the AQ-Watch project.
What is 'AQ-Watch'?
AQ-Watch was formed as a response to the pressing global air pollution problem. Ambient air pollution poses the greatest environmental threat to public health, responsible for an estimated 4.2 million annual deaths worldwide.
In fact, the World Health Organization recently updated its air quality guidelines after reviewing the extensive research published over the last 16 years in the field of health effects of ambient air pollution. The WHO went as far as to halve (or even cut down to a quarter) the recommended limits for some of the most dominant pollutants such as PM2.5 and NO2.
As air quality awareness continues to spread, heightened by the recent Covid-19 pandemic, the demand for better health-focused environmental monitoring continues to grow as well. However, policy-makers in many parts of the world are missing the tools and data to monitor and forecast air quality and the efficacy of emission reduction policies. Furthermore, the industrial sector, and especially the energy sector, are often impacted by air pollution in different ways, yet simple-to-use tools to predict the impact are often missing. This is where AQ-Watch comes in.
The Purpose of The AQ-Watch Project
Funded by the EU, the AQ-Watch initiative seeks to bring the most advanced scientific insights and developments in the field of air pollution to the public by making them accessible through easy-to-use tools and services. AQ-Watch aims to research and develop advanced tools as well as provide resources for assessing historical, current, and forecasted air quality at global and local scales.
The project's ultimate goal is to deepen the understanding of air pollution's impact on the health and energy sectors and provide imperative insight that will assist in the decision-making of policymakers, as well as individuals and organizations in the private sector.
Fighting Air Pollution On Multiple Fronts
The AQ-Watch partners, hailing from various global regions across Europe, the US, Chile, and China, are developing seven innovative products and services, all focused on improving air quality forecasts and monitoring in different ways:
Global & Regional Air Quality Atlases – a database with global and regional graphical and numerical information on air pollutants will be represented together with health-focused air quality indexes based on satellite observations, ground observations, and modeling.
Daily Air Quality Forecasts For Metropolitan Areas – reliable daily forecasts of air pollution at a regional scale, integrating a range of different predictive models, satellite data, and ground-based observations.
Dust and Solar Energy Forecasts – Predictions of air quality, visibility, and solar irradiance impacted by dust particles, with particular emphasis on the impact on solar energy systems.
Wildfire and Visibility Service – Live wildfire monitoring, calculating the real-time impact on local air quality and visibility limitations, and creating regional alert systems to minimize risk to people and property.
Information service about air pollution from fracking operations- Model calculations of the potential air quality impact caused by fracking and other oil and gas activities. To determine the exposure of the local population to harmful hydrocarbon and ozone levels.
Attribution service with a focus on agricultural sources- a service providing vital information about the attribution of emission sources from various economic sectors with a focus on emissions from agriculture.
Emission Mitigation Service – a demonstration model enabling assessing air pollution mitigation efficiency of alternative actions, supporting strategic decisions for reducing pollutant presence, and enacting air quality-focused policies and legislations.
The AQ-WATCH's User Interface Platform Goes Live!
In order to provide accessible information to all potential users, the AQ-Watch team has created a designated platform offering periodical updates on different air quality product and service developments.
The AQ-Watch user interface platform, or UIP, categorizes information into four sections: modules, sectors, data, and feedback. The UIP opens the door for communication with potential users to better identify their needs, enabling policy-makers, local municipalities, researchers, and different organizations to evaluate products and help improve conceptual design and usability
Who is a Part of the AQ Watch Air Quality Consortium?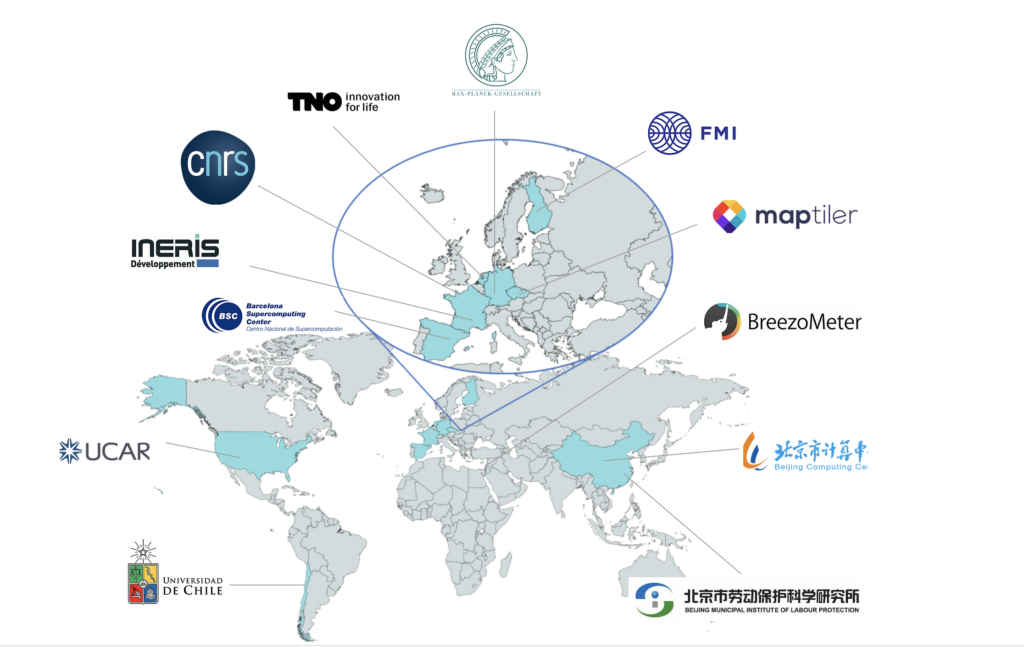 A groundbreaking international collaboration, the AQ-Watch project is led by knowledge institutes, applied science organizations, and business partners from different countries, including:
The Max Planck Society– one of Germany's leading research organizations carrying out outstanding research work in various fields with over 15,000 annual scientific journal publications. The Max Planck Institute for Meteorology is an internationally renowned institute for climate research whose founding director received the Nobel Prize in Physics this year.
The institute's Environmental Modelling Group serves as the scientific team and main coordinator of the AQ-WATCH project, leading the work package focused on defining functionality and identifying user needs.
BreezoMeter – the world's leading provider of hyper-accurate health-focused environmental intelligence, BreezoMeter serves as the AQ-Watch project's deputy coordinator. The company enables businesses to integrate real-time hyperlocal information and actionable environmental insights into products, services, and apps in a wide range of industries.
UCAR – The University Corporation for Atmospheric Research is a nonprofit partnership of over 115 colleges and universities in North America conducting Earth system science research and training. UCAR helps the AQ-Watch project convey the value of our research, education, and partnerships to policymakers and decision-makers.
National Center For Scientific Research – a public scientific and technological research institute under the administrative authority of France's Ministry of Research, the CNRS is Europe's largest fundamental research organization, working on knowledge development, application, and dissemination to the public, with an emphasis on educating and training the youth.
FMI – The Finnish Meteorological Institute provides continuous observation and research data on the atmosphere, near space, and the seas, in addition to weather, air quality, and climate forecasting services for Finland's public safety needs, transportation, businesses, and citizens. The institute also works to develop and maintain new climate, marine, and weather measurement and modeling techniques for scientific research.
Barcelona Supercomputing Center – Spain's national supercomputing facility, the Barcelona Supercomputing Center houses one of Europe's most powerful supercomputers – MareNostrum. The BSC's Earth Sciences Department focuses on global and regional air quality, meteorology, mineral dust, and climate modeling, with extensive experience running operational atmospheric forecasting.
TNO – the Netherlands' main Applied Scientific Research Organization, TNO supports trade and industry through technological innovation and rendering services, knowledge, and expertise. Participating in many EU technological development programs, TNO cooperated with many foreign research projects across Europe, the US, Canada, India, and Japan.
INERIS Development – founded by France's National Institute for Industrial Environment and Risks in 1990, INERIS Development serves as a national competence center for industrial safety and environmental protection, coordinating a network of experts from different industry fields, research centers, and universities inside and outside France.
Universidad de Chile – The University of Chile is the country's oldest higher education institution, responsible for creating, developing, integrating, and communicating knowledge in a wide range of areas. The UCL hosts the national Center for Climate and Resilience Research, which focuses on improving climate understanding and societal sustainability, carrying out research in the areas of Land Use Change, Water and Extremes, Coastal Zones, and Resilient Cities.
OctoGEO s.r.o./MapTiler – a technology start-up from the Czech Republic, OctoGEO s.r.o specializes in global Earth Observation data processing and visualizations, with customers including NASA, Oracle, Siemens, Bosch, and Amazon. The company's MapTiler product, a Google Maps alternative, offers easily adapted satellite and street maps created from open data sources.
Beijing Computing Center – an industrial cloud initiative now affiliated with Beijing Academy of Science and Technology, BCC is one of China's earliest professional computer application service institutions, focusing on high-performance computing, cloud computing, and big data service.
Beijing Municipal Institute for Labour Protection – BMILP is one of China's first scientific research foundation groups carrying out safety and environment-related research. The institute includes a series of key national and regional laboratories, test platforms, training bases, and other technical centers, with a large part of the institute's activities devoted to air quality monitoring, modeling, and management of indoor and outdoor air pollution.
Speaking at The Annual Global Atmospheric Chemistry Conference
As part of the efforts to forward AQ-Watch's mission and connect with other scientists from across the world, Dr. Yvonne Boose, BreezoMeter's atmospheric scientist, recently participated in the IGAC's 16th annual scientific conference.
Founded in 1990, the International Global Atmospheric Chemistry conference established an international network of scientists unrestricted by geographical boundaries. The conference aims to increase the understanding of the earth's atmospheric chemistry by providing intellectual leadership in related fields and promoting cross-disciplinary research facilitating sustainable global solutions.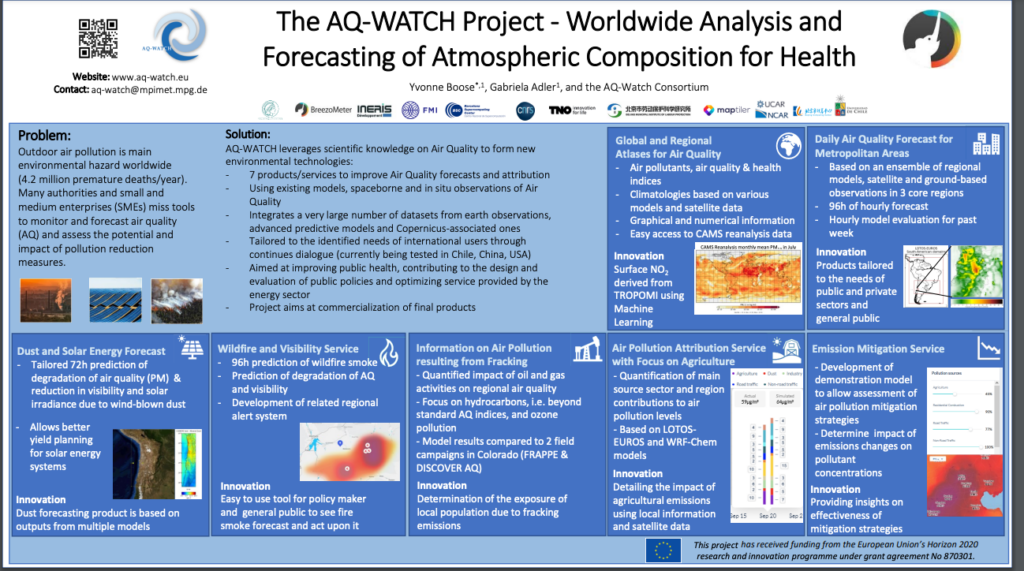 The Horizon 2020 program has many more exciting cutting-edge developments already coming down the pipeline, stay tuned for future updates and insights.
To learn more about the capabilities applications of air quality monitoring check out our recent webinar panel with the experts from NASA: