Nature often looks beautiful when out in full-bloom, but pollen presents a significant challenge for pollen-sensitive populations the world over. How do we solve this problem?
The Growing Pollen Challenge
Over 400 million people suffer from allergic rhinitis around the world. As millions go under-diagnosed or under-treated each year, pollen allergy, otherwise known as Hayfever, is also a very costly problem for our economies.
Allergic diseases are also on the increase: it's estimated 45% of 20-40 year-olds in Europe suffer from seasonal allergies and by 2025, half of the entire EU population could be affected!
Prevention is the Cure
Airborne pollen grains are minute bodies resembling fine dust that are emitted by various types of plants. Pollen is a fact of nature and not something we could or would want to remove from our environment. Experts actually predict that pollen levels could double by 2040.
If you're a seasonal allergy sufferer, the good news is that there are a number of treatments that can help to manage symptoms. However, most of these are best taken before allergic symptoms start. This means we need to know when the pollen count is going to be high and take action ahead of time.
Why We Needed to Improve Pollen Reporting
1. Outdated Measurement Technology
Gathering accurate, location-specific information for pollen has presented a complex problem for a long time. Large areas of the world have no pollen count data measurement devices in place, and methods used by many are by and large manual and time-consuming. As pollen is a naturally occurring phenomenon, there is also very little regulation around its methods of reporting.
The distance between pollen-counting stations can be huge (some countries only have a few available) and the delay between measurement and reporting can be as long as one to two weeks: By the time the information becomes available, pollen count levels have changed dramatically so it's not relevant.
2. Most Pollen Indexes are not Health-Based
Pollen indexes frequently use different scales and different definitions of 'high' and 'low'. This means you can never be sure how the indexes were calculated and what they're referring to.
For example, many pollen indexes will base their measures of 'high' and 'low' based on the amount of pollen that gets emitted on average, rather than any consideration of impact on health. This method is far less helpful if we're trying to understand what 'high' or 'low' actually means for allergic symptoms.
3. Not Personalized
Many available sources of pollen information will not break down their information by plant species or type – most also only report at a state or regional level. No two people exhibit exactly the same sensitivity to different types of pollen and it's unlikely that locations within a wider region will carry the same level of pollen risk – so this is a big problem.
3 Different Pollen Indexes
1. Germany
Plant Types Given: Hazel, Alder, Ash, Birch, Grasses, Rye, Mugwort, Ragweed
2. Japan
Plant Types Given: Trees, Grasses, Weeds
| | | | | |
| --- | --- | --- | --- | --- |
| LOW | SOMEWHAT HIGH | HIGH | VERY HIGH | EXTREMELY HIGH |
3. Italy
Plant Types Given: Plantain, Grasses, Nettle, Olive, Fagaceae family, Betulaceae family, Cypress family, Corylaceae
How BreezoMeter's Pollen Index (BPI) Works
In a world where pollen counts are rising and seasons are becoming more unpredictable, our team at BreezoMeter knew we needed to tackle the pollen reporting problem. Just like we did with air pollution, we set about applying a big data approach to the situation and created a universal pollen index.
Our BreezoMeter Pollen Index is based on analysis of the best available academic research as well as the health impact of pollen on seasonal allergy sufferers. Our BPI scale ranges from 0='None to 5 ='Very High' based on 5-color coded categories of equal ranges of equal lengths.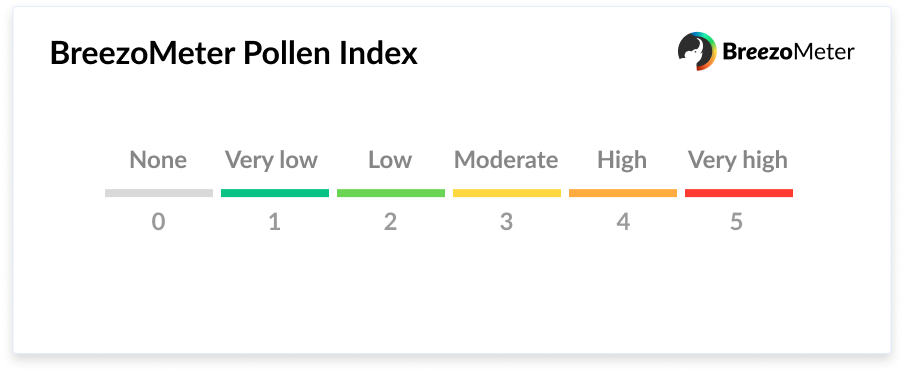 Each category is based on specific concentration levels of pollen at a particular area and their effect on the severity of allergic symptoms that are usually experienced.
13 Plant Types
Whereas many pollen indexes factor in on average 1-5 different pollen types, we consider more than 13 different plant types in certain locations and break down our reporting in terms of both plant species and pollen type. We are looking to expand our coverage all the time.
10 Types of Tree Pollen
Trees are common sources of pollen. BreezoMeter reports on more than 10 different types of tree pollen and for any given place, we base our overview 'tree pollen' score on the tree with the highest individual score for health-impacting pollen at that location. In the example above, you can see that the overall score for pollen is 4/5 (high) based on the Maple tree's pollen score.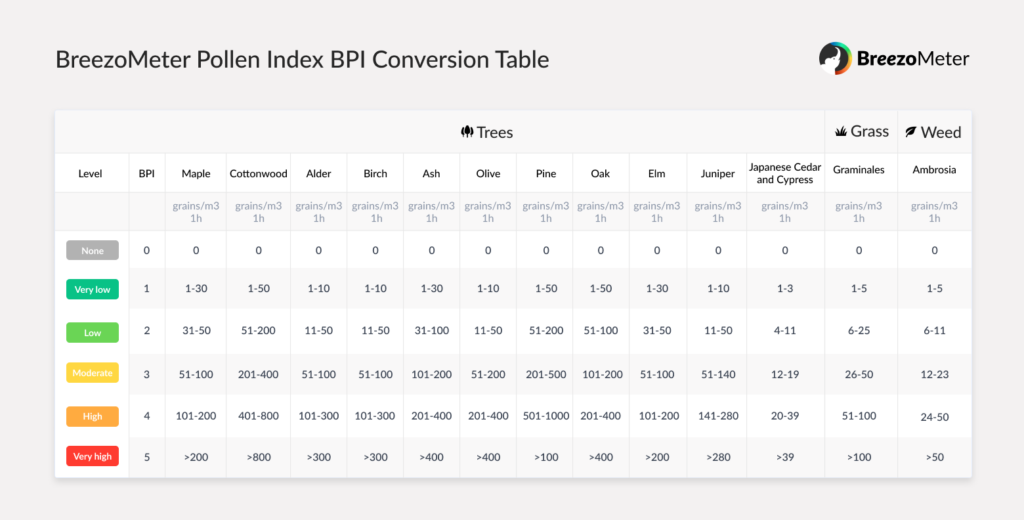 How BreezoMeter Makes Pollen Data More Accurate
The amount of pollen in the air we breathe is affected by a number of different factors. This is why we gather detailed knowledge of the different pollen-emitting plants in a specific area, as well as information about the amounts of vegetation land cover in that area, based on satellite imagery and biological inventories.
As pollen emissions are affected greatly by local climate and weather patterns, and increasingly unpredictable atmospheric trends, we also pull detailed climate and weather information on these factors.
The end result is live and 3-day forecast hyper-local pollen reporting at a resolution level of 1KM. Our unique approach provides the most considered and up-to-date model of pollen data that exists in the world today, in more than 65 countries worldwide. This is also what powers our visually-stunning pollen heatmaps: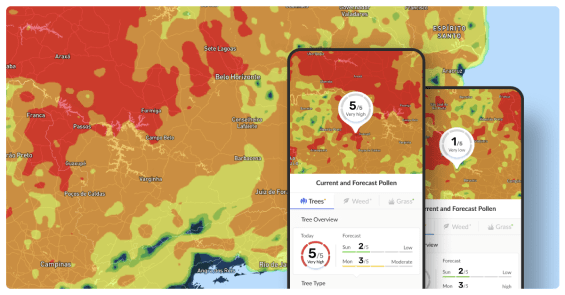 The Central Role of BreezoMeter's Pollen Index for Symptom Management & Preventative Medicine
BreezoMeter's personalized pollen data means allergy sufferers have access to actionable information at their fingertips when they need it most.
No More Guesswork: Allergy Sufferers Get Outside More
Sufferers can check pollen levels at their specific location based on particular sensitivities and respond accordingly, such as choosing to postpone a run outside or choosing to take preventative medicine ahead of time.
Actionable Data Helps Pharmaceuticals
After integrating BreezoMeter personalized environmental data and recommendations, the allergy immunotherapy leader ALK saw user retention of their health app increase and churn rate drop by 50%.