We're delighted to share that BreezoMeter has successfully raised $30M as part of our series C fundraising round. At a point where global awareness around air pollution and its detrimental effects to our health has peaked, never before has there been more of a need for reliable information and actionable insights about the air we breathe. This marks an exciting time for BreezoMeter and the impact we can have on the health of billions, and we wanted to share a bit about what we hope to achieve and what's next for BreezoMeter
Ran Korber & Emil Fisher, CoFounders at BreezoMeter
Thanks to this funding we will now be able to enhance and develop our current and new predictive environmental health insights products.
We have been lucky to have the support of renowned investors along the way who have participated in our series C including JumpSpeed Ventures ,Launchpad Digital Health, AxessVentures and Eurazeo, and we want to welcome Fortissimo Capital as the lead in our series C together with Entrée Capital, which has backed BreezoMeter since its founding.
Also we welcome on to our board, Shmoulik Barashi, Partner at Fortissimo Capital, the Fortissimo Board designee. This round brings our total investment to date to $45 million, which includes Venture Capital and Venture debt.
Democratizing Air Quality Data
When we founded BreezoMeter we had one goal, to make environmental data, such as air quality available and accessible to the masses, in a market where no one really had the technology to analyze all the available data in order to provide street-level, accurate and actionable information.
We have grown since then, from an app & a map that quantifies pollution down to street-level resolution, to the provider of the most accurate and relevant environmental health based insights about environmental hazards, including air pollution, pollen and fires. We are now able to provide actionable information about the air we breathe to hundreds of millions around the world via our free-to-download app and our environmental APIs used by our partners across industries such as Bosch, Dyson, Astrazeneca, Verizon Media, L'Oréal, Tata and others.
And with the delivery of health focused environmental intelligence to the masses, changes began to occur. Chronic respiratory disease sufferers were able to better manage treatment solutions and symptom flare ups, and in some cases even hospitalizations were reduced! Daily decision making improved; people were able to better understand when to turn on the air purifier and when to open/close the window, when to go for their daily run, and when to take their allergy medications; how to avoid smoke exposure from a wildfire, how to avoid entering dangerous areas where wildfires are raging, the healthiest route to bike to work, and even where to buy their house.
What's Next? The People, The Partnerships & The Products

Now that we have more resources, we are able to maintain and improve our competitive advantage – like our unprecedented accuracy, continue to focus on our strategic partners, such as tech giants, and at the same time expand our reach and develop new products.
We will continue to improve our B2C and B2B products adding new capabilities which will provide real value to our consumers and our enterprise customers. The funding will allow for the development of new products which will take our environmental intelligence to the next level of impact on consumer's health management and daily decisions when it comes to minimizing exposure to air pollution. We will also be able to dive into new business opportunities and industry innovations to better our offerings and improve the impact of our reach. Not to mention our continued efforts to recruit and partner with even more world-leading experts in the field of environment, climate, and healthcare.
Last but not least, this fundraising also enables us to put even more focus on our secret sauce – our team and our family culture!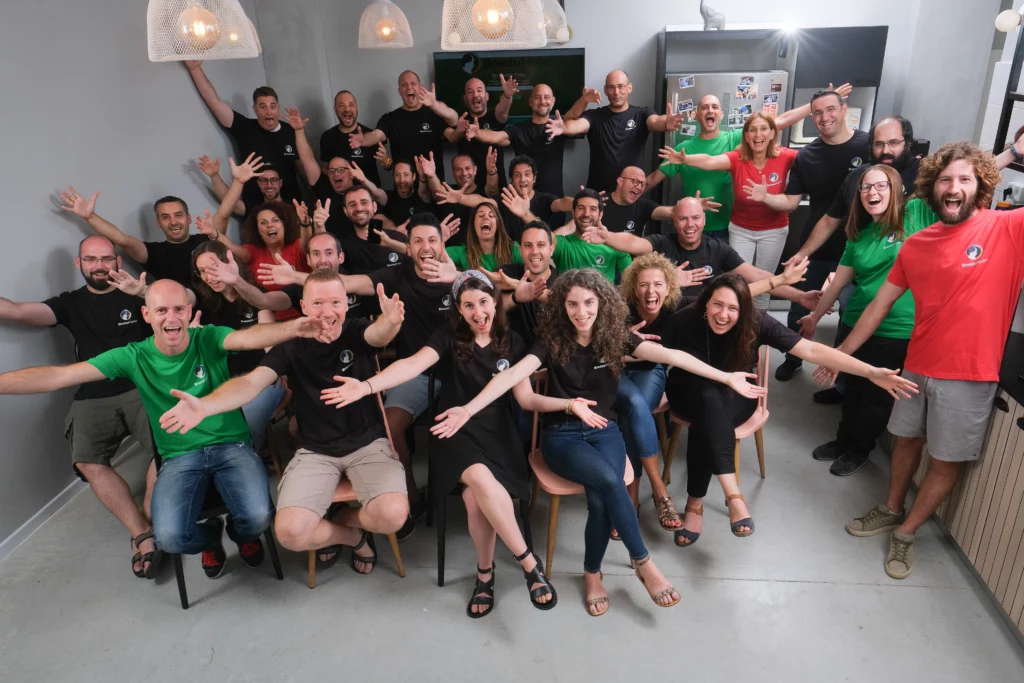 Our people are the basis of all that we have accomplished until today. The breadth of the improvements we have made to our technology over the years, and the difference it has made in the lives of hundreds of millions, is because of our people and the family culture we built and cultivated together. We will be expanding our team significantly; our goal is to triple the team this year including global recruitment for key positions (go and check out our open roles!).
Giving Thanks
This milestone was only possible because of all those that we have worked alongside over these years, the team at BreezoMeter – present and past. We wanted to take this opportunity to thank you all, we wouldn't be where we are today without your passion, dedication, creativity and trust. You are the reason we made it here and you are the reason we will reach the next stage of this exciting journey.
Thank you….
to our colleagues of today:
Ofek Azulay, Daniel Leveson, Amir Paster, Kira Bashmet, Ben King, Uri Hellerman, Yael Vilk, Yair Giwnewer, Eran Azmon, Yafit Shamir, Yoav Itzcovich, Soli Hasin, Eyal Levin, Shaked Friedman, Gal Hadas, Yair Bortinger, Itamar Epstein, Keren Faingold, Yotam Martin, Daniel Elkabetz, Zach Schneider, Idan Suisa, Ariel Mann, Simon Bursten, Yishai Lurie, Yvonne Boose, Shani Keret, Roni Mendelsohn, Sharon Badihi, Gabriela Adler, Natan Sofer, Dr. Amir Levine, Amit Lesman, Shahar Hegyi, Francine Haliva, Tamar Yacobi, Tahly Flinker, Oded Unger, Pablo Saracusti, Yossi Michaeli, Asaf Pinhassi, Erez Cohen, Idit Lowenstein, Paul Walsh, Amalia Helen, Tom Navot, Nathan Sofer, Avishai Cohen, Itai Rosenzweig, Martin Marcan, Orit Roterman, Harry Goldsmith, Tamir Kessel, Ronit Margulies
and to our colleagues of yesterday:
Ziv Lautman, Ohad Zadok, Eilam Gilboa, Nurit Sabag, Adar Moritz, Shahar Polak, Amit Gil, Perry Shalom, Nitzan Lev, Allon Van Der Sluis, Uri Schechterman, Amit Safir, Oded Levanon, Julie Ach, Ayana Hirt, Ido Noyman, Itay Erez, Roi Amar, Beny Rubinstein, Ron Alfia, Hila Pashutzky, Adi Peleg, Teo Zuares, Itai Raz, Sophie Gallet, Nir BenMoshe, Yoav Martin
I would also like to take this moment to thank all those that took part in the series C round, it is each and every one of your contributions that made this process a success. Thank you.
Assaf Naveh, Nil Friedman Levy, Yoav Hogeg, Ari Aslan, Roy Fonrov, Ilan Atias
We're thrilled to be starting on the next stage of our plan, we're already providing value for hundreds of millions, empowering healthier choices, even saving lives – and this is only the beginning.