In the recent huge Startup Autobahn Expo8, a unique live event with an impact far reaching the virtual realm, we were excited to join the innovative team at Bosch Sensortec in presenting what we have been working on together towards improving air quality monitoring capabilities!
What is the Startup Autobahn Expo?
The Expo8 from STARTUP AUTOBAHN, powered by Plug and Play, is an event celebrating the collaboration between startups and big industry players in the area of mobility, production, logistics, sustainability and beyond. The spotlight this year was on deep tech solutions that have been created by startups and industry-leading corporate partners over the last 100 days.
Watch the Video! Bosch Sensortec & BreezoMeter @ Startup Autobahn Expo 8
Our documentary was produced to showcase the collaboration between BreezoMeter and Bosch Sensortec and was screened as part of the virtual event. This was the perfect forum for us to present what is possible for the future of air pollution monitoring when two organizations combine their innovation and technology.
In the words of Tarek Zaki, Customer Project Manager at Bosch Sensortec himself:
"Breezometer has built the app and appended their high resolution PM2.5 data, providing at the end, the user, a comprehensive and personalized view of the PM2.5 readings. The data can be displayed over time and space giving the user the entire picture at the single glance. With this information the user will be able to take those necessary actions in order to prevent or improve his or her own performance and thereby reducing the risk of various diseases."
Understanding the Dosimeter App & PM2.5 Sensor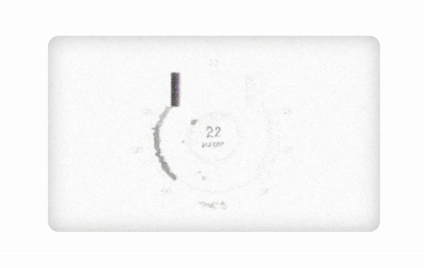 PM2.5, small particulate matter or fine dust, are generated from a variety of sources in our day to day living. They are small enough to enter our respiratory system unnoticed, posing a serious risk to our health.
Unfortunately, local, on the ground sensor data is often limited in terms of monitoring capabilities, so if individuals want to avoid exposure to PM2.5 and other harmful pollutants, the information they find may not be relevant or accurate to their exact location.
In order to overcome these obstacles and empower individuals to limit their exposure to harmful pollutants, Bosch Sensortec has developed a fine dust sensing technology. Although their innovative PM2.5 sensing technology is highly accurate there may be incidences where the sensor is blocked and therefore unable to measure the pollutant's dose.
By joining forces and combining information recorded by Bosch Sensortec's sensor technology with BreezoMeter's air quality insights, individuals will now be able to monitor their pollution exposure in a highly personal and reliable way.
Much like an individual health companion, the dosimeter app has the ability to measure the dose of PM2.5 that the individual has been exposed to, whether indoors or outdoors!
Key Excerpts from Healthy Choices – Monitoring Individual Pollution Exposure // Startup Autobahn EXPO 8
The sensing technology allows for full holistic coverage:
"To prevent the end user from experiencing information gaps in assessing the air surrounding them, Bosch Sensortec was looking for a competent partner, who would be able to fuse their measured PM2.5 concentration with available external high resolution data in order to provide a holistic data coverage. This partner was BreezoMeter."
The predictive capabilities of BreezoMeter's data integration allows coverage beyond current means:
"It's not enough to say that currently the conditions are not ideal. Again for an individual, if you suffer from asthma, if you suffer from a respiratory condition, if for you, as a mother, you're walking with your stroller, with your baby, you wish to make sure that they are not impacted by poor air quality."
The applications of the sensing technology itself are endless as it can be integrated into a variety of device types; portable devices, mobile, peripheral devices, smart home related, automotive related.
By modifying their behavior, users can reduce their exposure to PM2.5.
"We believe that providing a personal capability to people to actually minimize their exposure to those particles would eventually reduce the amount of sick people and improve the life quality." Tal Dekel, Innovation Manager at Bosch