Exposure to air pollution during our regular, daily commutes is a major health risk. To combat the problem, BreezoMeter partnered with HELLA, an international automotive parts supplier seeking to expand and enhance its digital offering with personalized outdoor air quality forecasts and insights that make daily journeys healthier and safer for drivers and passengers alike.
The Problem With Air Pollution On The Road
The average driver in some countries can spend as much as 4 years on the road throughout their lifetime, regularly exposing them to harmful levels of air pollution. In fact, the EU's Environmental Agency declared over 350,000 annual premature deaths in Europe were caused by chronic air pollution exposure.
Concerns about air quality are constantly on the rise. In late 2021, the WHO established far stricter air quality limits for annual and daily exposure to dangerous compounds commonly found in roadway air pollution such as PM2.5, NO2, and CO, which have been linked to heart disease, higher death rates, and other adverse health effects emphasized by the EPA.
With growing public awareness of the risks associated with air pollution, the automotive industry faces a new challenge – protecting drivers and passengers from air pollution on the road regardless of the hour or route.
HELLA Pursues a Digital 360° Solution to Air Pollution
HELLA, a German-based international auto parts supplier, developed a sensor that measures particulate matter levels inside and directly outside the vehicle in real-time.
But HELLA also wanted the ability to be able to track all common ambient airborne hazards at every vehicle's exact location while in transit and predict environmental changes along individual driving routes.
Obtaining raw environmental data wasn't enough. HELLA also needed to quickly translate air pollution data into immediate action which engaged but didn't distract drivers, enabling simplified and even automated in-cabin air quality management on the road.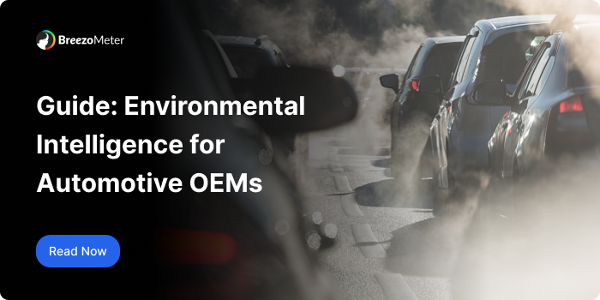 Personalized Air Quality Forecasts & Live Insights per Vehicle
Partnering with BreezoMeter gave HELLA access to accurate cloud-connected environmental intelligence which enabled forecasting dynamic changes in the local levels of environmental hazards on the road, including pollen and common outdoor pollutants PM10, SO2, and ground-level Ozone.
HELLA's Air Shield system was installed in selected German Cars and additional OEM`s during a pilot program that tested its ability to collect air quality data inside and outside the vehicle and produce real-time analysis and data-driven insights to maintain healthy in-cabin air quality.
Data-Driven Analytics Inform Driver Decisions & Automate Air Quality Management
By leveraging BreezoMeter's live air quality insights in conjunction with the data from the vehicle's interior/exterior sensors, HELLA's Air Shield system could deliver health-focused recommendations according to changing environmental conditions, automatically engaging vehicle systems to protect drivers and passengers in real-time.
The system also utilized cloud-based real-time environmental data to preemptively activate before in-cabin pollution levels reached harmful levels.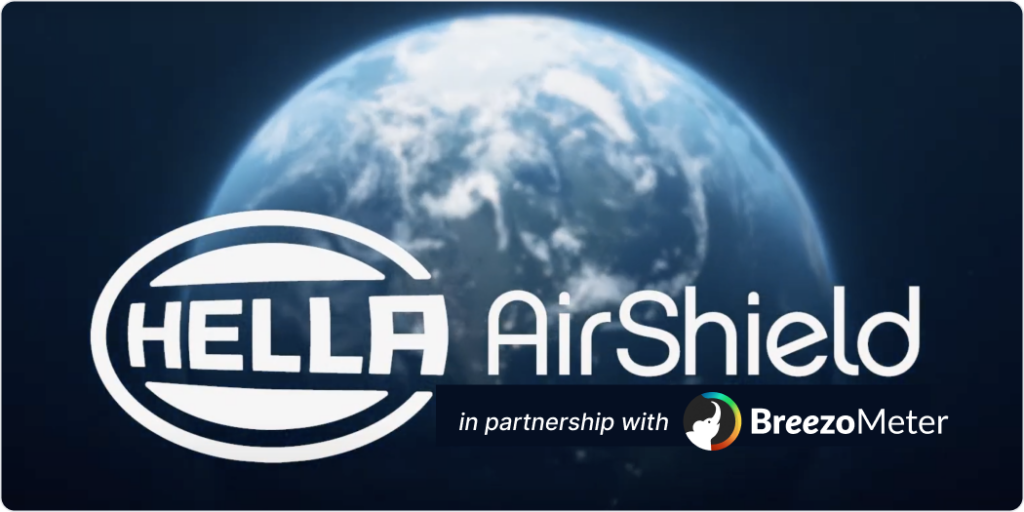 Digitizing The Driving Experience With Health-focused Environmental Intelligence
Car companies and auto parts manufacturers can leverage environmental data to help drivers make healthier navigation choices by utilizing air quality forecasts tailored to their routes, reporting air pollution and pollen levels at every point along the way, and even tracking live wildfires in nearby areas.
By making invisible environmental hazards visible, engaging motorists with live predictions, and translating raw data into actionable insights, vehicle OEMs can transition from hardware suppliers to service providers and launch new digital offerings that meet rising consumer demands for personalization and health while enhancing competitiveness in a crowded market.
(N.B Hella was officially acquired by Faurecia in 2021. You can learn more about this here)