Famous for its user-friendly radon detectors, Airthings has become a global authority in indoor air quality. We sat down with Oyvind Birkenes, CEO, to learn more about Airthings and their mission to improve indoor air quality around the world. (Photo credit to Johnny Vaet Nordskog)

Tell us about Airthings. What Problem were you Trying to Solve?
Airthings was established in 2008 by three CERN scientists with the goal to educate on the prevalence of radon and offer accurate, user-friendly radon detectors to the masses, making them as common as smoke detectors.
Our founders saw a gap in the radon market. Traditionally, consumers only had two options: call a professional to test their radon levels, or purchase a single-use charcoal test which was then sent to a lab for the results.
We started Airthings to break free from these traditions and put consumers, as well as business owners, back in control of their indoor air quality.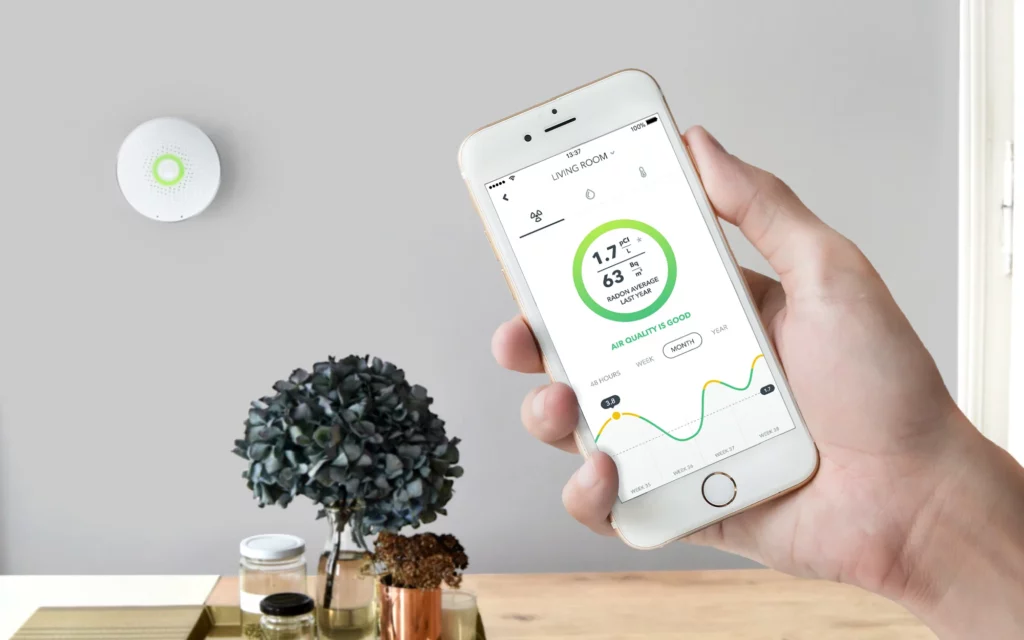 What are the Main Pollutants of Concern when it Comes to our Homes?
The most common pollutants in our homes that impact health are radon, airborne chemicals (also known as Volatile Organic Compounds or VOCs), CO₂, and mold spores. Conditions like humidity and temperature also contribute to the quality of the air in our homes.
Radon is an odorless, radioactive gas that comes from the ground and is harmful in high doses over a long period of time. It is the leading cause of lung cancer among non-smokers.
Airborne chemicals (VOCs) are a combination of gases and odors emitted from many different toxins and chemicals found in everyday products including cleaning products, paints, solvents, carpets, and furniture causing serious health effects in both the short and long term.
CO2 is a greenhouse gas that is natural and harmless in small quantities, but it can easily rise to critical levels indoors with insufficient ventilation, affecting productivity and sleep.
Mold exposure can irritate the eyes, nose, skin, throat and lungs. Once you see it, it's too late. Checking for mold risk in your home is the easiest way to prevent mold before it grows.
What Role Do Factors like Humidity, Air Pressure & Weather Play?
Humidity is often an underestimated factor, yet both high levels and low levels of humidity can have negative effects on our health. High humidity in our homes can cause mold growth. Mold exposure causes health problems, particularly for people with asthma or allergies. In fact, people are 40% more likely to have asthma when living in a damp or moldy home!
On the other hand, there is strong evidence that dry air provides a clear pathway for airborne viruses to spread. That is why ensuring indoor humidity levels between 30-60% is important to protect our health.
COVID-19 Means We're all Spending More Time Inside. Is this a Risk?
Looking at the data from our monitors in Europe and in the United States, we can clearly see how the air in the homes of our users deteriorated when global lockdowns started in mid-March.
With closed windows and more time spent inside, our exposure to indoor pollutants such as radon, airborne chemicals and CO2 increases considerably, which can lead to adverse effects on our health.
Airborne chemicals can cause short-term problems like headaches, inflammation of the eyes, nose and throat, and flare-ups of pneumonia or bronchitis, as well as contributing to more long-term conditions like cardiovascular diseases and asthma.
When we make our homes more airtight, we're also at risk of increasing build-ups of radon. This colorless, odorless radioactive gas enters our homes through cracks in the foundation and the only way to know if your home is within safe levels is to monitor for radon. Radon induced lung cancer kills more than house fires and carbon monoxide combined.
By simply monitoring the air quality in your home with Airthings' radon and indoor air quality monitors, you can make small changes to your habits and take the right actions to reduce the effects of these air pollutants.
As Schools Reopen & People Go Back to Work, How Can We Ensure Safe Indoor Environments?
Understanding what's in the air is the only way to know if a school or office building has a problem. This is critical in determining how to customize the specific needs of each building, as every space is unique.
Many schools and offices are in older buildings that have not been optimized for occupant health, meaning they are vulnerable to not only COVID-19 but common pollutants like mold, dust, and airborne allergens because they lack proper ventilation.
Constant intelligent monitoring and familiarization with what's in your air through technology solutions like Airthings for Business can help schools and offices ensure the air quality is optimized for people's health and comfort.
How Important is Raising Awareness for Keeping Our Indoor Environments Safe?
Over recent decades, many chemicals have become more prevalent in our homes due to increased use of synthetic building materials, air-tight properties, pesticides, and household cleaners. Buildings are becoming more airtight and without proper ventilation, we can be exposed to these pollutants over long periods of time, which can lead to serious health problems.
Raising awareness of how indoor air pollution impacts our health is key to protect people from preventable diseases like lung cancer and Monitoring air quality is the easiest way to prevent or minimize the effects of indoor pollutants on our health.
For example, the only way to know if there is radon in your home is to monitor the air. There are several options available, from single-test kits to digital detectors, but it's important to note that radon levels fluctuate over time and are influenced by the elements in our environment. That's why we recommend monitoring over long periods of time to allow for such fluctuations to be accounted for, giving you more accurate and meaningful results.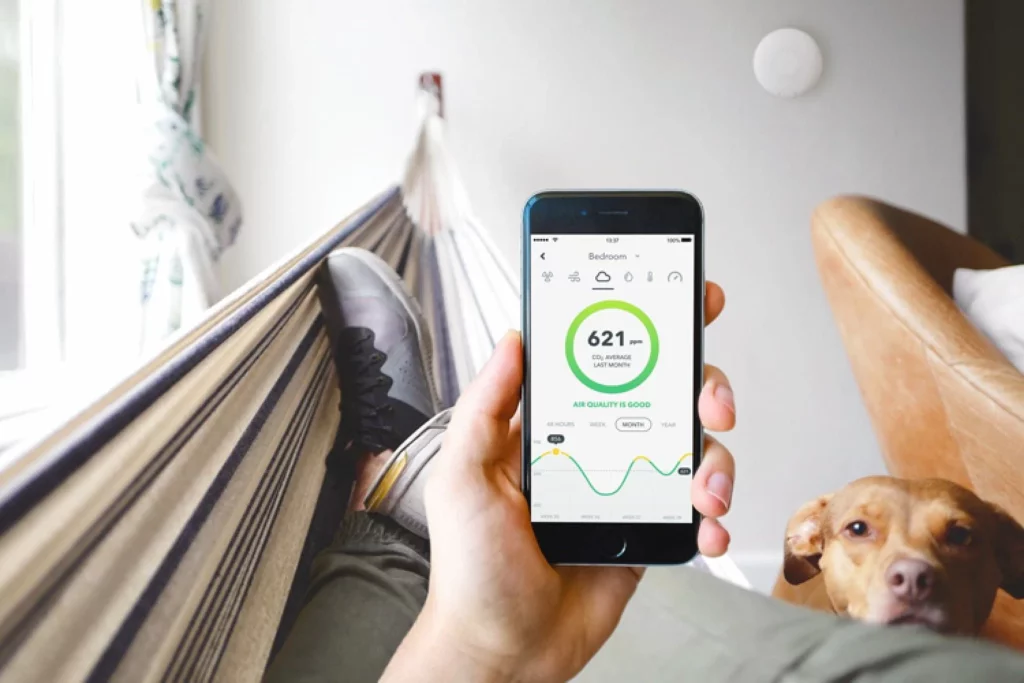 How Does Airthings Protect its Customers?
No matter if it's indoors or outdoors, air quality matters everywhere. Our users have access to a dashboard where they can get an overview of their indoor air quality data and, in addition to that, they also get an overview of outdoor air quality data from BreezoMeter which covers reporting on particulate matter, ozone, allergens, and more.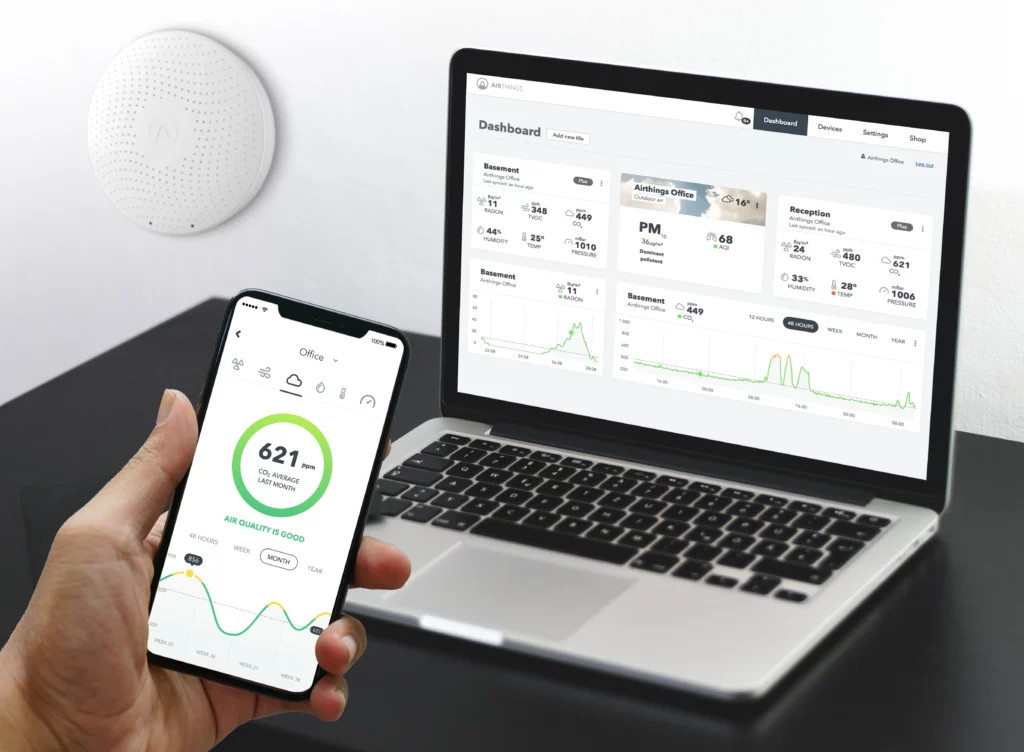 This can be useful in so many ways, as after all, whether it's outdoors or indoors, air quality matters to our health.
If you live in an area with high pollution levels, opening a window might not always be the best way to address issues with indoor air quality. Having both sets of data on indoor and outdoor air quality can help you take the right actions to fix the problem.
What Obstacles Have you Encountered When it Comes to Improving Indoor Air ?
A common concern is the cost. Air quality technology during these times should be viewed as an essential expense, but it might not actually be an "expense" at all. Data shows that investing in monitoring will actually create perpetual energy savings for buildings. On average, spending $40 on improving air quality in a building results in a $6,500 productivity gain. Extrapolated across a large business, the difference is even more significant.
How Do you See the Future?
There has never been a better time to take control of the air you breathe. In the midst of a global pandemic, people are becoming more aware of air quality and how monitoring CO2 levels or humidity can help us minimize the spread of airborne viruses such as COVID-19 in schools, offices and commercial buildings.
Sensor technology allows us to gather indoor air quality data which we can use to improve energy efficiency in buildings, optimize and reduce energy consumption based on need rather than calendar date, and make sure the air is as healthy as can be for the people inside a building.
– Interview End –