my mhealth is making waves in the field of traditional UK healthcare as medical community practices embrace their unique digital healthcare apps as part of their formal care provision.
We sat down with Matthew Duggan, Senior Engagement Manager & Thomas Van Lindholm, CTO, to learn more about my mhealth's innovative digital solutions for Asthma, COPD, Diabetes and Heart Disease patients and their vision for the future.
Tell us More About my mhealth & the Problems you are Solving
The company itself has been going for quite some time now. We started to develop products for patients, starting with a simple website in 2012. We released the new co-morbidity platform for patients with Asthma, COPD, Diabetes, and Heart Disease 2 years ago.
First and foremost, I should say we are founded by 2 clinicians, Dr. Simon Bourne and Prof Tom Wilkinson, who were both consultants in respiratory medicine. All of our apps have been clinically tested in the same way a new drug is, and they have been proven to be extremely effective.
Which Health Conditions Does my mhealth Cover?
Our apps have been developed for asthma, COPD, Type 1 and 2 Diabetes, and a range of heart conditions. We have recently developed an app to help clinicians to manage and monitor patients with a diagnosis of Covid-19.
How Do Your my mhealth Apps Help Your Users?
We help our users to understand that there are opportunities for them, daily, to help them with their symptoms and improve their long-term outcomes, and signpost when it's appropriate to access healthcare services.
This is all about doing the simple things well, helping patients understand more about their condition, how to use their medication, and assessing their progress using validated scoring tools for each condition. Many services struggle in terms of capacity to deliver the intervention to all their patients, and many patients find it difficult to access services for a variety of reasons.
How Do my mhealth Apps Support Healthcare Professionals?
The apps have been designed to help clinical teams to manage their patients at a population level, focus on patients most at need and provide services digitally to every patient. For example, in the UK there is only the capacity to deliver pulmonary rehabilitation to 3% of the COPD population. Using our app, every patient with COPD is able to access this service digitally with exactly the same outcomes for a fraction of the cost.
How Do Users Interact with my mhealth's Apps on a Daily Basis? How Do They Benefit?
OK let's start with an example with an actual screen. If you're looking at the myCOPD app, the first thing we would ask the patient is, "how are you feeling today?"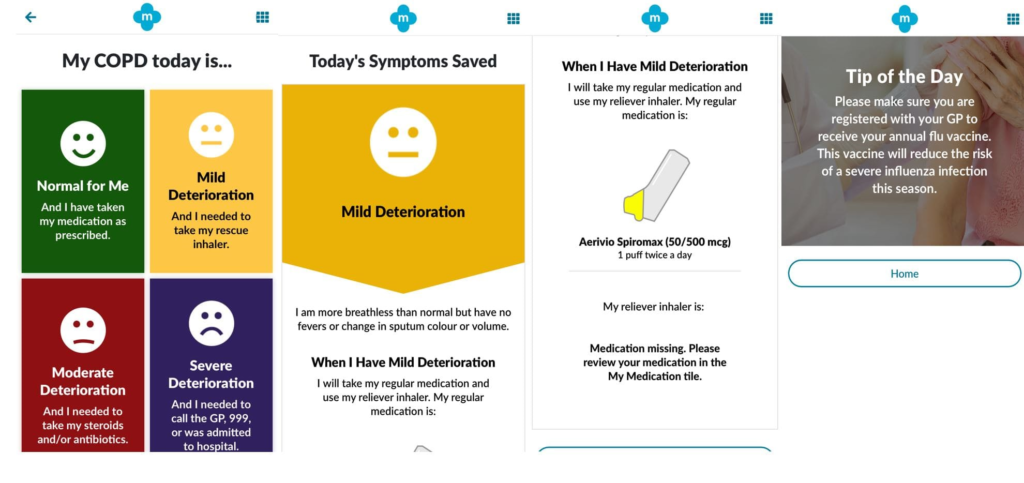 Based on their answers, the app then takes them to the appropriate part of their self-management plan where it shows them which medication to take and when. If they need a refresher about how to use their inhaler, they can go to our inhaler video tile. Over 90% of patients do not take their inhaled medication correctly, and the health service struggles to educate every patient. Our apps have been shown to correct almost all of these errors,
Patients can then choose to keep track of their symptoms, enter their medication into their diary or take part in an education or rehabilitation program.
How has BreezoMeter's Air Quality Data Added Value to the Product?
This has been a major improvement. We can now provide information to patients about their air quality in a way they can understand so they can plan their day with confidence.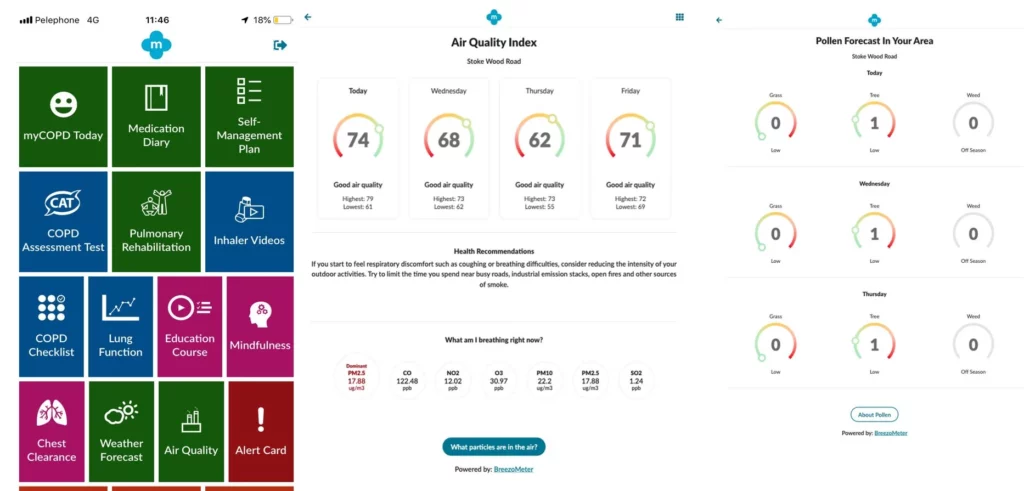 Patients are definitely checking the air quality at least every few days.
What's the User Feedback on the Air Quality Information Been Like?
The feedback has been extremely positive from patients, clinicians, and national charities. We can't wait to start analyzing the data and see if in some way we can predict exacerbations and assist patients in reducing their risk of having one.
"The impact of air pollution on patients is well evidenced. All of our apps now incorporate hyper-local air quality feeds from @BreezoMeter to help patient with #COPD #Asthma #Heartdisease #diabetes plan their day. #mhealth" pic.twitter.com/Zyjs7wBlfJ

— my mhealth (@mymhealthltd) May 12, 2020
How are Organizations Using the Platform?
Over 90% of clinical teams say that the app has helped them, and their patients by helping them deliver a more efficient and effective service. We are now seeing over 3000 new patient registrations a month and some services are completely re-organizing the way they deliver their care to their patients, reaching many more patients than they could do through conventional face-face delivery.
Do Clinicians Find that Patients Regularly Use the App?
They are, there are of course some variations in inpatient use depending on their diagnosis, how embedded the app is in their clinical service, and how symptomatic they are. In the best performing services over 80% of patients are using the apps regularly (at least twice a week).
Where Do you See Remote Health Management Headed in the Future?
The current pandemic, without a doubt, has accelerated the digital transformation of healthcare by at least 5 years. There will always be a role for face-face services, but we now have the evidence that digital health can deliver healthcare, services and outcomes at a scale never before realized. Patients love it, they can access advice from the comfort of their own home at a time that is convenient for them. There is no reason that digital cannot transform healthcare in the same way it has for every other industry.
What has changed in my mhealth Remote Monitoring since the COVID-19 outbreak.? Can you Tell Us More about the Covid-19 Virtual Ward?
It has changed everything. Uptake has improved by 300%, we have set up over 50 new sites in the last few months. For example, since March we have delivered over 46,000 individual rehabilitation sessions to patients with COPD.
The Covid Virtual ward is for patients suspected to be suffering from or diagnosed with coronavirus. By answering a few questions and recording a few measurements twice a day – cough, wellness, breathing, pulse, temperature, and oxygen levels (using an oximeter) – we use a clinically recognized scoring algorithm to assist patients being managed in a virtual environment to be cared for remotely by their clinical team. This means patients do not have to attend hospital or their GP surgery, clinical services can also monitor patients remotely in nursing and care homes. For those that demonstrate a severe worsening of their condition, the app helps clinical teams prioritize them and arrange a safe admission to the hospital.
– Interview End –
Discover more examples of innovation in digital healthcare & real-world applications of air quality insights in our dedicated patient engagement eBook, featuring ALK, My Mount Sinai Hospital, and more.