Air quality data integration is becoming more commonplace, often complementing weather reporting. But a lot of air pollution is invisible, and numbers alone don't present the full picture. What's more, air quality in a single street radius can completely change in a matter of hours.
Here we explore how India's CNN News 18 channel empowered viewers to protect themselves from air pollution by integrating visualized hyperlocal and accurate air quality information into their daily weather forecasts.
Understanding India's Dangerous Air Pollution Reality
Pollution is now considered the no.1 health risk in India, contributing to over 1.67 million annual deaths from chronic diseases such as heart attack, diabetes, lung cancer, and 116,000 infant deaths in the first month of life.
A Global Burden of Disease study estimates India's total economic impact from pollution-related premature mortality and morbidity at an annual $36.8 billion.
The conditions are so severe that doctors find recovered Covid-19 patients return to the hospital with pollution-related respiratory complications, including bacterial infections and COPD symptoms.
CNN news forecast Empowers Viewers With Real-time Air Quality Reports
India's CNN News 18 teamed up with Eureka Forbes' Dr. Aeroguard to present air quality data to its audience, providing better decision-making input to protect their viewer's health. BreezoMeter provided continuous air quality coverage across the continent, enabling precise and insightful reporting:
CNN News' Enhanced Environmental Reporting Included:
Real-time air quality information, even when government monitoring stations were offline or too remote. Air Quality health risk, correlated to real-time weather events such as storms and wildfires.
Continuous air quality coverage over the whole country, in rural areas as well as urban sprawls.
Easily digestible color-coded air quality data presented via a 0 to 100 health risk indicator based on BreezoMeter's Air Quality Index. A simplified description accompanied each rating, ranging from 'hazardous' to 'excellent'.
Why Visualize Air Quality in Weather Reports?
When it comes to conveying a complex message to the general public, numbers and data can't compete with simple but strong imagery. After all, a picture is worth a thousand words. Color-coded air quality visualizations help to translate air pollution and its associated health risk into a language that anyone can understand. With strong red hues indicating high pollution, users immediately understand the severity of the air pollution levels around them without requiring contextual pollutant-specific thresholds, or a deep scientific understanding.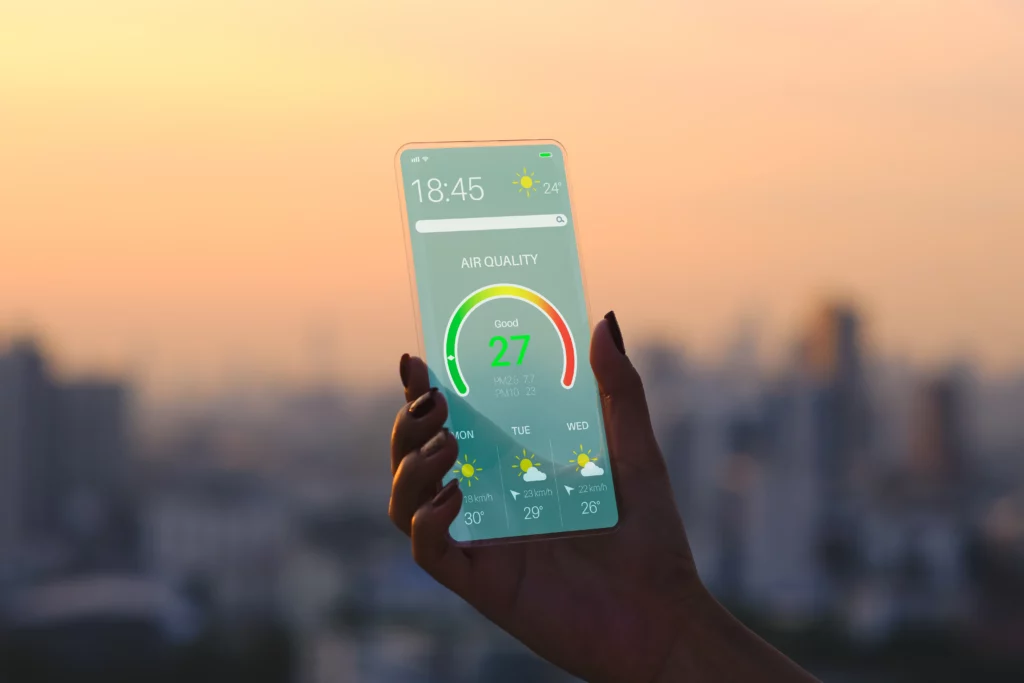 Granular and accurate air quality visualizations help to provide crucial environmental context to end-users, who increasingly expect weather providers to deliver this information as part of their standard reporting. Modern news providers, broadcast networks, and weather providers must adapt to the changing market and the needs of their users.