How would you react when your phone suddenly alerts you to an increase in air pollution outside your home? One study examined what did and didn't influence people's behavior and found one main conclusion: to bring about change in public behavior we must heighten the sensation of personal risk. And here is actually a very good cause for concern.
When you're planning to go out for a run or walk with the kids to the park, you probably don't pay attention to the local air pollution levels. However, if you received an alert to your phone whenever air pollution exceeded a certain level, would you change your behavior accordingly? Would you go somewhere else, choose to stay at home, or even prefer to run on a gym treadmill rather than outdoors?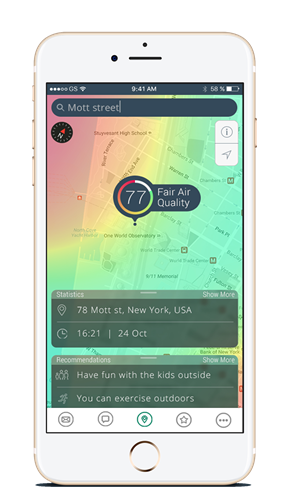 Can Apps Persuade Us To Adopt Healthier Behaviors?
One study conducted by student Dana Ziv, under the direction of Dr. Hagai Levine and Dr. Osnat Keidar at the School of Public Health in the Hebrew University-Hadassah examined precisely this question. Can a smartphone app actually change our behavior and cause us to reduce our exposure to polluted air?
"Air pollution causes considerable distress and mortality worldwide, there is no doubt that major steps must be taken in order to reduce air pollution," says Dr. Hagai Levine. "But the question that we faced in this study is what the public, as individuals, can do, how can we personally reduce our own exposure to air pollution"? Dana Ziv is the first graduate of the new MBA public health course that specializes in environmental health, headed by Dr. Levine.
Air Pollution Data isn't Easily Accessible
The Ministry of Environmental Protection publishes daily data on air quality across Israel, which people can view on the ministry's website or learn via their call center. "The problem is that this data is only accessible if you bother logging in to the website or contacting the call center, something most people don't do," says Levine.
"Furthermore, this data doesn't provide information on your current location, only for the whole region. Additionally, the data doesn't provide concrete recommendations as to what exactly you should do if air pollution levels are medium or high. In other words, in most cases, this data doesn't really enable the public to actively change their behavior. "
Making Air Quality 'Visible'
To check whether or not receiving actionable recommendations directly to smartphones influences behavior change, the researchers collaborated with BreezoMeter. BreezoMeter's app provides information on the air quality anywhere in the country, warns users when pollution rises above a certain level, and also recommends what they should do when air pollution becomes dangerously high, depending on their personal user profile: athletes, parents, children, pregnant women, etc.
"BreezoMeter created a high-resolution air quality forecasting model that works almost at street level," says Levine.
Determining When Behavior Changed
The researchers contacted people who signed up to download BreezoMeter's app even before it was available to the general public and asked them to answer the question: Have you ever changed your behavior following an alert about air quality?
Three months later, the researchers posed users with a similar question, this time asking: Did you change your behavior due to an air quality alert over the course of the last three months? According to the responses, researchers examined what causes people to change their behavior and avoid air pollution or, alternatively, what made them ignore the information.
A Wake Up Call Not Everyone hears
According to the research, one of the most influential factors on behavior change is the perception of personal risk. In other words, how much you believe air pollution affects you personally.
"Everyone understands that, in principle, air pollution causes illness and even death. But does it personally endanger me? People tend to say, 'So what if there is pollution? I'm fit, I'm an athlete, I'm strong, I can go for a run outside and nothing will happen to me'.
People have a low perception of personal risk and getting them to change their behavior is difficult.
Anyone who says 'There's air pollution outside, if I go running now it will damage my health', has a high perception of personal risk, and will probably refrain from going for a run outdoors when air pollution is high," explains Levine.
Empowering Healthier Lifestyles
Speaking of exercise, Levine demonstrates how an app like BreeozoMeter's can help us make healthier behavioral decisions: "Of course, I recommend regular exercise, which is good for health in many ways. However, it's important to know that whoever chooses to run on the side of a busy road is exposing themselves to a much higher level of air pollution than normal. This is due to the fact that during intense physical activity our breathing volume increases substantially, and the amount of particles we inhale subsequently increases as well.
According to the US Cardiologist's Association, if you engage in strenuous exercise where there's severe air pollution, you are doing yourself more harm than good. This is an example that shows how important is it to know and assess air pollution in a given area, and of course, translate this information to the general public. "
Do Women Hear Warnings Better Than Men?
An additional discovery in this research found that women were more inclined to change their behavior from the air pollution alerts. "The fact that this study shows differences in the response to the air quality alerts between women and men further emphasizes the need for personalized messaging – based on gender, health profile, family status (with/without children), and so on.
We must consider, certainly in an app that can be customized, how to develop a program that appeals to both males and females," says Levin. "This is an innovative and fascinating topic: How to engage in promoting healthier decisions via apps in a scientific and accurate manner, and how to personalize the messages to the individual user. There's a lot of potential here."
So Can Awareness Change Behavior?
159 people answered the researchers' questionnaire before using the app, 105 of which reported previous changes in behavior due to receiving an air pollution alert. Three months later, 45 answered the questionnaire, 14 of which reported changing their behavior after receiving an air pollution alert during the last three months.
"The survey is small scale, so the results are inconclusive," says Levine. "Many of the respondents in the first stage didn't really use the app or even download it (mainly due to technical reasons), therefore we cannot unequivocally say that there is a direct connection between behavior changes and using the app.
Personalization Paves The Path Forward
Nevertheless, we can certainly see the potential in translating information and making data accessible in this way to positively influence people's behavior. By the way, the data shows that out of those who answered the questionnaire and did download the app, were more likely to change their behavior".
"In addition, the study helps us better understand what messaging we need to provide to the public in order to lead to behavioral changes," adds Levine. "It shows that one of the important things is to highlight awareness regarding personal risk, to emphasize that air pollution isn't just a general issue, but something that can affect and harm our personal health, at least at the level of exposure. Once a person understands this reality, they become more aware and more willing to change their behavior".
Finally, Dr. Levine concludes: "As much as we believe in creating a personalized tool that influences and affects individual behavior, a very important part of the change is to increase air pollution awareness among the general public. This awareness will lead to significant steps in proper planning of land use, public transportation, minimizing private vehicle usage, reducing coal usage in power plants, etc. These measures will help reduce air pollution itself and ultimately also our exposure to it. "
(The full results were presented at the "Health and Environment Developments and Innovations" conference that took place in Tel Aviv on April 11th, 2016)