With global air quality concerns at an all-time high, entrepreneurs like Paolo Barbato, Wiseair co-founder & CEO, are leading the charge to bring back clean air. In this interview (podcast coming soon!), we discuss tackling the air pollution problem, developing smart cities and air-aware communities, the challenges facing impact-led companies, and how collaborating with citizens and local authorities can help make the air we breathe visible to all.
Who is Wiseair?
Wiseair is a fast-growing impact-oriented startup, with a mission to unite people, municipalities, and companies in defense of clean air through environmental data collaborations and awareness initiatives. By enabling individuals and organizations to report, monitor, and learn about the air they breathe, Wiseair promotes the creation of actionable solution-oriented information that empowers the public to protect their local environments and health.
How Did You Become Interested in Air Quality & Climate Tech?
My Co-founders and I built the company from scratch. I've always been very interested in the environment and I've studied Energy Engineering to try and have a positive impact on the world.
After moving to Milan, I experienced how big of a problem air pollution was for people, especially for me. That's why I connected with my co-founders, who really felt as close to the problem as I did, and together we started the company back in 2019.
Can You Explain the Root Cause of Air Pollution & Possible Solutions?
Like all big new problems facing humanity, air pollution doesn't have a simple solution. What we can do is acknowledge this complexity and try to find three key pillars that can help reduce it.
The root cause of air pollution is how much pollutants we are emitting into the environment. This may seem like a trivial sentence, but purifying the air using some new technology is a mitigation that doesn't fully solve the problem. What we should do in order to go back to clean air is find a way to cut emissions at the source. We're talking about fewer emissions from transportation, domestication, industrial processes, logistics, etc.
What Led you to Focus on Municipalities and Local Governments?
We decided to start with the No.1 stakeholder, the citizens. Who is breathing pollutants? It's us. The citizens. So we built a community to reach people in Millan.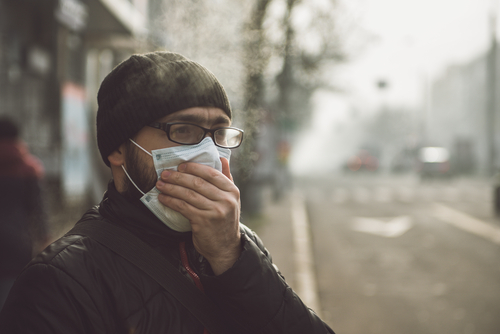 We started it all with quite a trivial statement, "air pollution is a problem", and moved to more specific statements and answers, such as "why do I feel helpless, as a citizen, when I'm faced with air pollution? What kind of impact is it having on my health, on my future?"
This work helped us start our work with municipalities, step no. 2. We're not an association that is trying to highlight and underline the rights that we want to defend. We're a technological company, a community of proactive citizens, so we are more solution oriented.
How Did You Overcome the Core Technological Problem of Air Quality Monitoring?
Tech startups and in general companies often go on the market and say we have the solution, we want to sell this solution to you. But if you are worried as a policy maker, because you don't know what the impact of implementing this kind of solution would be, then why should you trust me?
The key is co-creating a solution. Most of the time it's not about the customizability of the solution, it's the process that leads to the solution. It changes how you arrive to discuss a solution together with the stakeholder. You should be able to find the most suitable 1-size-fits-all solution, starting from the feedback.
Can You Describe a Successful Case Study with a Local Municipality?
We worked with various small and big municipalities. With very small municipalities we have a much more standard approach. It's easier to talk to the decision-maker and move towards a solution. Plus, they usually don't have any kind of data. We approach them, and most of the time they know they have a problem.
More challenges come from bigger municipalities. What we usually do is connect with the citizens, gain insights into the municipality's approach toward air pollution, and then start acquiring data they never acquired before.
The next stage is understanding the data. We always start from a data snapshot of the problem, like concentrations of pollutants. Then we try to bridge emissions and concentrations together with the municipality. When you're at that level, you should be able to involve citizens in the implementation of solutions.
What's the Approach You Take with Municipalities Worried about 'Exposing' their Air Pollution Problem?
It depends on the administration. You have municipalities like London, who really decided to expand their monitoring network with a top-down approach and deployed hundreds of low-cost air quality monitors, they show the data on a public dashboard.
But you have others that are afraid. This doesn't mean they don't want to start the process towards cleaner air. It just means that they are scared by data. So with these administrators, you don't make data available to the general public from day one. This isn't because you don't want to be transparent, but because you need the public administration to be confident in talking about data. It's just a matter of recognizing the administration's problems and acting accordingly.
What About Low-Cost Air Quality Sensors? Can they Help Fill in Gaps between Governmental Stations?
It's an interesting topic, and it's not just a technological trend. The UN is also talking about low-cost air quality monitoring and the opportunities it provides to AQ management together with satellite data, government stations, and data science. The data coming out from low-cost sensors should not be used the same way as data coming from governmental stations. This comes down to data science, and knowing how to handle that kind of raw data – really knowing its accuracy and the limits of low-cost air quality sensors.
Once you know these things, then you can start asking what kind of relevant insights you can extract from this technology. You can think about spotting trends or anomalies at a qualitative level.
What are the Key Lessons you've Learned as an Impact Company Entrepreneur?
I think the most relevant thing as an impact company is the importance of the vision and being coherent with it. You have many tradeoffs you have to manage when it comes to your growth. You're also discovering things and it takes time. The only thing that can keep you focused and your employees, your stakeholders, your shareholders, and your partners, is being coherent with your vision.
In Wiseair's case, wanting to bring clean air back to cities, we recognized the importance of involving cities and public administrations. This impacted a lot of strategic decisions as entrepreneurs. But being coherent gives you the possibility to stay focused on the mission, and if you're an impact company this is really important. Your employees are working with you because of the mission, probably more than for money, and your employee retention depends on that.
The Main Takeaway: Community Collaborations Help Empower Air Quality Awareness !
Wiseair's growing success demonstrates how making air quality information available to all and communicating the impacts clearly can prompt collaboration and support for air pollution solutions from citizens and administrators alike.
By leveraging air quality data to make invisible threats visible, businesses and cities everywhere can similarly create community experiences that facilitate engagement and empower them to actively participate in tracking their exposure and taking action to protect their health
Raising Awareness of Pollution in London: Read the Case Study