BreezoMeter teamed up with Eric Klos of DailyBreath for an exclusive webinar on improving patient outcomes with environmental health insights.
Why We Held this Webinar
The worldwide COVID-19 pandemic has had a transformative impact on the delivery of healthcare to patients and highlighted the importance of symptom tracking in the context of respiratory diseases. It's essential that environmental health insights play a role in chronic disease management.
In the time of COVID-19, patients have been 'forced' to embrace self-care to better manage their conditions as they find it more difficult to see their health providers in person.
For treatment providers, this adds to an already challenging task of supporting patients with chronic disease management and improving outcomes. On the other hand, our new normal has strengthened patient understandings that health is personal. Increasingly, patients want solutions and 'treatment that's configured for me'.
What Did We Talk About?
In this on demand webinar we were joined by Eric Klos, innovator of DailyBreath, a mobile app that helps those with allergies and asthma pinpoint triggers one symptom at a time, to discuss how understanding which environmental breathing hazards (e.g. air pollution, pollen) trigger symptoms for patients.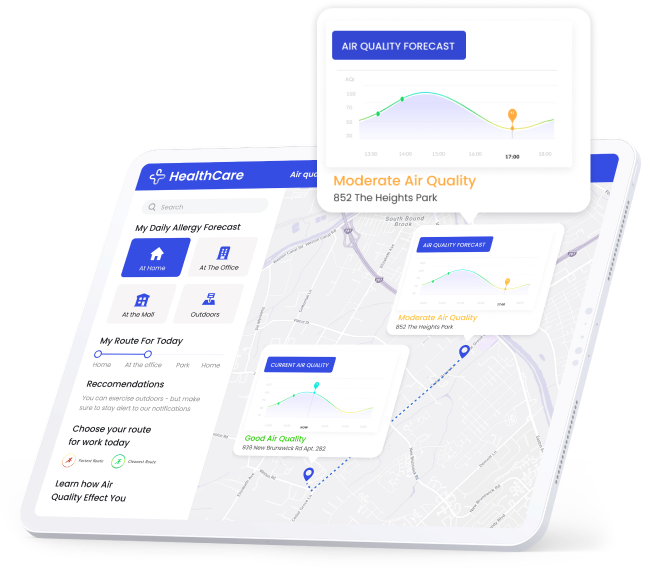 1. Why Environmental Factors Have Been Long Ignored
Historically, environmental issues have been considered too complex to incorporate into healthcare solutions. Further, data that lacks specificity and granularity doesn't sufficiently inform or empower those affected to take action, leading to gaps in chronic disease management.
2. Challenges Facing Digital Healthcare Companies in 2020
We talk about the challenges encountered on the road to providing a digital health solution that is effective and engaging, and personalized for each patient. Eric takes us through his own journey to better serve chronic respiratory disorder sufferers and the obstacles he has faced.
3. Environmental Insights and the Future of Digital Healthcare
The end goal is to improve disease management through better engagement. Eric and BreezoMeter's own healthcare expert Tamir Kessel dive into what they have learned from a personal and industry related perspective. They provide their insights into what lies ahead, and what is possible when for the future when it comes to uncovering environmental breathing hazards (e.g. air pollution, pollen) that trigger symptoms for patients.