Health-focused environmental intelligence means we can now make traffic pollution more visible for motorists, cyclists, and even pedestrians. Here we explore the impact of traffic pollution on health in detail and how environmental insights can be used to protect people while on the move.
The Impact of Traffic Pollution Around the World
Air pollution claims more than 7 million lives globally each year and at least 100,000 annual deaths in the United States alone. Because traffic pollution is one of the leading causes of pollution in cities, minimizing exposure to this form of pollution is becoming a key public health issue.
On average, people spend an accumulated 3-4 years on the road as either a driver or a passenger – this is where they often experience their highest daily exposure to air pollution. Aside from the impact on health, short-term air pollution exposure has also been found to impact cognitive performance and decision-making, which can bear especially serious consequences for drivers, who must stay alert and reactive to avoid traffic accidents.
Learn more by downloading our guide for automotive leaders here
Understanding the Traffic Pollution Mapping Challenge
Air quality doesn't stand still. It changes from hour to hour, with large variations in air pollution from neighborhood to neighborhood. Traffic is an important part of why air quality fluctuates: the higher the traffic density, the higher the air pollution concentration tends to be in that area (although there are many other reasons why air pollution may be high as well).
Providers of pollution data may struggle to take the impact of live traffic on air quality into account for the following reasons:
Sensors and monitoring stations measure pollution at their precise location but there won't be monitoring hardware at all the required locations, meaning traffic pollution may simply not be detected by sensors. In most countries, there are huge gaps between government monitoring stations, leaving a lot of areas uncovered in this respect.
Example: an air quality monitoring station located near a busy intersection will record high levels of pollution during peak hours, while a monitoring station positioned farther away will not record fluctuations.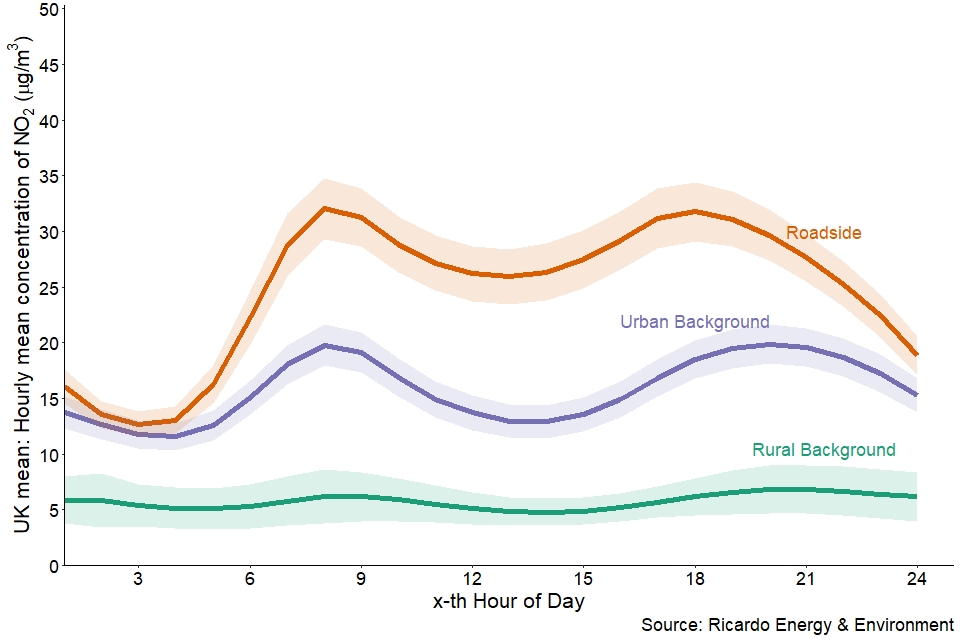 BreezoMeter's Approach To Traffic Pollution
As the spatial gap between stations leaves a lot of missing information, BreezoMeter leverages live traffic information to provide more timely insights and visualization. By deploying highly-sophisticated modeling, accompanied by a strict QA process, we work hard to ensure the highest level of accuracy and reliability.
Learn more about BreezoMeter's use of traffic data for air pollution reporting here
Introducing Accurate Traffic Pollution Data & Cleanest Route Insights for Safer Commuting
As air pollution becomes a major global concern and protecting health becomes a key consumer concern, the ability to dodge or prevent exposure to traffic pollution during commutes presents a clear direction of travel for the future.
Smarter In-Cabin Air Quality Protection
Environmental insights can alert drivers to risks in real-time, enabling 360° protection from traffic pollution and other environmental hazards on the road: Ongoing location-based air quality updates can prompt drivers into action or trigger automated responses from vehicle control systems to close windows and engage air treatment features, even before the vehicle reaches poor air quality areas.
Explore Real-world Examples:
Creating Healthier Travel Experiences
Cleanest Route Insights enable automotive and micro-mobility brands to make traffic pollution visible to users and suggest healthier travel options.
The e-bike company Cowboy leverages air quality data to communicate potential threats to riders via their connected app, visualizing air pollution dangers with real-time heatmaps, educating riders about their personal exposure, and offering cleaner route alternatives to help users reach their destinations both quickly and safely.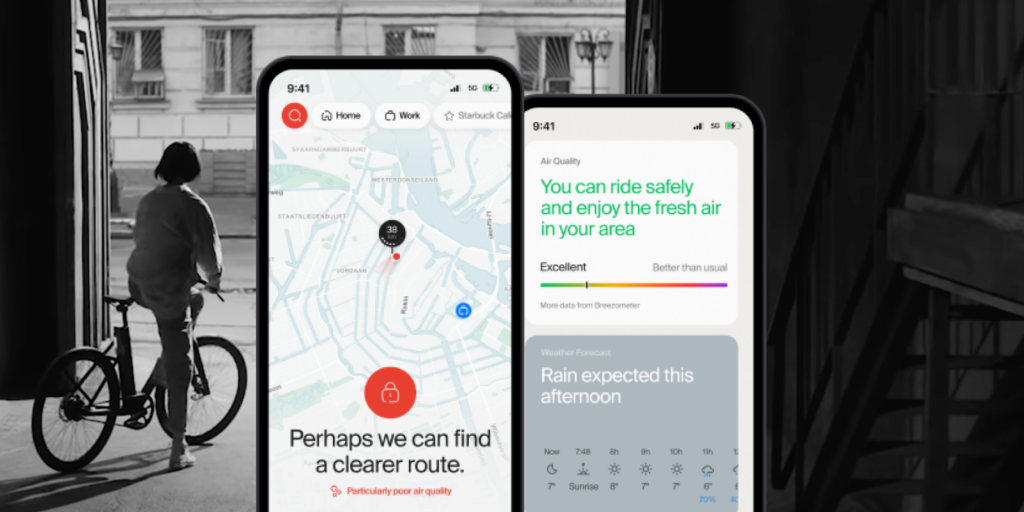 Learn more about BreezoMeter's Cleanest Route Insights
Environmental Insights for Consumer Product Leaders
By integrating location-based environmental insights into travel or navigation apps, vehicle dashboards, and other connected products, automotive, smart mobility, and even fitness companies can adapt offerings to emerging market trends while empowering users to make healthier travel decisions and optimize their journeys for both safety and speed. Interested in exploring environmental integrations for your products?
Get in touch with us to set up a business demo!