An increasing number of advertisers are beginning to leverage real-time information about the environment for their campaigns. But why and how exactly do they do this?
Environmental Information Helps Scale Personalization
Research has found 90% of consumers find messages from companies that are not personally relevant to them 'annoying'. The ever-growing expectation from consumer audiences that messages and targeting need to be highly relevant means advertisers have needed to get smarter in their approaches.
In order to solve this personalization challenge, top advertisers are using contextual information about the environment to communicate the reality of environmental hazards in an intensely personal way:
Better Ad Targeting
Psychology shows consumers are more likely to buy a solution when they're actually feeling the problem.
This is why, in one year, Kleenex saw lower sales when they tried promoting their Kleenex Balsam in October like usual, despite that year's record high temperatures. The following year they spent their advertising dollars differently by targeting their campaign to places where they knew a flu outbreak was ongoing. The result was a 40% increase in sales – proving that context plays a huge role in whether people buy or not.
In a similar way, digital advertisers (especially for indoor air treatment and healthcare) are integrating location-based air pollution and pollen information to help inform their digital ad delivery.
By dynamically targeting ads shown in response to a person's true environmental context, these advertisers succeed in reducing the number of wasted impressions and make sure their ad spend gets allocated wisely.
Some advertisers are even using historical information about the environment to build and train their own algorithms for real-time bidding. In the long-term, this can significantly lower costs in-house & boost ROI.
Dynamic Content for Billboard & Video Campaigns
In the below example, the advertisers behind Amcal Pharmacy's digital billboard campaign chose to broadcast live pollen count warnings for specific regions in Australia: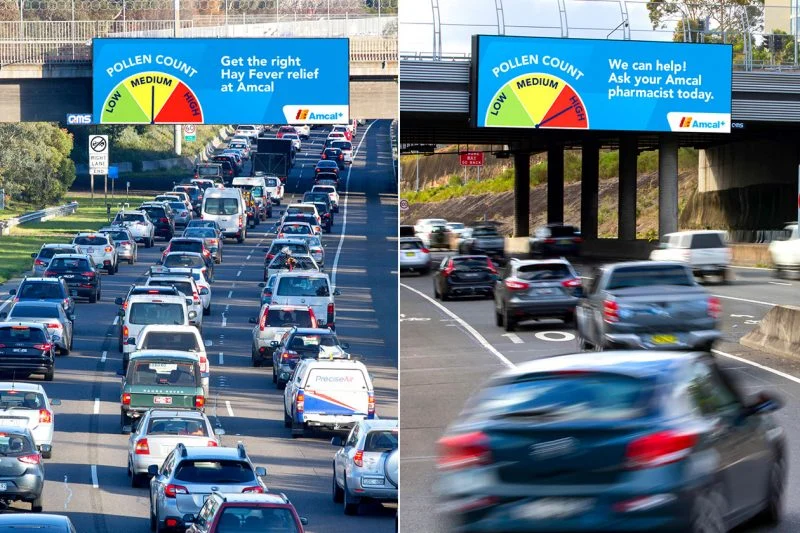 Similarly, Neutrogena teamed up with the video agency Spirable to deliver dynamic video ads based on the live air pollution levels at specific locations.
By highlighting the need for their anti-pollution skincare, they managed to completely reverse their decline in product sales.
Boosting Traffic & Brand Awareness with Personalized Alerts
When a significant environmental event occurs, automatically triggered alerts via text messages and push notifications can be a great way for marketers and advertisers to automatically re-engage audiences in a one-to-one way.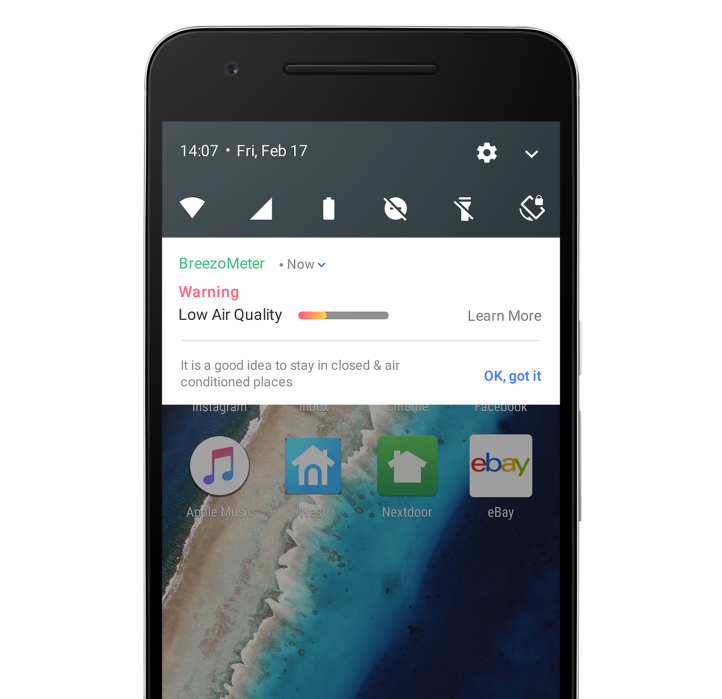 Workflows and alerts can be setup to trigger notifications based on what's really happening at an individual's location.
By reaching out to individuals in this direct way, marketers and advertisers can increase the level of relevant traffic to their website and significantly boost top-of-mind brand recall among target audiences.
Rapid Response across Conversational Platforms
Real-time environmental data means advertisers and brands can find out about a local event like a wildfire or significant pollution episode before the general media does.
By building automatic response systems across their social media channels, email and other conversational platforms, brands can be the first to start conversations and respond to environmental events.
Dive Deeper with this Webinar:
If you're an ad agency or brand looking to explore the use of environmental data in advertising, the below On-Demand webinar explores this further: