By integrating real-time environmental intelligence into their cloud-based solution, Siemens adds considerable value to their Climatix IC platform, empowering HVAC OEMs to expand revenue streams through smarter building health management.
Read The Siemens Case Study to Learn:
How personalized smart building management automation enables smarter system maintenance and reduces costs.
Learn how transitioning from 'hardware-only' supplier to offering additional smart building management services creates new revenue streams for HVAC OEMs.
Discover the new opportunities in the smart technology space that are opening up thanks to Siemen's new cloud-based solution, which leverages real-time environmental insights.
Read The Case Study Here
Who is Siemens?
A German technology conglomerate, Siemens is Europe's largest industrial manufacturing company, maintaining multinational branches across upwards of 200 countries. In addition to hardware, the company offers cloud-based solutions to a wide variety of residential and commercially-geared original equipment manufacturers.
What is Climatix IC?
Climatix IC is Siemens' remote monitoring and intelligent diagnostics platform that enables integrating smart technology and unifying data sources into a single cloud-based solution for building management automation.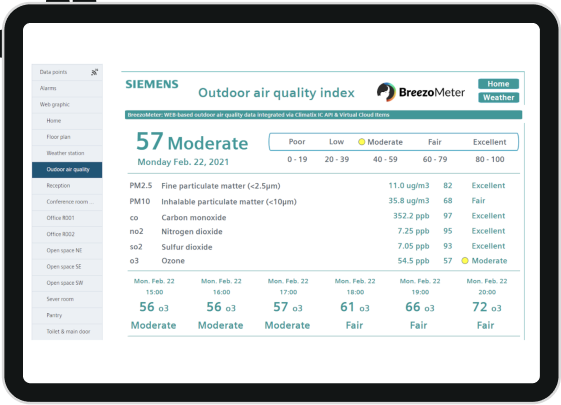 The Climatix IC platform eliminates the need to develop new smart building management software, offering a way to collect and evaluate data from connected devices and data-driven services. The platform enables OEMs to add value to their products and create premium maintenance and smart building management services.
Integrating BreezoMeter's Environmental Intelligence
Siemens partnered with BreezoMeter to leverage personalized environmental insights as a way to introduce SaaS revenue options for HVAC OEMs and optimize smart building management using their Climatix IC cloud-based solution.
"This whole area of generating value out of cloud-stored data is a journey with endless possibilities both for customers and providers. We're very happy to have BreezoMeter along on that journey, as environmental intelligence is integral for a more optimized system."

-Martin Peck, Global Product Manager – Cloud Services, at Siemens Smart Infrastructure