We are excited to officially share our latest report in partnership with the indoor air monitoring experts, Airthings! Based on surveys and our own analysis, the report examines which US cities were trigger hotspots for asthma sufferers in 2021, and explores how much the average asthma sufferer understands about their triggers.
What's In The Report?
1. Asthma & The Environment: Why Now?
We discuss the growing need to bring more awareness to the connection between asthma and allergies and discuss how innovations in environmental tracking technology create new opportunities for empowering asthma sufferers.
2. The Worst Asthma Hotspots in the US
We identify three US Asthma Hotspot cities based on high PM2.5 pollution and high humidity days in 2021. Such poor environmental conditions, outdoors or indoors, pose more health risks to asthmatics who are often unaware of the danger in the air they breathe.
3. Common Lifestyle Habits of Asthma Sufferers
We found many asthma sufferers lack practical ways to make their asthma tolerable during the day and are regularly forced to adjust their routines.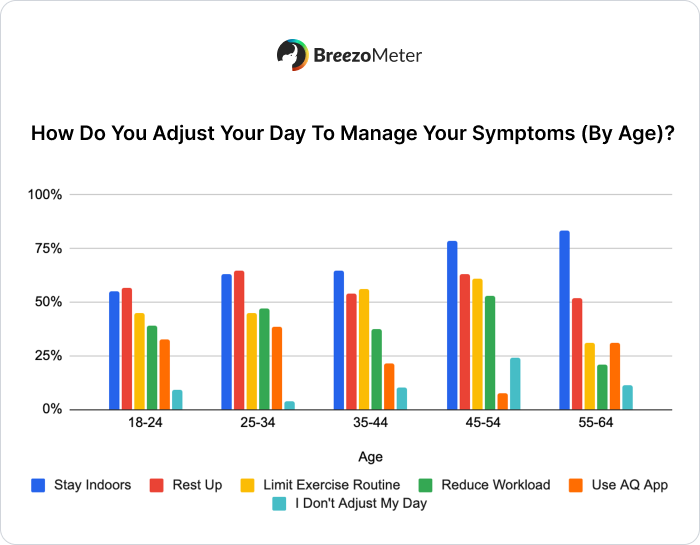 4. What Asthmatics Believe About Environmental Triggers
Many asthma sufferers associate asthma triggers with outdoor air more than indoor air, and experience worsened reactions during allergy season. However, indoor environments can become just as triggering as outdoor ones, and scientists now look at indoor and outdoor air quality as two parts of one whole (the indoor-outdoor air pollution continuum) to more effectively reduce exposure to daily triggers.
5. Is Symptom Tracking Common Among Asthma Sufferers?
Our survey discovered that while the majority of asthmatics adjust their daily routine due to their asthma, a third don't track their symptoms. Among older asthma sufferers (over 55), more than two-thirds report they don't currently track their symptoms.
6. Do People With Asthma Currently Track their Air Quality?
Despite having to make daily adjustments, less than half of the asthma sufferers we surveyed track local air quality or use tools to predict environmental asthma triggers. Tracking air quality to predict asthma triggers empowers sufferers to take advantage of good environmental conditions and enjoy outdoor activities without unnecessarily worrying about exacerbation.
About Our Research Partners

Airthings is a global technology company and producer of award-winning radon and indoor air quality monitors for homeowners, businesses, and professionals.
Founded in 2008, Airthings is on a mission to ensure that people around the world recognize the impact of indoor air quality and take control of their health through simple, affordable, and accurate technology solutions while optimizing energy consumption in buildings. Airthings' products have made radon detection and indoor air quality monitoring easy to deploy, accurate, and user-friendly, and have received several accolades including the TIME's Best Inventions of 2019 award and CES Innovation Award Honors in 2019 and 2021. Headquartered in the heart of Oslo, Norway, and with offices in the US and Sweden the company has over 140 employees from more than 30 nationalities—and counting. To see the full range of Airthings indoor air quality monitors and radon detectors or to learn more about the importance of continuous air quality monitoring, please visit airthings.com.