Most professionals we speak to understand the urgent consumer need for air quality data insights, but occasionally when we ask 'is air quality data a priority for your roadmap?' the answer is sometimes no. This response always surprises us because the demand and need for information on air quality data has never been greater. If not now, when?!
Unhealthy Air is a Public Health Emergency.
Everywhere

.

Each day new evidence highlights the tremendous health and cost burden of air pollution for societies around the globe.
Air Quality data is a
Priority

for Consumers (AKA Your Customers)

Extreme climate events and growing environmental activism has drawn more attention to air pollution over the last few years. In 2020, national lockdowns brought home the stark contrast between 'clean air' and 'business as usual' for urban residents.
Air quality data: growth of 'Air Quality' Related News Articles Published Over the Years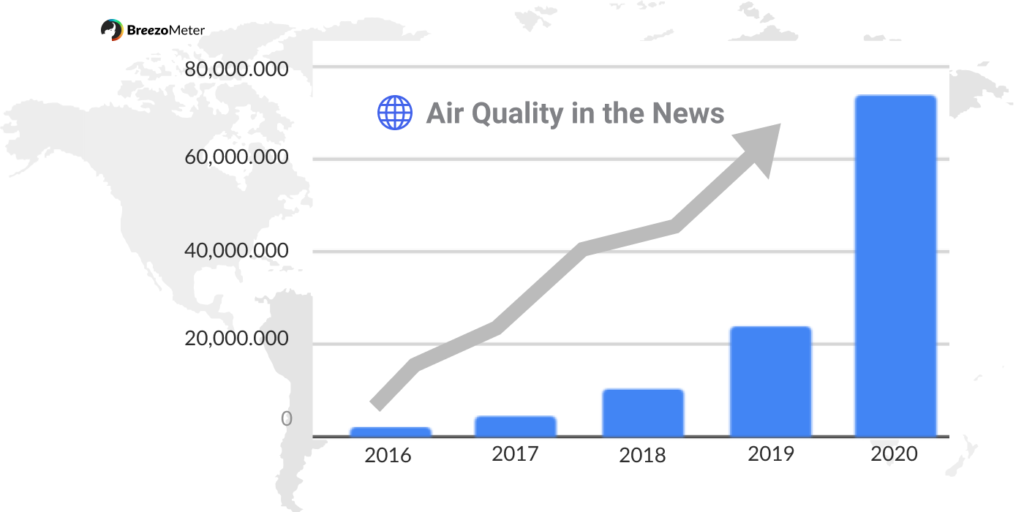 Graph is based on our analysis of Google "In the News" article results within these time frames
The US air purifier market was valued over

$1.0 billion dollars in 2020

and witnessed

huge growth (57%!) last year

. The market is expected to see double-digit growth figures over the next two years.
Anti-pollution activism is on the rise: London teenagers have installed road signs across the capital to highlight the dangers of air pollution for their neighbors.
Air pollution affects consumer behavior: A 2020 China-focused study concluded that "air pollution increases consumers' anxiety and annoyance which sequentially promote consumers' online purchase behavior, because they will reduce or even avoid the outdoor consumption behavior.
Air Quality data is a
Priority

for Businesses Like Yours

Businesses have already woken up to the demand for environmental intelligence – and many are already leveraging this information to delight their customers and stand out. Wait too long, and you'll just be late.
Smart Home & Indoor Air
IAQ product makers are using air quality data to make pollution visible and provide value both beyond their appliances and outside the home. Leading brands already doing this include: Aldes, Blueair, Siemens, Delos & Airthings. Learn more here

.
Healthcare
Digital health device makers, treatment providers and pharmaceutical companies use air quality data insights to boost patient engagement, conduct research, improve telehealth, disease self-management and boost treatment adherence. Leading health brands already doing this includes: AstraZeneca, Boehringer Ingelheim, ALK, my mhealth & Propeller Health. Learn more here.
Smart Mobility & Leisure
Weather Apps
Air Quality data is Fast-Becoming a
Priority

for Governments & Regulators

As the pandemic has helped to bring other costly public health issues to the fore – like air pollution and seasonal allergy. As a result, governments and regulatory bodies are already placing more emphasis on building health and ventilation management systems.
What's Holding You Back?
If air quality isn't a priority in your roadmap, why not? What's delaying it? Maybe we can help you solve some of the roadblocks. Now is the time to act.