Wildfires frequently cause major disruptions to utilities and telecommunication networks, damaging infrastructure and in some cases making companies liable for loss of life and billions of dollars in property damage. When it comes to managing wildfire alerts and risks, telecom and utility companies can't act soon enough. After the event is always too late.
The Impact of Wildfire alerts On Telecom And Utility Companies
Since the start of 2022, Australia has been battling wildfires every month. Some blazes have even doubled in size overnight. According to Australian emergency services commissioner, Darren Klemm, this is "not territory we have been in before."
Active Wildfire in Western Australia, 09.02.22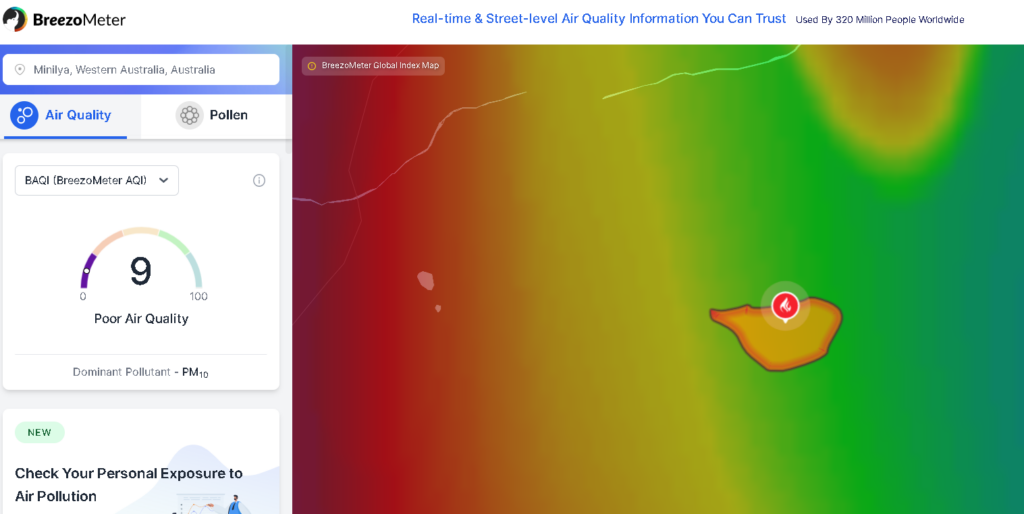 As shown by BreezoMeter's Wildfire Tracker via their Live Air Quality Map
A single wildfire season in Australia alone can destroy millions of hectares of land, kill over a billion animals, and release as much toxic smoke as a volcanic eruption.
But outside of the tragic loss of life and property, some of the most disruptive impacts from wildfires also inflict infrastructure, and telecom and utility companies often take the brunt of the hit:
Tracking Wildfires: Live Intelligence Can Protect Companies, People & Infrastructure
Live wildfire tracking and alerts can be used by telecom and utility companies to prevent major damage to existing infrastructure and service delivery:
Better power outage management in real-time – Optimize preemptive power shut-off programs in current or soon to be impacted areas with Live wildfire tracking and environmental monitoring of the facts on the ground. By doing this, the risk of further damage to electrical infrastructure is managed, and it becomes less likely to ignite new fires.
Network dropout alerts – Utilities providers can eliminate the surprise factor by warning impacted regions ahead of time when wildfire-related disruptions to communication channels may impact services and access to information.
Plan infrastructure layouts according to historical environmental data – Review regions for expansion based on historical wildfire movement information and plan infrastructure grid additions accordingly (new power lines, cell towers, etc), reducing future impact costs.
Optimize maintenance work

– Track most impacted areas and complete infrastructure repairs ahead of time – replace old wooden poles exposed to high temperatures and dry conditions for longer to prevent ignition and reduce the risk of causing new fires.
Now is Always the Time to Prepare for the Next Wildfire
The writing on the wall is clear: Climate change makes burning seasons worse with each decade that passes. 2011-2021 wildfires in the US burned more than double the acres impacted by 1990-2000 fires, and average summer wildfire seasons in North America are now 40-80 days longer than 30 years ago.
In Australia, research has found climate change makes fire weather 30% more likely than in the previous century, while in regions like California, where precipitation dropped by around 30% since the 1980s, the number of 'riskiest fire days' has already doubled.
Telecom and utility companies can't act soon enough. The preliminary period of the year before wildfire seasons fully start gives us the opportunity to plan ahead and reinforce wildfire readiness and climate resilience.
Companies now have the tools needed to reliably track live wildfires in real-time, alert company employees and citizens to danger and service impact, and analyze historical environmental data for factors that might worsen infrastructure resilience over time.
Don't wait: Learn more about our innovative wildfire tracker and historical environmental data tools to start upgrading your business's climate resilience.