In part two of our interview series with Senior Vice President of Delos, Isaac Mulvihill, and Regina Vaicekonyte, Vice President of Health Sciences at Delos Labs, we pick their brains about their list of what-to-know when it comes to air purification and filtration products & going beyond indoor air quality within the smart home.
What Should Someone Know When Purchasing an Air Cleaning Product?
Indoor Air Purification – Must Have: Scientifically-Validated Testing Data
We believe it is incredibly important to rely on third-party, scientifically-validated testing data that confirms that the technology is capable of remediating a specific issue, or multiple issues identified within a space. More specifically, as it relates to Covid-19, it is essential to use technology that is known to be capable of capturing aerosolized particles that may carry SARS-CoV-2, in order to help reduce transmission indoors. Many purification systems claim to remove small particles, but without the testing data on the performance of the device to prove it, such marketing claims may be misleading. We have performed independent laboratory testing on air purifiers that we've supplied to public schools across the U.S., which has shown that they are capable of removing 99.99% of particles as small as 0.007 microns in diameter.
Indoor Air Purification – Purifier Placement is Key
Air purifiers should be placed in spaces that are frequently occupied, and ideally should be located in places of a room or area where a person (or people) normally are present (e.g., an air purifier should be placed near the living room sofa in the living room if that's the most frequently occupied location in the room). That way, purified air is provided most immediately to the areas where people are present and breathing, and also the air can be treated at the very "source", e.g., if a person who is occupying the space and breathing in that area is infected/shedding viral particles into the air, that air can be filtered right away.
Indoor Air Purification – To Be Wary Of
We are less enthused by air treatment technologies such as ion generators, hydroxyl radical generators, or UV lighting technologies as they do not capture particles within a filtration media, nor do they actively move air throughout a space. Air purifiers, on the other hand, actively draw air through the filter media and do not rely on another source of airflow, such as HVAC equipment, unlike many other remediation tools.
What Insights Can You Share About Building Successful Commercial Indoor Air Cleaning Products?
From a commercial perspective, it is incredibly important that the air purification device is scalable, affordable, and can be easily installed without additional labor requirements, especially at a time with incredible demand and time constraints.
Key factors to consider for a successful commercial air purification solution:
Does the air purification system draw air through a filter media to actively remediate specified contaminants?
Has the air purifier been independently tested? Does the testing report show that it can remove specific contaminants at the specified efficiency rates?
Supply chain – can the solution be scaled?

Is it affordable?

Can the solution be easily implemented? Are there any labor requirements?

Specification-based on the size of the room and air turnover requirements.
Different air filtration systems are good at different things. Some are more effective than others in removing contaminants and pathogens than others. We've summarized several popular air filtration technologies below, including how they compare to Delos Powered by Healthway Compact air purification system ("Delos Compact"), which utilizes a patented DFS (disinfecting filtration system) technology. DFS utilizes electrostatic precipitation and mechanical filtration to capture and deactivate particles, bacteria, and viruses. It also creates a bacteriostatic environment, where microorganisms are unable to multiply inside the filter.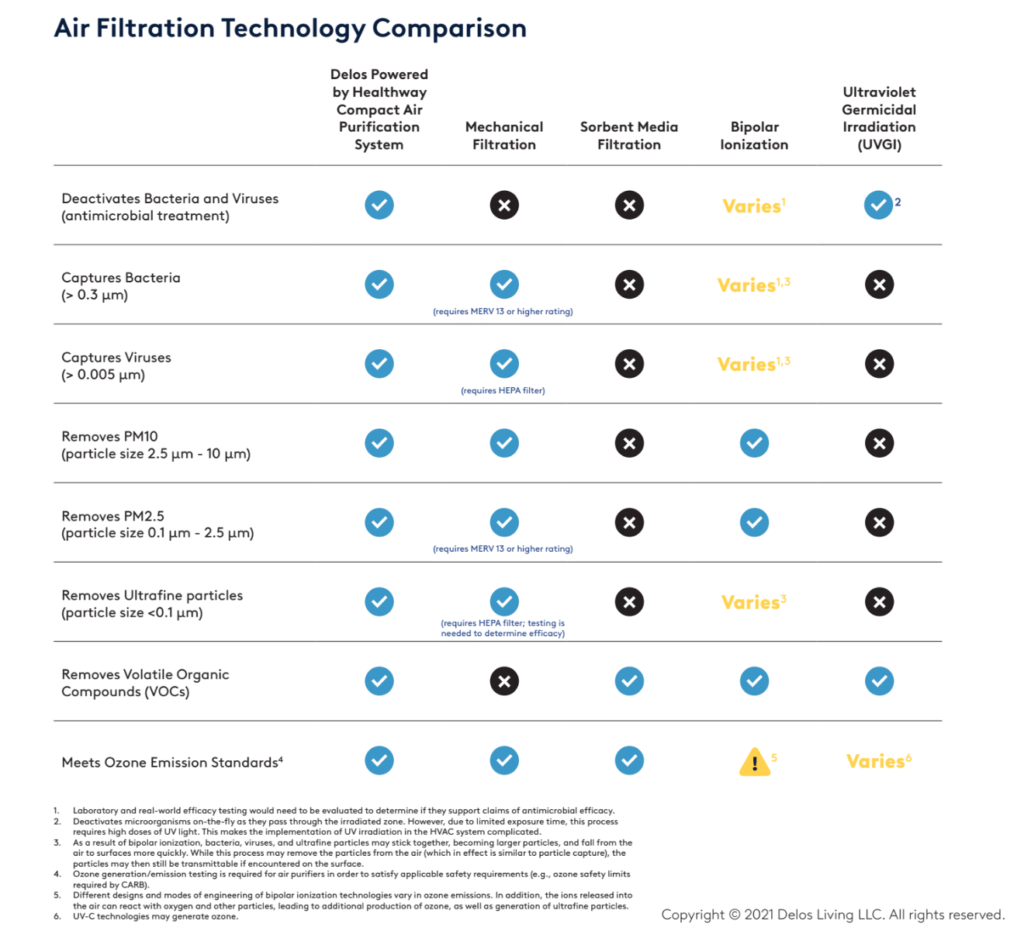 How Effective are Indoor Air Treatment Products for Different Particles – Such as Allergens, Viruses, and Smoke?
Different indoor air treatment products will vary in their efficiency in removing different particles. Particle removal efficiency depends primarily on the type of technology used in the product, as well as the size of the particles in question. Viruses, smoke, and allergens range significantly in size, from about 0.02-0.5 micrometers for viruses, to around 1 micrometer for smoke, to 5-30 micrometers for potential allergens such as pet dander, dust mites, and pollen.
Allergens and smoke are typically easily captured by most HEPA-based air purification systems, as well as higher-rated in-duct MERV filters. Using MERV filters with a rating of at least 11-13 in the HVAC system can help ensure that these particles are filtered out and don't make their way indoors.
Viral particles are very small (>0.005 micrometers in diameter) and can only be effectively captured by mechanical filtration systems equipped with HEPA, and air purifiers that utilize DFS technology — however DFS is much more effective than HEPA. For example, the Delos Compact is capable of capturing particles as small as 0.007 micrometers at 99.99% efficiency, whereas the HEPA filter standard tests the capability of capturing particles that are 0.3 micrometers in diameter and larger, at 99.97% efficiency. Importantly, Delos has also engaged a third-party lab to perform testing on particles the size of 0.3 microns and the efficiency of the Delos Compact in removing them compared to HEPA filter standards, showing that the Delos Compact is more effective than HEPA (99.997% vs 99.97%).
Can you talk about future innovations that we can look forward to from Delos?
The WELL Building Standard™ (WELL), pioneered by Delos and administered by Delos' wholly-owned subsidiary, the International WELL Building Institute (IWBI), provides us with a powerful foundation upon which to build and innovate in order to create spaces that support improved health and well-being outcomes. Our products and services focus most intently on air and water quality, tunable lighting, sleep support, as well as productivity, and mindfulness strategies.
One really exciting product that we've recently launched is MindBreaks™. Given how stressed and busy many people's lives are on a regular basis, we wanted to create a product that helps people relax and give their minds a break. The MindBreaks app contains a library of 3D audio and spatially accurate biophilic sounds designed to reduce stress, enhance mood, improve focus, and increase energy. While the product has been in the pipeline for a little while, it's been accelerated by Covid-19, given the enormous toll that the pandemic has had on everyone's mental health. We're really excited about this culmination of work between Delos Labs behavioral scientists, expert sound engineers, and wellness thought leaders to deliver immersive mindfulness experiences for everyone.
Another product that IWBI has released in 2020 in response to the Covid-19 pandemic is the WELL Health Safety Rating for Facility Operations and Management. Informed by the WELL Building Standard and more than 600 experts from the Task Force on COVID-19, the WELL Health-Safety Rating helps buildings and organizations address the health, safety, and well-being of their most valuable asset — people. Upon achievement, a physical seal is issued to businesses to prominently display at their facilities. The WELL seal is meant to be a visible indicator of confidence and trust, and communicate to everyone entering a space that evidence-based measures have been adopted and third-party verified — meaning they can feel safer going inside. We are also incredibly proud to have been able to collaborate with Lady Gaga, Jennifer Lopez, Michael B. Jordan, Robert DeNiro, Venus Williams, Wolfgang Puck, Deepak Chopra, and U.S. 17th Surgeon General Richard Carmona on a national consumer awareness advertising campaign to promote the WELL Health-Safety Rating across the country.
Did you miss part one of the interview with Issac and Regina? Check it out here!
---
About Isaac & Regina of Delos Living
Known as the global wellness pioneer, Delos brings together the best innovations in tech, health, design, and science to improve human health in the built environment. Here's a little about our Delos interviewees: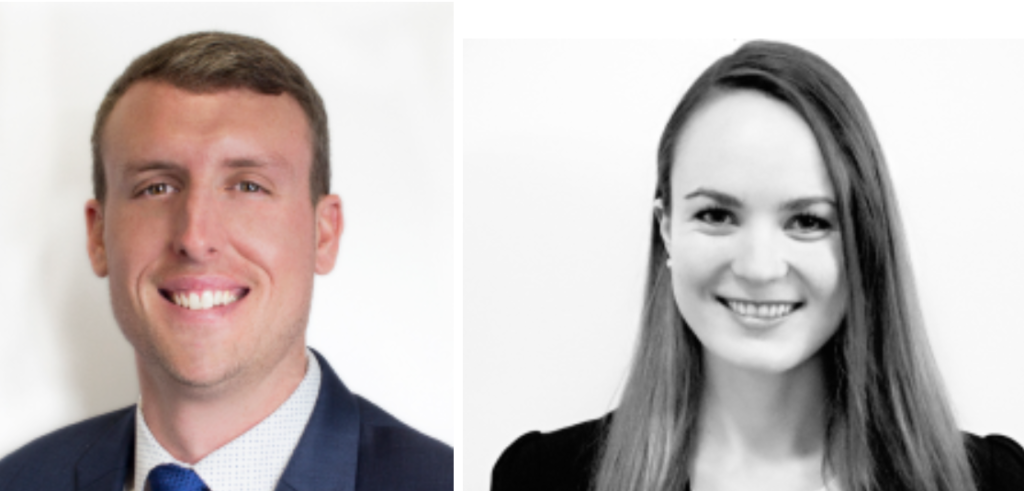 Meet Isaac Mulvihill: Much of my work focuses on Products and Partnerships, which are the hardware components and digital experiences that, together, deliver health and wellness performance value, and the aggregate of which is designed to create holistic health and wellness ecosystems indoors for the benefit of human occupants. I have worked very closely with our air purification partners as well as many of the largest school districts in the U.S. to provide scientifically-validated air purification technologies in an effort to create safer environments for students and staff. (See LinkedIn)
Meet Regina Vaicekonyte: My work involves leveraging research from building and health sciences to create innovative and practical solutions that aim to improve the health, well-being and performance of people in all spaces. I am passionate about it as it allows me to apply new research findings and expert recommendations to inform the development of new products and services across commercial, residential, and hospitality sectors. This has been accelerated by the Covid-19 pandemic, and I'm glad we've been able to contribute towards creating safer environments for people through enhanced indoor air quality solutions. (See LinkedIn)
– Interview End –