The Coronavirus, now referred to as COVID-19, was declared as an official pandemic. At the time of writing, the virus has spread to 176 countries around the world, taken more than 10000 lives, and caused cities across the world to completely shut down and implement extreme social distancing measures never before seen by this generation. Let's explore the link between coronavirus & poor air quality.
(*Update April 2020) Since this article was published, a Harvard study has now confirmed the dramatic impact of long-term air pollution exposure on COVID-19 mortality. Find out more here).
Why Does Coronavirus Impact Some More than Others?
There is still a lot we don't know about COVID-19 – caused by SARS – CoV-2 – but it has been observed that some people are much worse affected than others by the virus. As reported by The Scientist, the vast majority of cases are mild while around 14% of cases become severe (based on available data).
Scientists are working hard to understand why Coronavirus can manifest so differently in some people. Data from the Chinese Center for Disease Control & Prevention suggests that elderly and immuno-compromised people may be more susceptible to severe forms of COVID-19 and this has been observed elsewhere too.
Coronavirus & Poor air quality: a Common Denominator for Countries with Severe COVID-19
As time goes by, more and more experts are lending their support to the idea of a link between severe COVID-19 symptoms and air pollution exposure.
This was exactly the question posed to the leading healthcare publication, BMJ, by Dr Giovanni Ghirga, who is also a member of the International Society of Doctors for the Environment: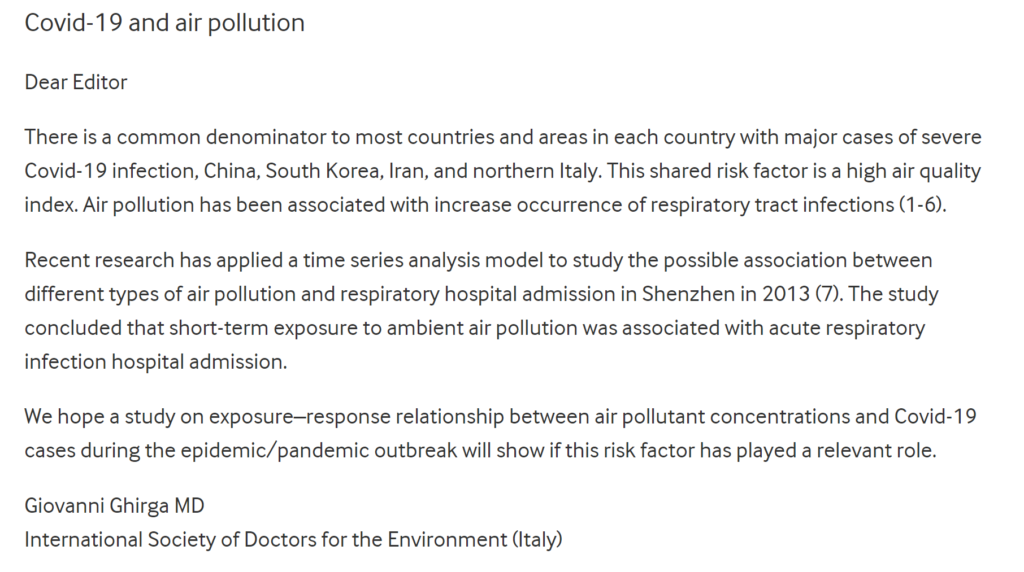 In order to prove the correlation between COVID-19 symptoms and air pollution exposure, further research would need to be done. However, it is important to note that a clear link has been found many times between long-term air pollution exposure and other respiratory conditions such as COPD.
Further, China's prevalence of asthma cases has been growing in recent years which has prompted doctors to link the increasing incidence of asthma cases to extremely high air pollution levels across many Chinese cities.
Subsequently, when warning of the dangers of COVID-19, the European Public Health Alliance has warned that "conditions caused by dirty air may be likely to cut survival chances."
The European Respiratory Society also stated that:
"petrol and especially diesel vehicle fumes remain a serious problem. Even the latest diesel engines emit dangerous levels of pollution. Patients with chronic lung and heart conditions caused or worsened by long-term exposure to air pollution are less able to fight off lung infections and more likely to die. This is likely also the case for Covid-19. By lowering air pollution levels we can help the most vulnerable in their fight against this and any possible future pandemics.''
A Possible Relationship Between Virus Transmission & Air Quality
A possible relationship between environmental factors, the transmission of respiratory viruses and the development of respiratory conditions, has also been studied before. For example, it has been found that poor airflow and ventilation might play a role in respiratory virus infectivity and transmission.
This week, REHVA – the Federation of European Heating, Ventilation and Air Conditioning Associations issued their formal guidance to buildings for preventing transmission of the virus. Increasing air supply and exhaust ventilation forms a key part of their advice.
In Summary
As more links are found between air pollution and COVID-19 symptoms, the air we breathe is likely to gain even more attention in the months and years to come. People around the world have been noting significant improvements in air quality as less vehicles take to the roads and a lot of activity shuts down.
Whatever the outcome, it's unlikely that significant air pollution will disappear once regular activity resumes. Luckily, more and more people around the world are gaining access to real-time and actionable street-level air pollution data which can help them to make more informed choices on a daily basis about the air they breathe: Which road they take to work, when to switch their air purifier on, and when to postpone their picnic in the park. Ultimately, this information will help us all.
---
Disclaimer: The information in this article was accurate to the best of our knowledge when we published it. As the situation surrounding COVID-19 continues to evolve, it's possible that some data will have changed since then. While BreezoMeter will try to keep articles as up-to-date as possible, we also encourage readers to stay informed with news and recommendations for their own communities by using the CDC, WHO and local public health department resources.