On World Asthma Day we feel obliged to highlight the need to bridge the care gaps for this chronic respiratory disease, which impacts hundreds of millions of adults and children worldwide.
Making asthma care accessible 24/7 and minimizing the disparity between people from different ethnic and socioeconomic backgrounds requires better asthma education and effective symptom tracking tools that help streamline patient-physician communications and delivery of primary, secondary, and tertiary care.
Giving a Voice to The People
While incurable, asthma can be managed to reduce the severity of attacks or even prevent them completely, especially when patients and clinicians can forecast environmental changes and act on insights tailored to their location, personal sensitivities, and medicinal needs.
Building on our research from last year, this year we asked our users and those suffering from asthma to tell us what they thought about the gaps in asthma care and what they think could help improve asthma management.
Our research will continue through Asthma Awareness Month. Here is a preview of our findings so far:
Here's What We Found:
81.5%

of respondents said pollen was a trigger for them, reinforcing the assessment that

allergic asthma is the most common

form of this disease.

When asked what they do when symptoms worsen, 50%

of respondents said they "Stay Indoors", while

25%

said "I don't adjust my day" and only 3.1% said they "Use an air quality app" to plan their day.

71.4%

of respondents said they track their asthma symptoms in some way. However, o

nly

32.1%

said they use an air quality app to help predict Asthma flare-ups.
The Environmental Impact on Asthma
We are also continuing to ask our individual and business users to tell us what they think about the environmental impact on asthma symptoms and exacerbation – and the potential of new forms of environmental data to solve problems for asthma sufferers.
Here is a summary of our research findings from last year on this topic:
Many respo

ndents

(93.1%)

were aware that air pollution affects asthma development and

96.6%

knew that symptom triggers vary between people. However,

20.7%

weren't aware

that asthma patients are more likely to also suffer from seasonal allergies.

Opinions were mostly split on the subject of whether indoors or outdoors provided better exercise spaces for asthma sufferers: Almost half

(41.4%)

of participants believed exercising outdoors would

always

be more dangerous for asthma patients, while an equal number of respondents believed that it really depended on the air quality levels at a particular time – whether this was inside and outside.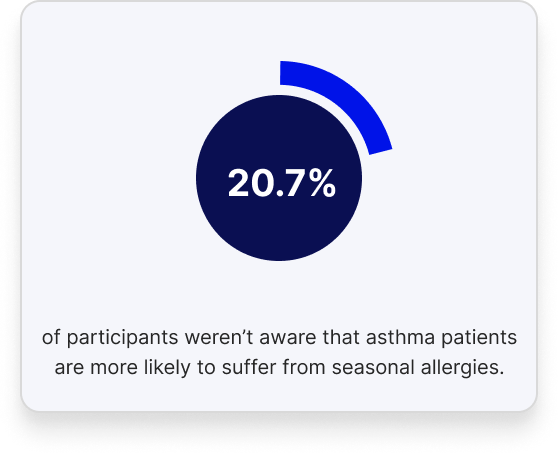 Opinions were also split regarding what type of weather could make asthma symptoms worse: 20-24%

believed it would either be hot, humid, or cold conditions, whereas another

27.6%

believed

all

the suggested weather types, including rain and storms had the potential to make asthma symptoms worse.

The answer to this question is indeed complex, as there is often an interplay between weather factors that impact symptoms. Under certain circumstances, either hot, humid, cold, and rainy conditions could all play a part in affecting asthma exacerbation.

For the full list of the quiz questions & an explanation of the answers – see here.
What Did Consumers Say about the Role of Environmental Insights in their Lives?

What Did Businesses Say?
On World Asthma Day, we also spoke to a variety of business professionals for their thoughts on the value of air quality data for their current business roadmaps and strategy: Participants included data scientists and researchers as well as product managers, CEOs, VPs, and marketing specialists.
27.3%

of respondents said their business didn't currently offer any form of solutions targeting chronic respiratory disease sufferers, but

100%

of study participants agreed environmental insights were important for asthma patients.

81.8%

of respondents said educating users was one of the current biggest business challenges they faced.

User engagement trailed not far behind at

72.7%

. Crucially,

90.9% of participants believed environmental insights could help solve some, if not all, of these business challenges, and also believed

real-time

data here was of paramount importance.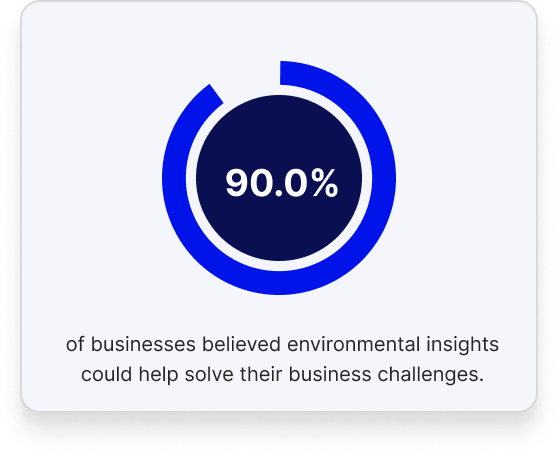 54.5%

of p

articipants also believed

forecast

environmental insights, in particular, were important when thinking about integrating data and

36.4%

believed accurate street-level data and visualizations were important for being able to personalize and translate the meaning of environmental data to their users.

We also asked participants how they thought their businesses could use air quality information to empower asthma sufferers to enjoy healthier lives:
Common answers included:
Many saw major benefits in real-time air quality monitoring and pollen and pollution forecasting, believing these insights could inform asthma sufferers when to leave their homes or on how to create healthy living spaces indoors.
Participants suggested real-time environmental data could drive activity that alerted asthma patients to current air quality conditions.
Optimized drug delivery devices such as inhalers using connected solutions enable physicians and clinical studies to create patient-specific insights.
Equipping vehicles with transparent information about environmental conditions could help asthma sufferers stay protected and informed during travel as well.
Notable Quotes From Businesses:

Learn More about the Role of Environmental Insights in Healthcare with Our Free eBook: