Haifa, Israel –(WFMJ) —BreezoMeter is setting the standard for environmental data & insights as demand from healthcare companies reaches record highs for accurate, micro-local air quality and pollen insights, in order to better protect vulnerable patients in the time of COVID-19.
Watch the Webinar:
Adoption of BreezoMeter's environmental insights for digital healthcare solutions continues to surge in light of the Coronavirus pandemic and growing awareness of the environmental impact on health.
With the recent addition of my mhealth, and Doc AI to the existing list of BreezoMeter's healthcare partners including: Astrazeneca, ALK, Propeller Health, & more, the need for personalized and timely environmental insights has never been more crucial. In fact, for chronic disease sufferers, unreliable data can mean life or death.
"We can now provide information to patients about their air quality in a way they can understand so they can plan their day with confidence" said Matthew Duggan, Senior Engagement Manager & Thomas Van Lindholm, CTO, my m Health.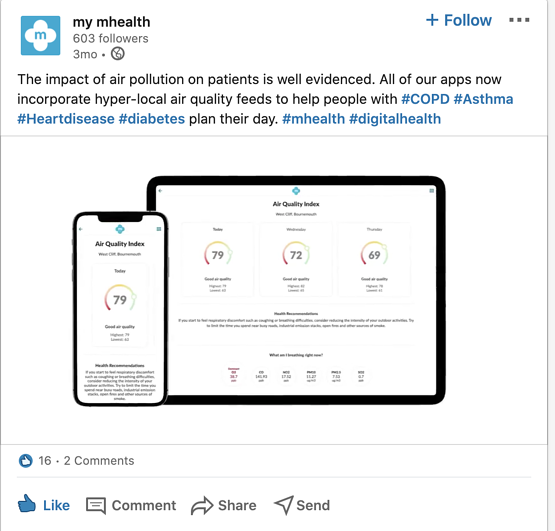 The digital health company my mhealth recently went live with BreezoMeter's air quality data in their MyCOPD and MyAsthma patient health apps. This enhanced remote patient monitoring solution has now been formally adopted by the UK's National Health Service!
Answering The Call for Reliable Air Quality Insights
Air quality and pollen exposure information provides valuable insight into an individual's health exacerbation causes. By deciphering the impact of dynamically-changing environmental factors on chronic disease, treatment providers can better understand and prevent the associated symptom triggers.
Thanks to BreezoMeter's unique multi-layered data approach, sophisticated algorithms, and continuous accuracy-validation methods, they provide reliable predictive insights that help people manage their air quality exposure on a daily basis – a must-have in a time where health concerns are at a peak and environmental triggers are highly unpredictable.
In the same week that the World Health Organization announced new evidence that COVID-19 could be spread via airborne transmission, new research dubbed the 'best analysis to date' has found air pollution significantly increases COVID-19 infections, hospital admissions & deaths. It is no surprise that an increasing number of digital health providers are turning to high-resolution, actionable environmental intelligence to improve their healthcare solutions.
Protecting the Health of Millions
"It is from the midst of a public health crisis that BreezoMeter has been able to answer the call from healthcare providers for accurate, reliable, and truly actionable air quality data & insights. As more and more studies expose the link between air pollution and Coronavirus, we're seeing a rise in awareness when it comes to air quality and healthcare and we believe this increased focus on the air we breathe will continue over the next weeks, months and years – as evidenced by the exponentially growing number of API calls conducted by our customers over the course of the year and a 50% increase of our healthcare portfolio." said Ran Korber, CEO at BreezoMeter.
BreezoMeter Use Cases – Learn More