We are extremely proud to announce the long-awaited launch of our Cleanest Route Insights. Thanks to BreezoMeter's unique ability to map air pollution at a highly granular level in real-time, individuals will now be able to dodge air pollution while on the move.
What a Difference a Journey Makes!
Studies have shown the huge potential impact of changing up a regular commuting route for a cleaner one. In one case study reported by Cycling UK, one cyclist lowered their pollution exposure during their weekly regular morning commutes by 36% by choosing different routes than their usual.
Why We Need Cleaner Routes: Managing Traffic Pollution in the City
Air pollution exposure is not a problem confined to cities, vehicles are a significant source of air pollution in urban environments. Studies have found levels of pollutants such as ultrafine particles, carbon monoxide, NO2, black carbon, polycyclic aromatic hydrocarbons, and some metals are all more elevated near roads.
Several epidemiological studies have linked exhaust emissions to adverse effects on health. As urban populations grow, finding ways to help the public control pollution exposure will become a central issue. Some 56% of the world's population – already live in cities. By 2050, the global urban population is predicted to double in current size, with nearly 7 out of 10 people in the entire world's population predicted to live in cities (source).
How Your Business Could Use Cleanest Route Insights
Given the widespread problem of pollution exposure during travel, Cleanest Route Insights provide huge value and application across a wide variety of industries and use cases.
Automotive Makers
Cleanest Route Insights can help car makers provide ongoing value beyond the original car purchase: OEMs can integrate live air pollution information and route planning into their HMI and digital experiences in order to make the transition from 'vehicle hardware only' to 'connected car' that prioritizes safety and health on the road.
McKinsey analysis suggests revenue generated from recurring services such as this could boost OEM revenue from car sales by some 30 percent in the next decade.
MicroMobility: eBikes & Scooters
BreezoMeter's Cleanest Route Insights provides the answer for two colliding consumer trends: Soaring air quality awareness and booming micromobility.
As more solutions for urban commuting enter the market, Cleanest Route Insights offer eBike and Scooter companies a unique opportunity to stand out by addressing the un-met need of personal pollution exposure while on the road.
How e-Bike Company Cowboy makes use of Cleanest Route Insights
Healthcare Companies
Many digital health companies and allergy treatment providers – such as ALK and My mhealth – already use environmental information to understand and manage the impact of poor air quality and high pollen levels on patients' symptoms. For providers operating in the chronic disease space, Cleanest Route Insights are the next logical step for protecting vulnerable chronic disease patients and improving patient outcome all round: By warning asthma sufferers that taking a route at a particular time could trigger an attack, individuals can use this information for more informed decision-making by choosing to travel via a different route or at a different time – averting a potential emergency situation.
How BreezoMeter's Cleanest Route Insights Work
Once a destination has been queried, each route is scored on a numerical scale of 0-100: the higher the number the cleaner the route – this is what we call the Route Air Cleanliness Score (RACS). In addition to the scoring of different routes, we give the ability to identify the cleanest route compared to all others.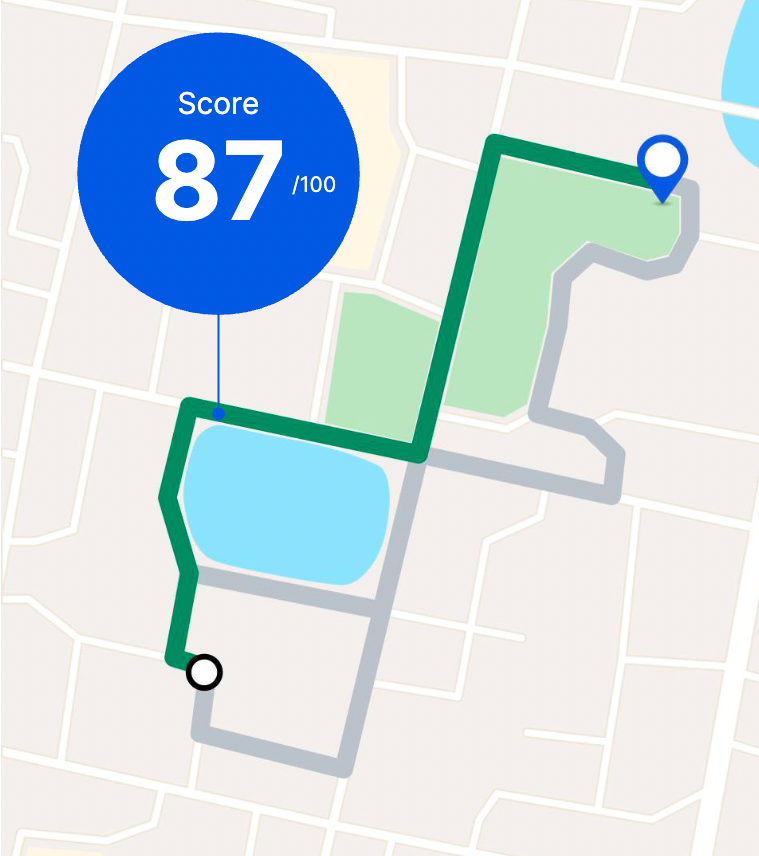 Ready to Try Out Cleanest Route Insights?
Our focus at BreezoMeter is to deliver insights and recommendations that help people understand what they should do in response to their environment. Our Cleanest Route Insights is the perfect representation of this. Ready to protect your customers on the road?
Contact our team directly to get going with this feature.