Smoke haze impacts multiple countries across Southeast Asia every year, affecting agriculture, economy, and health to such a degree it's become known as the 'Asian haze' phenomenon and created major public outcry for better air quality management solutions.
Let's dive deeper into what causes the Asian smoke haze season, the health dangers it poses, and the most effective way to prevent dangerous exposure to this drifting air pollution problem.
What Causes The 'Southeast Asian Haze'?
Southeast Asia's seasonal 'smoke haze' problem stems from specific low-cost 'slash and burn' farming methods used by particular countries in the region. These methods involve the burning of trees and plants by farmers to prepare fields for cultivation.
So far in 2022, Southeast Asia has experienced relatively less haze due to an ongoing La Niña event, an oceanic weather pattern in the Pacific that ushered wetter weather to the region since late 2020. However, the La Niña event is expected to taper off sometime during the second half of 2022, and Southeast Asia's drier season, which traditionally takes place between June and October, may see the haze return.
How Does the Slash & Burn Method Work?
'Slash and burn' works by clearing land and creating a nutrient-rich layer of ash on top of it to help fertilize future crops and reduce weed presence. The long-term disadvantages of the slash and burn method are that it causes habitat fragmentation and loss of biodiversity. From a farming sustainability perspective, while slash and burn agriculture increases land fertility for a few years, the land becomes infertile in the long term, and farmers often abandon it and move to a new plot, endlessly repeating the 'slash and burn' process.
Slash, Burn… and Pollute?
Another major problem with the slash and burn method is that it contributes to greenhouse gas emissions because of the scale of activity – producing a significant amount of CO2 and increasing other types of air pollution.
In Southeast Asia, smoke produced by slash and burn agriculture used for palm oil cultivation plays a big part in the region's smoke haze season problem and increases local greenhouse gas emissions, which can remain high even a few months after the burning process.
What Exactly Causes the Haze Smoke?
Long-term sustainability issues aside, 'slash and burn' farming methods release huge amounts of harmful air pollution into the atmosphere, with trans-national consequences for air quality.
The annual haze season in Southeast Asia originates mainly from forest fires Forests are cleared for small-scale and commercial agriculture, which is often linked to key economic sectors like oil palm and pulpwood. Experts have also found that Southeast Asian haze pollution is directly linked to the increase of monoculture agriculture in Thailand and neighboring countries and transformed watershed forests and arable land for crop farming purposes.
How Has the Haze Over South Asia Impacted Agriculture?
Air pollution knows no national borders and can drift across countries and even oceans. As such, smoke haze in southeast Asia impacts multiple countries across the Southeast Asia region, including Malaysia, Singapore, Thailand, the Philippines, and more.
A study found the effects of haze pollution in Southeast Asia to significantly impact farmers at a local level too, resulting in the decline in crop quantity and quality as well as soil quality. For Indonesia alone, the extreme Southeast Asian haze season of 2019 resulted in $5.2 billion in economic damages.
As industrial plantations and agricultural activities are the main drivers of the transboundary haze pollution in Southeast Asia, experts have called out for more enforcement and adoption of the ASEAN Agreement on Transboundary Haze Pollution (AATHP).
In addition to the economic impact, health concerns also fuel much of the public outcry against the smoke haze pollution in Southeast Asia.
The Devastating Public Health Cost of Southeast Asian Haze
Southeast Asian Haze is made up of high concentrations of PM10 and PM2.5 particles, which are small enough to be inhaled and can worsen or even cause respiratory problems including asthma.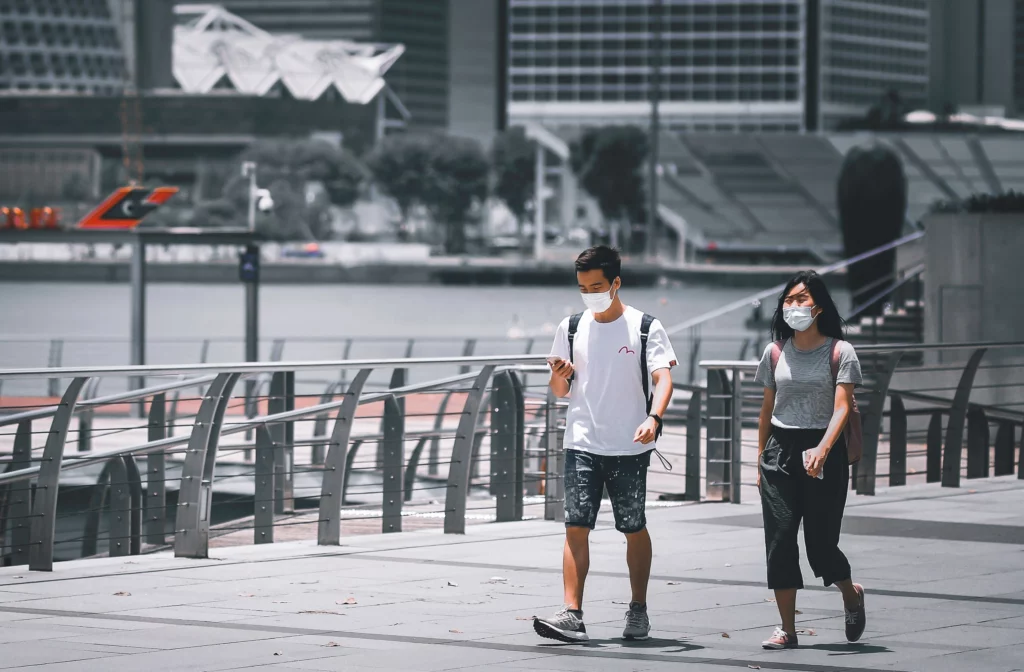 There is still work to be done to confirm the specific health impact of long-term exposure to Southeast Asia's seasonal haze, but studies have shown that long-term PM2.5 exposure is associated with increased mortality from certain diseases, such as those that are cardio-pulmonary related and more recently, the likelihood of dying from COVID-19.
Studies have also found an increased risk of heart attacks from seasonal exposure to Southeast Asian haze that, according to the World Bank, contributes to around 11% of all deaths in South Asia.
People Have Had Enough
The societal disruption of the haze season experienced across this part of the world each year is profound. In 2019, nearly 2500 Malaysian schools had to close due to public health concerns resulting from the toxic smoke haze.
In 2021, after a year-long campaign, public pressure reversed a government decision to revoke legal protections for 931 hectares of peat forest in Malaysia's Selangor region.
BreezoMeter's Integrated Smoke Model Powers Real-time Responses to Asian Smoke
As with all wildfire-caused air quality reporting, charting the movement of Southeast Asia's haze in real-time will present a challenge for a number of different air quality data providers. We explore the reasons for this in detail here.
Air quality map, Southern Indonesia, May 16th, 2022
To address these challenges, BreezoMeter has incorporated a sophisticated smoke model into its air quality reporting. This information can be leveraged by city planners, public authorities, and businesses looking to research and respond to the reality of Southeast Asia's haze in a hyper-local and real-time way.
Governments and businesses can take proactive action by educating citizens and consumers about the health impacts of haze exposure to protect themselves and limit their personal exposure to dangerous air pollution over time.
Managing & Monitoring Haze Impact with Environmental Intelligence
Smoke haze pollution, caused by slash and burn farming methods and wildfire events, has been routinely blanketing Southeast Asia for decades, impacting national agriculture, economies, and public health. The growing public outcry for better air quality monitoring and timely warnings emphasizes the need for environmental intelligence as the must-have tool to empower individuals and businesses for better health protection in the face of dangerous daily air pollution exposure from haze and other environmental factors.
BreezoMeter's live environmental monitoring technology provides an accurate image of individual exposure, enabling businesses to distinguish themselves from competitors, add value to their offerings, and meet rising consumer demands for personalized health.