A significant body of research suggests that the likelihood and impact of wildfires are worse today as a result of climate change. Let's examine some of the specific trends regarding the size and frequency of wildfires in more detail.
1. Wildfires are Definitely Getting Larger
While a variety of factors — including human behaviors, wind levels, vegetation, humidity levels, and more — contribute to the likelihood of wildfires, the impact of climate change is becoming increasingly apparent.
At the time of writing, six of California's largest fires in history ignited in 2020, and the damage and toxic smoke exposure extended far beyond state lines.
The massive August Complex fire in 2020 developed to become the largest fire in the state's history, period: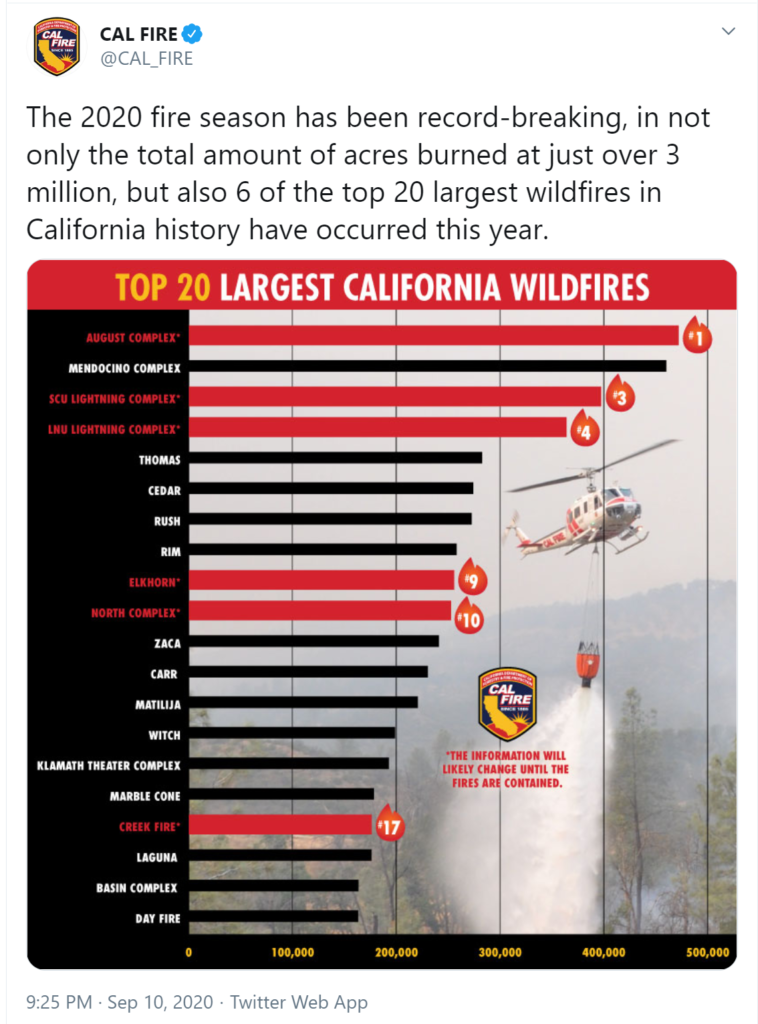 These trends aren't unique to the U.S:
In Spain, wildfires now raze an average of

100,000 hectares

of land annually, n

early

double the average from 40 years ago

.

The Australian bushfires of 2019-2020

are estimated to have

scorched over 17 million hectares

of land, leaving almost

3 billion animals dead or displaced.
Siberia: Reports state that in 2020, wildfires in Russia burned down an area larger than the size of Greece, prompting an emotional plea from Greenpeace's Russia Wildfire Unit Head Grigory Kuksin

:
"Russia's sprawling Siberia region became a climate hotspot, heating up much faster than the rest of the planet. This summer has already brought extreme heat waves, oil spills caused by thawing permafrost, and raging forest fires – what next before we finally act on climate?
What's Been Happening in 2021?
2. Wildfire Seasons Are Getting Longer
Fire seasons vary in duration based on location – and lengthening fire seasons may be due in large part to climate change as winter snowpacks melt earlier and forests' dry periods are stretched longer.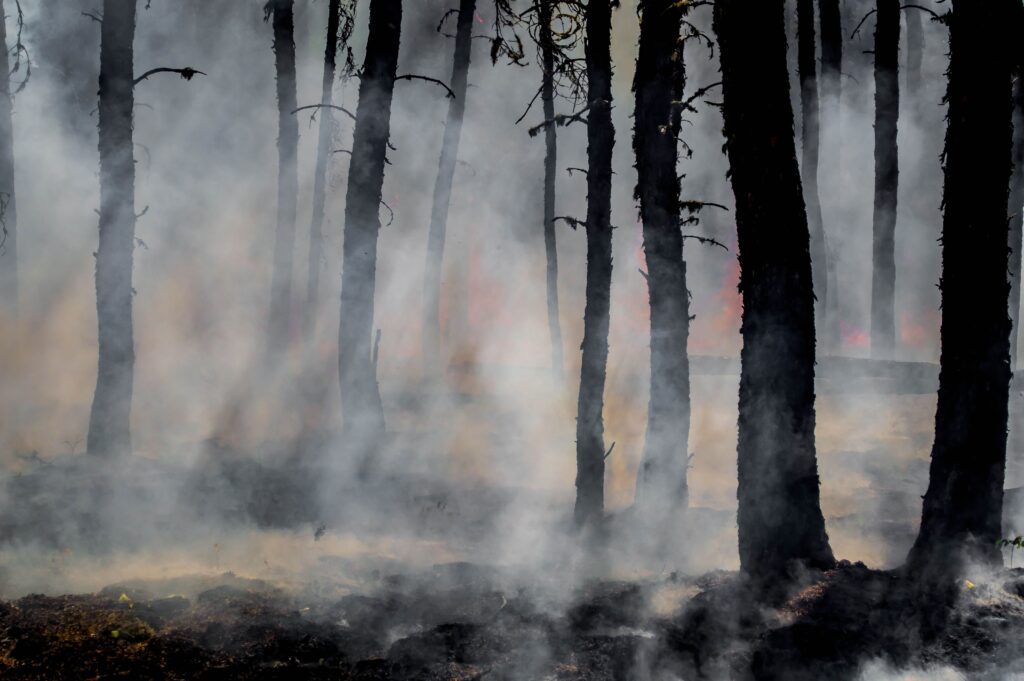 One study based on 35 years of meteorological data revealed that fire seasons around the globe are becoming longer. Specifically, they found:
Parts of the western United States, Mexico, Brazil, and East Africa now undergo wildfire seasons over a month longer than 35 years ago.
Lengthening wildfire seasons are particularly impacting European countries: Scandinavia experienced significant growth in the length of their wildfire seasons, Sweden witnessed a

41%

increase in fire season length while Norway suffered a staggering

288%

increase.
US Firefighters Transition from 'Fire Seasons' to 'Fire Years'
In America, increasingly common wildfires have prompted USDA Forest Service employees to reconfigure their approach to wildfires: Where once they spoke of 'fire seasons' as certain months, many now prepare for wildfires as an all-year-round event.
3. More Heatwaves Means More Fires
As droughts become more common, so too do adjacent heat waves. Record-breaking heat waves across California, Nevada, and Oregon in the summer of 2021 have cemented the US Pacific West as the country's predominant wildfire hotbed.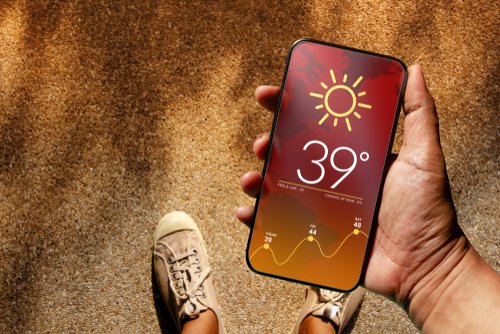 Meanwhile, Canada has been battling over 180 wildfires recently, 70% of which are estimated to have been caused by over 700,000 lightning strikes to hit the BC area from June 30th to July 1st alone. The village of Lytton, in British Columbia, Canada has basically been destroyed amid wildfires triggered by unprecedented temperatures this region has never seen before. Scientists now say that the deadly North American heat wave, labeled a 1-in-a-1000 year phenomenon, would've been at least 150 times less likely to occur without climate change.
How Climate Change Will Impact Future Heat Waves
Experts predict a historic increase in global wildfire events and record-breaking heat waves due to climate change.
EU climate scientists project future heatwave seasons could grow from impacting 10 million to

nearly 300 million Europeans a year

, over half of the EU's population, while extreme heat-related fatalities could reach 96,000 per year, over 34 times the current annual amount.

2021

research in the UK

also forecasts that wildfire danger days will significantly increase as temperatures rise: For springtime, a

2°C

increase in global warming levels could see a

150% increase in high-risk fire weather

days

in the UK

and a

200% swell

at a

4°C

climb.

For the Western US, climate projections demonstrate a 1°C rise of average annual temperatures, which could increase the yearly burned area average by up to 600%. As the wildfire risk increases in the Southeastern US region too, climate modeling assessments now suggest the average annual area burned by lightning-ignited wildfire will increase by at least 30% by 2060.
Unfortunately, increasingly common heat waves spell trouble both for human health and for wildfires, as hotter, drier conditions function as a key contributor to the proliferation of wildfires.
The Verdict? Pretty Likely
Based on the definitions of size, fire season length, and increasing temperatures, we'd say it's pretty clear that wildfires are becoming an ever-growing problem to grapple with around the world.
Climate scientists around the globe are banding together in a desperate attempt to raise the alarm. Daniel Swain, a climate scientist at UCLA and the National Center for Atmospheric Research, states in no uncertain terms:
"There's a crystal clear human fingerprint on extreme heat and extreme heat events … climate change is making these sorts of things worse".
The impact of climate change on future wildfire events and extreme weather serves to highlight the importance of communicating the full environmental picture when it comes to safeguarding humans and property. (We wrote more on this here).