The increasing rate and intensity of global wildfires so far in 2022 make the correlation between climate change and fires all the more apparent. But correlation doesn't always equal causation. So are wildfires getting worse due to climate change? Let's examine the latest research.
1. Wildfires are Definitely Getting Bigger in Some Regions
While a variety of factors — including human behaviors, wind levels, vegetation, forest management, humidity levels, and more — contribute to the likelihood of wildfires, the impact of climate change is becoming increasingly apparent.
According to the EPA, the extent of area burned by US wildfires each year seems to have increased since the 1980s. The top 10 years with the largest annual acreage burned all occurred since 2004, a period which coincides with many of the warmest years on record across the US and worldwide.
What's Been Happening in 2022 Across The World?
The McKinney Fire in California surpassed 60,000 acres in size, destroying 185 properties. It is unfortunately one of over 42,000 wildfires to have hit the US at the time of writing in 2022 – these fires have already burned nearly 6 million acres of land so far.
This summer's European heatwaves have caused record-breaking fires across 12 EU countries, and the region is "only halfway through its typical fire season". So far in 2022, wildfires burned 600,731 hectares in EU countries, the second-highest total for any year since records began in 2006.
Further, the International Arctic Research Center reports that between 2-4 July, 18,000 lightning strikes hit the Alaskan Interior, which has been abnormally dry since late April. In Canada, Alaska, and other forested areas across the world, fire ignition by lightning strikes accounts for 90% of the resulting burned area, and scientists project climate change will only increase the occurrence of lightning-caused wildfires.
However, while common, increasing wildfire size is not a completely universal trend. For example, in some parts of Africa and South America, the total area burnt by wildfires is actually decreasing. Researchers believe this may be due to land-use changes such as cropland expansion, and human development (urbanization), which can lead to more fire suppression and management efforts.
2. Wildfire Seasons Are Getting Longer
Fire seasons vary in duration based on location – and lengthening fire seasons may be due in large part to climate change as winter snowpacks melt earlier and forests' dry periods are stretched longer.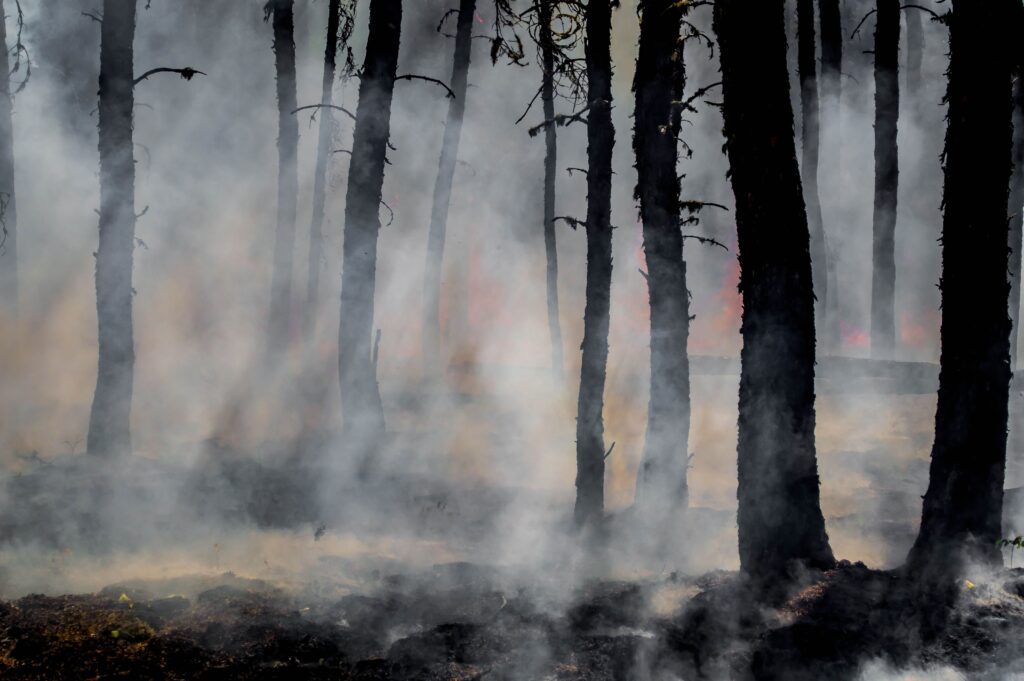 One study, based on 35 years of meteorological data, revealed that fire seasons around the globe are becoming longer. Specifically, they found:
Parts of the western United States, Mexico, Brazil, and East Africa now undergo wildfire seasons over a month longer than 35 years ago.
Lengthening wildfire seasons are particularly impacting European countries: Scandinavia experienced significant growth in the length of their wildfire seasons, Sweden witnessed a 41% increase in fire season length while Norway suffered a staggering 288% increase.
According to the World Economic Forum, fire weather seasons have lengthened globally by 27% on average since the 1980s. However, the increases of these burning seasons have been particularly pronounced in certain areas: the Amazon, the western forests of North America, and southeast Australia.
Furthermore, the 'extreme fire weather' days have become 54% more frequent globally. This term refers to days when temperatures are particularly high, humidity is particularly low, and winds can serve as a fan for potential blazes.
US Firefighters Transition from 'Fire Seasons' to 'Fire Years'
In America, increasingly common wildfires have prompted USDA Forest Service employees to reconfigure their approach to wildfires: Where once they spoke of 'fire seasons' as certain months, many now prepare for wildfires as an all-year-round event.
Additionally, the EPA states that peak wildfire season in the US is now starting earlier: "In 1984–2001, burned area size peaked in August. More recently, it has peaked in July."
3. How Climate change will impact future wildfires
Experts predict a historic increase in global wildfire events and more record-breaking heat waves due to climate change:
UK researchers forecast that wildfire danger days will significantly increase as temperatures rise: For springtime, a 2°C increase in global warming levels could see a 150% increase in high-risk fire weather days in the UK and a 200% swell at a 4°C climb.
For the Western US, climate projections demonstrate a 1°C rise of average annual temperatures could increase the yearly burned area average by up to 600%. As the wildfire risk increases in the Southeastern US region, climate modeling assessments suggest that by 2060, the average annual area burned by lightning-ignited wildfire will increase by at least 30%.
Scientists studying the expansion of global wildland fire activity warn that, if greenhouse gas emissions continue to increase throughout the 21st century, "due to global warming, the global area with frequent fire-prone conditions would increase by 29%."
So, Are Wildfires Getting Worse Due To Climate Change? Climate Resilience Should Be a Bigger Priority Now Than Ever
As our climate continues to change, wildfire behavior becomes more unpredictable, and traditional fire seasons grow longer and potentially riskier. Researchers say that "under severe climate change and population growth scenarios, burned areas are likely to increase, especially in places subject to intense warming and drying." These changes are likely to occur in high latitude regions such as Alaska, Canada, and Russia, as well as in tropics and subtropics climate zones that may be subject to intense drying.
Wildfire activity has significantly changed across the world in the last few decades, and warm seasons are reaching unprecedented fire weather conditions. Scientists warn that the emerging risks from increasing fire-prone climate may progressively exceed current wildfire suppression capabilities in the next decades.

Witnessing the drastic increase in extreme heat and wildfire weather these past few years, especially in the 2022 season, leaves no room for doubt: adopting climate resilience trends will be a determining factor in the ability of businesses, organizations, and individuals to prepare and adapt to new extremes the near future holds.