Perhaps the most popular words real estate professionals utter to potential buyers is "location, location, location." In real estate, location is without a doubt a key factor in the selling process: Buyers may consider the view, safety, convenience of the property more. But there's another, often hidden factor to consider, which often only reveals itself after a purchase: air pollution.
The World Health Organization (WHO) estimates 4.2 million annual deaths due to outdoor air pollution. With 90% of the world breathing in polluted air, having the ability to decide on a property based on air quality is a valuable resource.
What if you could provide potential buyers with accurate, real-time air quality data for each specific property that you list?
BreezoMeter was created for this specific reason. When our CEO & co-founder Ran Korber needed to purchase a home in an area with low pollution levels, he realized the gap between official air pollution data and what the public could really use, in the real estate case an overview of air pollution by neighborhood/city blocks. Along with two environmental engineer friends, they decided to make air pollution visible and actionable in real-time. (Read the BreezoMeter story in more detail here).
How Accurate Air Quality Data Can Help Real Estate Companies
There are a number of elements to consider when buying a home. Those in the market for a new home want as much information about a property as possible. The more real estate companies pay attention to the details, the higher the chances of making a sale, since clients sense that their contact is a professional and that they care – after all, a house is often the most important purchase one can make. If you're a real estate agent offering potential buyers information that may impact their health in a real way – by informing them about their potential exposure to polluted air – you will be offering a highly personalized and differentiated service that will influence overall impression and satisfaction.
Environmental Technology and Real Estate
With so many knowledgeable clients out there, coupled with the ease of available information about properties, house hunters are searching for real estate companies that are current and make use of all available information to inform their clients. Since location-based analytics and visualizations are both gaining importance in real estate, combining the two into personalized environmental insights can positively impact your company positioning, and provide significantly more value.
How Environmental Data Helps Real Estate Companies Engage Buyers
Some of the largest real estate websites now seek to integrate real-time, street resolution air quality into their website and services. The integration is simple to implement, through an intuitive rest API and can offer prospective users visualized air quality heatmaps that make invisible threats visible.
Web widget: Web widgets can display air quality information in real-time for a specific address & listing.
Environmental reports with historical data: While the widget can differentiate your services from other agencies, attract more prospects, and get them one step closer to contacting you, historical environmental data can help nurture prospects you're already in touch with. It can be printed and shown during house visits, explained over the phone, or used in emails.
Impactful newsletters and emails: By providing potential buyers useful and educational information, you will be viewed as a thought leader, while fostering a solid relationship.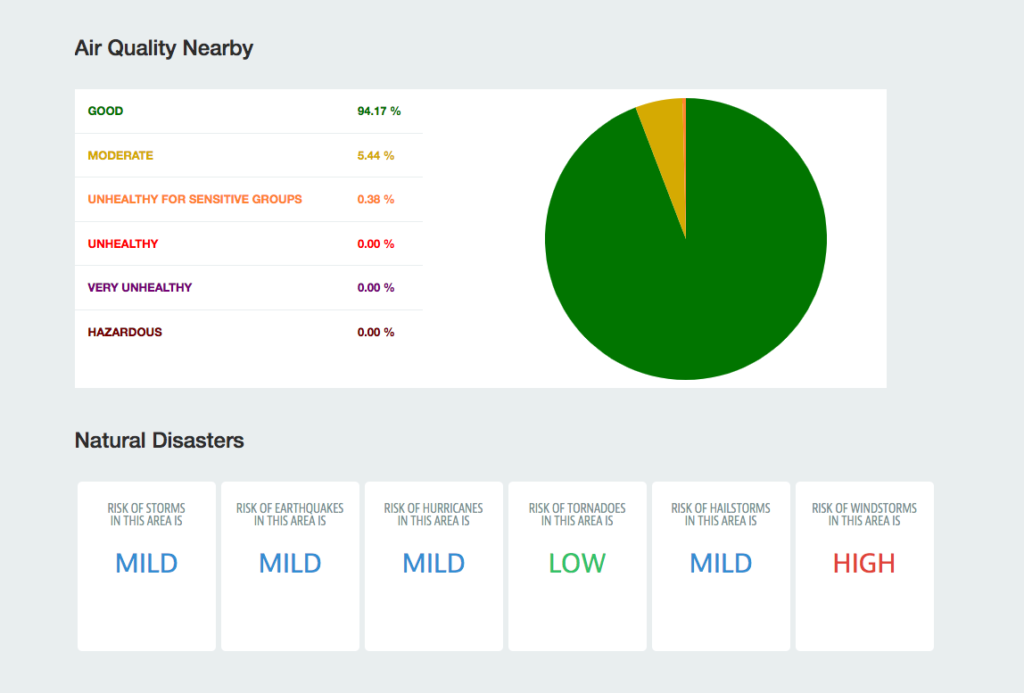 By integrating environmental analytics and insights into website maps, real-estate companies can improve digital engagement with prospective clients, establishing trust by providing full visibility into environmental threats around properties and informing of the risks upfront.
Climate Sustainability Becomes Paramount for Investors & Homebuyers
The rise of ESG (environmental, social, and governance) goals among real estate companies demonstrates a consciousness shift in corporate responsibility. 60% of real estate investors now incorporate ESG criteria into their strategies, and many seek better ways to evaluate climate change risk to their investments.
Commercial real estate investors now consider climate tech and environmental insights as ways to ensure their portfolios become more climate-resilient in the near future, and even homebuyers now look at climate change as a factor in their calculations.
Bottom Line: Real Estate Companies Can Deliver Increased Value with Environmental Insights
Environmental forecasting technology opens up growth opportunities for real estate companies that were not conceivable just a few short years ago.
As health is a priority for many buyers, as the correlation between health and air quality is a proven fact, it is only logical to offer accurate air quality information alongside other major selling points.