What are the air pollution effects on the National Economic Health? This piece is based on the recent article published in Japanese in the Nikkei Asian Review by Nihon Keizai on November 27th, 2019. You can also access the truncated Nikkei English version here.
From the 1990s to the mid-2010s, China's GDP per capita (GDP) grew by an average of nearly 10% annually, when measured by conventional means. However, using a new index designed to measure 'real wealth' by taking environmental and social assets into account, this per capita growth shrinks to 2% per year for the same period.
A New Inclusive Wealth Index
Professor Shunsuke Managi of Kyushu University, in collaboration with the United Nations, has created a "New National Wealth Index" in order to measure China's 'real wealth'. They concluded that the deterioration of the environment and the changes in educational trends could not be measured by traditional definitions of GDP alone – so they created a new index to be used for understanding whether or not the country has been developing sustainably or not.
According to Professor Managi, the new measure of "low growth" in China reflects the country's environmental degradation and reduction of natural resources: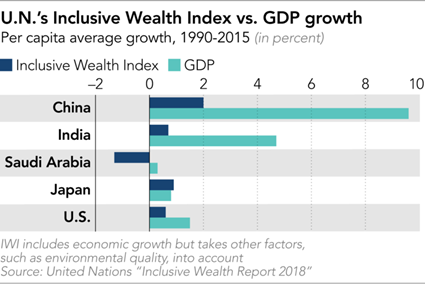 Source: 2018 Inclusive Wealth Report
How is the New Inclusive Wealth Index Calculated?
The technology and data used to calculate the new Inclusive Wealth Index is advanced, consisting of three types of assets: 1) Produced capital like infrastructure, 2) natural capital such as forests and agricultural land and 3) human capital such as education levels and life-expectancy. By framing growth in this way, values and risks that had been previously overlooked become more visible and apparent to the public.
The creation of this index reflects an increased focus on the impact of broader environmental and social trends on economics. For example, global investment in environmental, social and governance (ESG) investment totaled $30 trillion in 2018 (about 3200 trillion Yen), which is 30% higher than two years earlier.
Interestingly, the rating company Moody's also recently acquired Four Twenty Seven – a leading publisher and provider of market intelligence on the economic risk of climate change. With this platform, economists can visualize the risk posed by typhoons, floods and rising sea levels, powered by one million corporate data facilities around the world. US public pension fund CalPERS is also listed as one of their customers.
The direct impact of Air Pollution Effects on Economics
According to Professor Liu Junshu of Sichuan University, China's home prices drop by 3.97% when the air pollution index worsens by 0.1 point.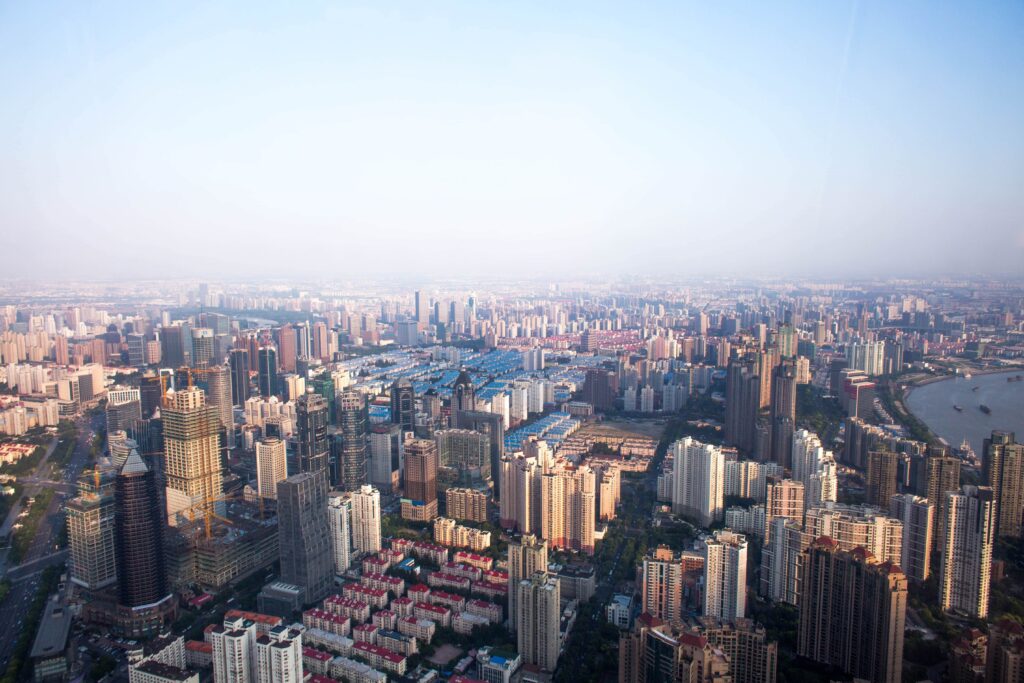 As underlined by our CEO at BreezoMeter, Ran Korber: "When I was looking for a house with my wife that was pregnant and suffering from Asthma I thought I would be able to visualize the air pollution level of a specific area we were considering to move to".
Upon finding this information not to be so readily available, Ran went on to establish BreezoMeter – which calculates air pollution in 44M geographical points around the world by combining various data layers such as government sensor and satellite information, traffic & weather information, meteorological and atmospheric conditions, and more.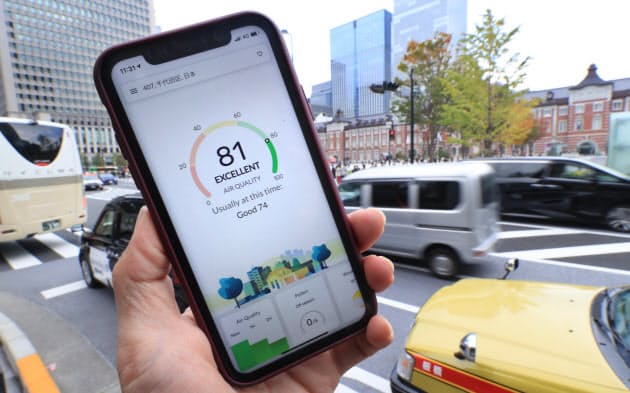 User visualizes the air pollution around them in Marunouchi, Tokyo using our live reporting app.
By using our data, world-leading companies like L'Oreal are able to recommend particular skincare products to customers based on the conditions where they are living – and as Ran goes on to say, "the potential for demand for clean air is huge and growing."
Putting a Price on Air, Water & Social Impact
The economy has so far put no price on clean air & water – these things have been considered outside of the market where traditional goods and services are traded. However, as Professor Toshihide Arimura of Waseda University states, "easy access to information has progressed and it has become easier to incorporate this information inside the market." Along similar lines of thinking, Kazuo Yano Fellow of Hitachi gave his opinion that "The mass production era is over, and that we must evaluate each person's brain and the diverse work they do." in ways that go beyond traditional economics.
Since the Industrial Revolution, humans have invested a large amount of resources and energy into achieving high economic growth, meaning the environment has been sacrificed. By using this new Inclusive Wealth Index, the creators believe we will start to see the value of air, water and social impact like never before.
The weight of accumulated past "debt" may push more leaders to address and improve inconvenient realities today for the benefit of the future.
The Visualization of the Invisible: Throwing a Stone at Traditional Policy
In the below interview, Professor Managi answered questions regarding his new approach to economic reporting: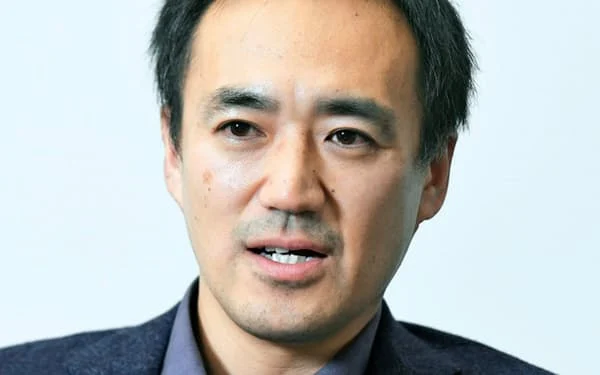 Q: You're advocating the use of this New Inclusive Wealth Index instead of GDP. Why?
A: The new index has been created by considering artificial capital such as social infrastructure, but it is also layered with information relating to forest and farmland, natural capital such as natural resources, and human capital such as education level and longevity. Ultimately, burning oil deteriorates the environment. Even if the production of goods increases and the GDP will increase, this growth is not sustainable. The characteristics of the new indicators are whether future generations can actually quantify the capital or not"
For example, in Saudi Arabia, GDP has increased in the last 25 years, however in terms of the new wealth index, growth has been negative because they have used up their resources. As oil mining has progressed and natural capital has only decreased, and artificial capital has not increased."
Q: How do you use the new economic index in real policy?
A: "Kuyama-machi, in the Fukuoka Prefecture, used our new index for their town. We conducted a questionnaire for the area to consider the type of capital they had available. In doing so, we evaluated their park highly which was reflected in the town's overall budget.
We are also discussing the use of our new index with local scientists in China, by offering a new perspective for the future – for example, in order to close the economic gap between poor and rich, we are offering a way to improve human capital that is not all about putting more capital into the infrastructure but rather through investment in education."
Q: Japan's per capita GDP increased by an average of 0.8% per year, and the New Wealth Index increased by 0.9% – How is that?
A: Japan is a very rare country; in that it actually shows a higher New Wealth Indication than GDP. It can be interpreted that the country's wealth has increased as infrastructure investment has increased, however the corresponding domestic consumption has not been going up, and GDP has become sluggish."
---
As part of this interview, questions were also put to our CEO, Ran Korber, directly:
Q: How difficult is it to pinpoint global air quality?
Ran Korber: "Over the last few years, a huge amount of data has become available, and the measurement of air itself have become increasingly digitized. Alongside this, governments have expanded their number of observational sensors, and companies now have access to satellite information provided by the European Union (EU). Further, the number of companies that measure traffic in each city has also increased, which is helping us to estimate pollutant emissions. "
As such, you could say that the business of measuring air quality is getting easier, but it is still very difficult:
"At BreezoMeter, we collect information from about 50,000 sensors worldwide, satellite information, and many more data sources which includes live weather, fire and pollen information. About 8 billion calculations are performed on about 2 terabytes of information per hour in order to report on 30 types of air pollutants in about 30,000 cities in 94 countries.
Q: How do you think the 'visualization of the atmosphere' will change or influence the economy?
A: There is a great demand for clean air right now. At present, we can analyze the air quality levels at each house and we predict reporting like this will have a major impact on real estate markets around the world. But this is just one example – if people know exactly what they are breathing, they will be more aware of your health. As people become more informed, more voices are calling on governments to improve the environment, which can lead to macro policy changes."
{{cta('f5934cb0-ce4c-486b-a77d-3a340df5bba1′,'justifycenter')}}